The Gujarati Delicacy Bandwagon
Rolls that melt in the mouth, smooth textured, seasoned with spices, these gram flour rolls known as Khandvi, a popular Gujarati delicacy is a perfect snack of the Gujarati cuisine.
A mix of gram flour and buttermilk are the primary ingredients for this delectable recipe. The proportion has to be right, if you pass this step smoothly, then the recipe will turn out perfect and mouth-watering.
Better the Batter
While cooking the batter, the consistency has to be accurate. Thin layers of Khandvi are made if the batter is cooked at the right consistency. If you cook it more, then you won't get the right consistency and the layer will become thick. You have to be quick, spread the Khandvi batter immediately, once cooked. Else, if it thickens, then it will form lumps.
Measure it up
While it's always better and is a sure-shot hit if we use measurements while cooking, but most Indian women have this instinct about the accurate measure, which most often than not, doesn't go wrong.
This recipe will make roughly around 25-30 Khandvi rolls depending on the way you spread your batter, thick or thin in consistency. The proportion of the gram flour/ besan to buttermilk is 1: 3. Use ginger garlic paste for authentic taste.
Garnish it right
An additional variant to this particular Khandvi recipe is the use of coriander and coconut as stuffing in the Khandvi instead of garnishing it. It's your choice, the way you like it, you can do it!
Ingredients for Khandvi Batter
1 cup besan (gram flour) approx. 100 grams besan
2.25 cups water, to be mixed with the curd (alternatively you can also use 3 cups sour buttermilk)
1 tsp. ginger + green chili paste, about ½ inch ginger & 1 green chili crushed to paste
⅔ tsp. salt or add as required
1 pinch asafoetida (hing)
For The Filling
Fresh grated coconut – 2 tbsp.
Chopped coriander leaves – 2 tbsp.
For The Khandvi Tempering/Seasoning
White sesame seeds – 2 tsp.
Chopped green chilli- 1 tsp., or ½ red chilli powder
Instructions:
Making Khandvi Batter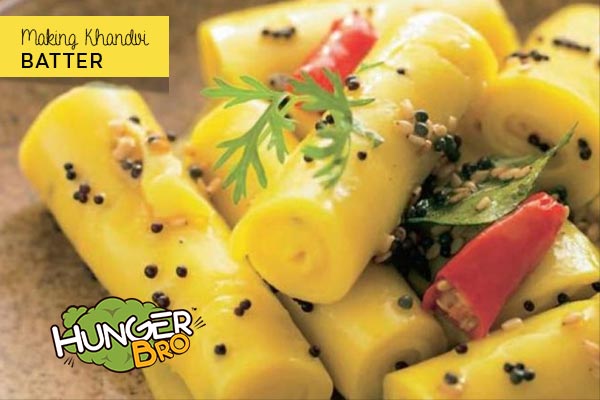 Take the yogurt in a bowl. Add water and stir well until smooth.
Add ginger-green chili paste, turmeric powder, asafoetida and salt.
In case of fresh yogurt, then to make it sour, add about ½ tsp of lemon juice.
Add the gram flour/besan. With a wired whisk, keep on stirring and mixing till all the lumps are dissolved and you get a smooth batter. Make sure no lumps are formed in the batter.
Spread oil on boards, tray or plates. Thalis or large steel lids work well You can also use the kitchen counter top or back of a large baking tray.
Mix the chopped coriander leaves and grated coconut. Keep aside.
In a saucepan, pour the batter. You can also use a broad frying pan. Switch on the gas flame and keep the flame very low. Keep stirring.
It's important to keep on stirring continuously while the batter gets heated. Lumps will form so to avoid it, keep stirring non-stop.
As the batter heats up, it will thicken. Continue stirring. Use a wooden spatula or silicon heatproof spatula for ease.
Take care that the batter doesn't stick to the bottom. Stir continuously.
As the batter thickens to the required consistency, put some on a plate to test it.
On a greased plate, spread few spoonful of batter. Let it cool and then begin to roll. If the rolls do not form easily, then the batter needs more cooking.
It takes approximately 15-20 min. to get the desired consistency on a low flame. Depending on the size, & thickness of the pan, including flame intensity, the time will vary.
After you do the test of rolling the batter, once the rolls form easily, then your Khandvi batter is ready.
If your batter becomes thick, then it's difficult to get thin rolls. If this is the case, you can still spread the batter, and get thick slices instead of the rolls. It will taste good either ways.
Making Khandvi Rolls
Pour about ½ to ⅔ cup of batter on a large plate and spread evenly, making a thin layer with a spatula. This process needs to be done quickly. If the batter thickens and becomes like a blob, then it's difficult to roll with ease.
Once it cools slightly, then garnish with coconut and coriander leaves together. Garnish after tempering to get the best taste and appearance.
Cut into equal sized strips.
roll all the strips gently and tight.
Once all rolls are done, arrange it next to one another or stack them neatly in a tray or a plate.
Tempering For Khandvi
Heat oil and let mustard seeds crackle.
Add curry leaves, green chilies and fry for a few seconds.
Add the sesame seeds and when they change color & crackle, pour the hot tempering mixture along with the oil on the khandvi rolls in even proportion.
You can garnish it with some more coconut and coriander leaves, as per individual preference. Khandvi tastes best with coriander or coriander and mint chutney. Enjoy the lip-smacking snack and savour these tasty bites to your heart's content.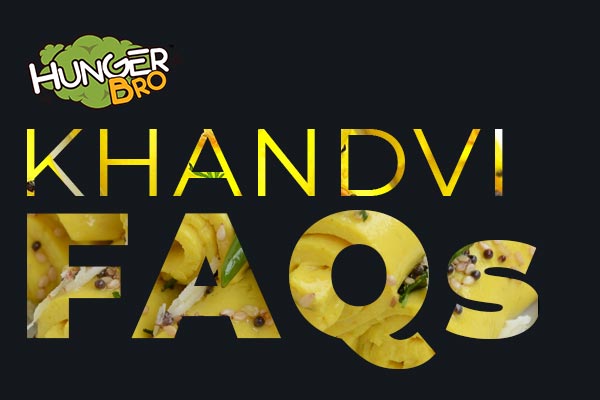 How to Make Gujarati Khandvi at home?
Once you get the right trick of making the batter, it's easy to make Khandvi at home.
Is it a very lengthy process of making Khandvi?
No, in fact it can be prepared in minutes once you get the hang of it.
Is Khandvi fattening?
As it contains besan and buttermilk, it is in fact in protein and probiotic nutrients
Khandvi is a popular snack of which region?
It is a very famous and popular recipe of Gujarati. It is homemade snack recipe.
What should one have with Khandvi?
Khandvi is best relished with coriander chutney or coriander & mint chutney.