An authentic Gujarati sweet, Sukhdi (Gol Papdi) made with gud (jaggery), ghee and atta (whole wheat flour), it's quick to make and tastes delicious!
The soft texture melts in the mouth instantly. It's not hard like kaju katli. It is soft and breaks easily. This texture is thanks to oodles of ghee. More ghee, more soft, that's the trick!
In all 15 minutes of cooking!
All it needs is 15 minutes of your time, and it's ready to relish! With only 3 main ingredients in its recipe, isn't it simple and amazing!
Well, it has a distinct taste that's hard to resist!
The place for Sukhdi Lovers
For Gujaratis, Mahudi, a place in North Gujarat, is famous for Sukhdi as its prasad at the temple.
It's so popular, for some, Mahudi is synonymous to Sukhdi. Sukhdi lovers go there and relish the prasad wholeheartedly.
Sukhdi is traditionally relished during winters. Ghee is used in heavy proportion and the cold winter day is ideal to eat heavy.
But for Sukhdi lovers, binging Sukhdi is round the year! Every few days Sukhdi is made at home.
The name itself is mouth-watering for some! It's as good as an addiction, to say the least! But it's best to have it fresh!
Nothing beats that fresh taste of Sukhdi! It's out of this world! Super delicious!
Ingredients:
⅔ cup Whole wheat flour (gehu atta)
¼ cup Jaggery (gud) grated or powdered
Step wise instructions to make Sukhdi
Prepare the thali that will hold the sukhdi. Grease the plate well with generous amount of ghee.
Now pour ghee in a pan. Keep it on medium heat.
Let ghee melt properly, once it is hot, it's time to add wheat flour.
Mix well. It will form a thick paste.
For next 5 min., keep stirring continuously. Roast the flour properly. It is done when you smell a peculiar aroma. This is a sign of perfection. It will also get a brownish tinge.
Remove it from the burner once it has finished roasting. Add jaggery to it.
As it's hot, jaggery will melt. Mix it well.
Now pour the mixture to the greased plate (thali), even it out using the back of the serving spoon or steel katori, as per your comfort and convenience.
Now, let it cool, but slice it into diamond shapes, while it is warm. Don't let it cool completely. In case it cools completely, then you won't be able to slice it as desired.
Relish it warm. Or let it cool down and then you can serve the pieces, one by one.
Proper roasting of flour: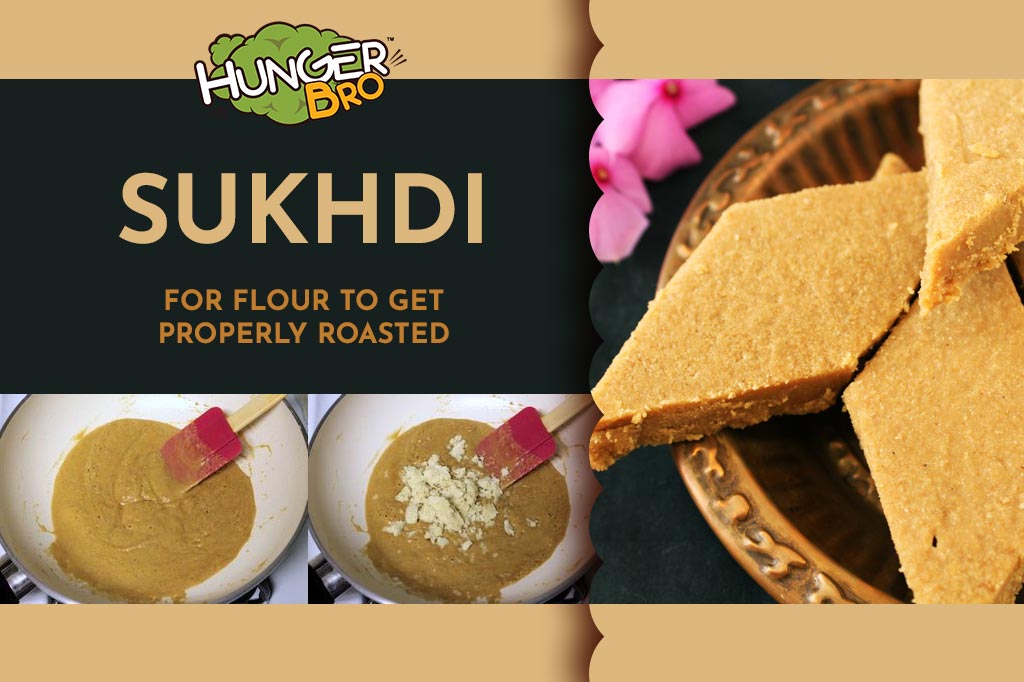 Look for the following signs:
It will change color to a darker shade.
While stirring, you will feel a difference from when you started few minutes back. It feels light.
The paste will get smoother as ghee oozes out while earlier; it was like a thick paste.
Don't burn the flour, heating it more than required. Make small quantities, it will cook quickly.
Notes for that touch of excellence:
Grate jaggery. No chunks should be formed. Even better is using powdered jaggery. It's as per individual preference.
As per choice of taste and individual choice, if you want an added flavor, add some cardamom powder or saffron while you add jaggery to the roasted atta paste.
You can also mix chopped nuts like almonds, cashew etc. as an add-on flavor.
It's important to add grated jaggery. Any big chunks will spoil the fun. You can also add powdered jaggery if that is an easy option for you.
If flour remains unroasted, then you wont get that magical aroma. The raw taste of the flour will otherwise spoil the fun.
If you continue cooking after adding jaggery, then it will get chewy, again the result won't be as desired.
Serve it warm. It tastes best when it is warm.
Anytime is a good time to relish this extraordinary sweet!
Sukhdi is good for growing up kids.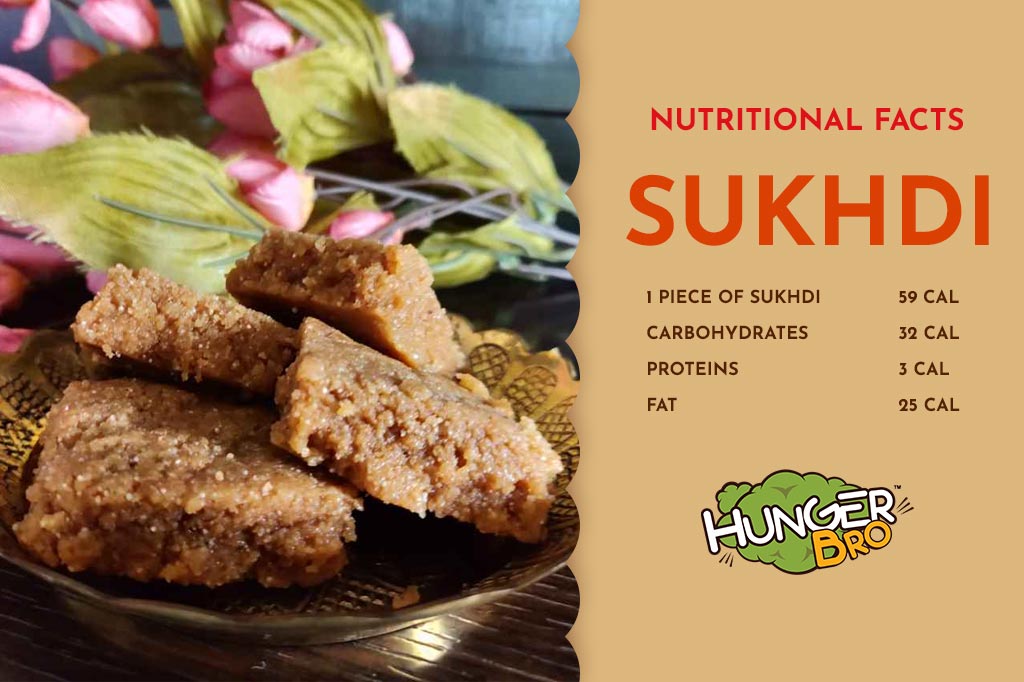 1 piece of Sukhdi – 59 calories
Carbohydrates – 32 calories
Proteins – 3 calories
Fat – 25 calories
What is Sukhdi made up of?
It is made of 3 main ingredients: wheat flour, ghee and jaggery.
Can I store Sukhdi?
It's best to consume warm and fresh. It can be stored as well as it has a longer shelf life.
What is used for garnishing over Sukhdi?
Nuts are used as garnishing to enhance the taste of Sukhdi. It depends on individual taste preferences, but it is not mandatory to add it over Sukhdi.
Why my Sukhdi turns chewy?
Well, the mistake you do is continue to cook after adding jaggery. This makes it chewy.
Sukhdi is a staple sweet of which region?
It Sukhdi or Gol Papdi is very famous in regions of Gujarat and Maharashtra. It is a popular household sweet and for sukhdi lovers, anytime is a good time to binge on Sukhdi. Typically, made on special occasions or festivals, it tops the popularity charts in these regions.