Methi pakora or famous as Methi na Gota in Gujarat, it's a very popular tea time snack made out of gram flour (besan) and methi (fenugreek leaves). Gota is soft and spongy in texture.
Relish these irresistible bites in winter or monsoon
Winter evenings and hot methi gotas with chai! It's an ultimate combination, must say! In every farsan shop in Gujarat, Methi Gota is bound to be there.
It is great to relish during the monsoon season as well! Street side favorite food, Methi Gota is easy to make at home.
Fenugreek Fritters it is!
Methi is fenugreek leaves and gota is pakoda/ fritters. The English name of this superhit desi treat is Fenugreek fritters, popularly known as Methi na Gota!
Better make the correct batter consistency
An interesting combination of fluffy and spongy from inside, the outer layer is crunchy and very yummy!
Pakodas are actually different than gotas. Gota batter is thin compared to pakoda batter, which has less water in batter. Pakodas are crispy while gotas are soft and spongy in texture.
Trick is in the mix
People, while making Methi Gota at home, mix all ingredients and then add water to the mix. This won't make the gotas as fluffy as you find outside.
But a slight modification to adding these ingredients makes all the difference. The trick is to mix the ingredients wet and then add flour to it to form the batter.
For the sake of your stomach
The most important ingredients of the recipe are asafetida (hing) and carom seeds (ajwain). The batter is made out of gram flour (besan), which is heavy, so adding these ingredients aid in digestion.
How ready are you for Ready Gota Mix?
These days many people opt for buying the ready gota mix as well. If you are one who has severe time constraints but are a foodie nonetheless, then these ready mix packets can work well for you!
But batter made fresh has its own charm and that which is pre-packed is convenient but has a bit of differed taste, which is but natural.
It's a choice you made to satiate your taste buds. And of course it's about convenience too!
Yummy Gota, Difficult to stop binging!
The name itself, Metha na Gota gets your mind set to relish those simply delicious and difficult to stop binging on fenugreek fritters! The fun is it tastes street style, but is homemade!
Ingredients
9-10 peppercorns lightly crushed
1 tsp. coriander seeds (whole) lightly crushed
½ tsp. carom seeds (ajwain)
4 finely chopped green chillies
½ cup methi leaves, washed and finely chopped
Stepwise instructions to make Methi Gota:
1. In a bowl, take 1tbsp. oil and water. Mix well.
2. Add salt, sugar, baking soda, hing, crushed peppercorns & coriander seeds, green chillies and ajwain. Mix it well.
3. Then add finely chopped fenugreek leaves.
4. Mix it well.
5. Add besan.
6. Mix properly, see there are no lumps formed. Whisk it properly and make the batter smooth, minus any lumps. It should be thick.
7. Heat oil on medium flame for deep-frying. Test whether oil is heated properly, then small balls of the batter in the oil, using your hand or spoon. Batter should be medium sized balls as it will puff up and will be big in size.
8. Let them puff up on the layer of oil. Leave it for 40 sec. Don't touch, else they will break. Then move around till they are golden brown.
9. Remove on a paper towel spread in a plate.
10. Serve them hot.
Go for Hot Gotas!
Gotas can be stored for a day or so. But preferably to have it immediately, it tastes great that way!
Gotas go well with hot tea or coffee. Chutney is a good combination too!
Tips: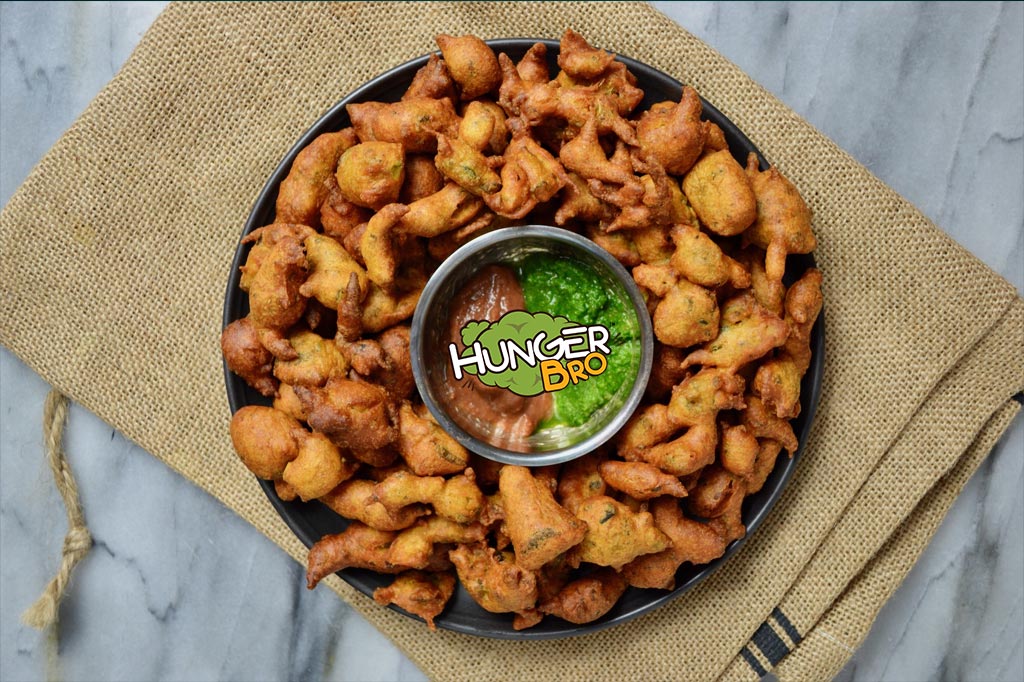 Adjust the spicy taste as per your liking and preference. 4 medium sized chillies is the usual proportion, but you can add more or less as per your taste preferences.
Use fresh methi leaves. Keep the leaves; remove the stems. Measure leaves to around half cup usually. Wash the leaves thoroughly with running tap water and drinking water; squeeze it well and then cut it finely.
It's best to fry gotas on medium heat, and keep tossing until they turn golden brown. Don't fry on high heat, else they will remain raw from inside. Raw besan is bad. So take care to fry on proper medium flame.
Add small sized batter in to the hot oil, as gota will puff up and become big in size as they fry in the deep frying pan.
Deep fry green chillies. Slit it in between and deep fry in the same oil.
1 Serving of Methi Gota – 213 calories
Carbohydrates – 137 calories
Can we eat methi gota everyday?
No, it is a deep fried snack, so not healthy to have it everyday.
Is gota fun minus methi?
Methi is the main ingredient that adds taste and flavor to the recipe, so gota without methi is no fun.
What is the best time to have methi gota?
It's most ideal to relish during winters along with hot cup of tea or during the monsoon season, to enjoy the rains.
What is the right consistency of the batter?
The batter should be thick in consistency to get best results of fluffy and spongy fritters.
What is the best way to mix the batter?
First add all ingredients with water, then add flour to the mixture and whisk it well.