A Perfect Monsoon Treat
Delicious Monsoon Season Savory Snack, Dal Vada is a favorite street food in Gujarat. While in other regions across India, it is made from different lentils including Urad, Moong and Chana dal, in Gujarat, it is made from split yellow (Mogar dal) and green lentils along with other flavorsome spices.
It is very popular, especially in Ahmedabad and is easy to make at home. It is a popular street food. Delicious, spicy and scrumptious, the flavor of this snack is irresistible. You can adjust the spiciness as per your preference and taste.
Basic Ingredients, Great Taste
This recipe only requires very few basic ingredients. The end result is a lip smacking snack that tastes great and perfect in the monsoon setting! For the preparation, add green chillies, salt, black pepper, salt and asafetida to the soaked & crushed split moong dals. Mix the batter properly to get a light and airy batter. Deep fry until golden and crispy in texture. Add onions and garlic to the dal while grinding it for a variation.
Perfect Dal Vada Combo
The perfect combination for Dal Vada is onion slices and fried green chillies. A hot cup of masala chai makes the day! Cilantro or tamarind date chutney also tastes good with this savory snack fritters. It's best to relish these crispy fritters hot. The crunchy and crispy bites feel soft and spongy, it is absolutely irresistible and difficult to stop binging. Hot Dal Vada and Cool Rains, sounds perfect!
Deep-fried so relish occasionally
It's not recommended to have it very frequently as it is deep-fried. Rains and special occasions can be an exception. Moong dal is a good protein source, it has micro minerals and fiber too. Ginger, black pepper powder and chillies help in digestion. Groundnut oil is preferred for frying. While binging, stop thinking, and keep enjoying its great taste!
Perfect Appetizer
Dal Vada with fried green chillies and sliced onions is a perfect appetizer for parties, special occasions or small get together with friends and family!
Gujarati Moong Dal Vada
This snack is very popular across Gujarat, especially Ahmedabad. Wrapped in newspapers, and packed by the local street vendors, this addictive snack tastes great and you can't stop eating them.
It's perfect to have them hot, it's the perfect addition to your menu to entertain guests. Ideally hot, they are good to taste at room temperature too! Enjoy this flavorsome, savoursome snack!
Stepwise instructions to make Dal Vada:
Wash the split moong dals (yellow and green). Wash properly until the water is clear. Rinse them properly until the water is not cloudy.
Soak in sufficient water for around 5-6 hours. Water should be adequate in the bowl of soaked dal.
Once properly soaked for hours, now rub the dals such that its skin will wear off.
Most of the skin of the dal should come out. Keep rubbing properly until then.
Drain water while skin floats on top. Remove the skin.
Very few dal will have skin.
Pour the dal in a grinder jar. Add ginger, cilantro and green chillies. Add very little water, approximately 1-2 tbsp. only.
The paste should be thick and coarse.
Add minimal water. We need thick batter.
Place batter in a bowl. Add salt and asafetida (hing) to it.
Now stir and mix properly until the batter becomes fluffy. This makes spongy dal vada. No need to add baking soda.
Heat the oil for deep-frying at medium heat. Check if its hot enough for frying by pouring a spoonful of batter into the oil. Use a spoon or your hands to pour the batter in hot oil.
Keep moving and fry until golden brown and crispy. Remove to a plate with paper towel over it and the remaining batter similarly.
Fry all dal vadas. Later, in the hot oil, fry green chillies too.
Serve piping hot dal vada with the onion slices and fried green chillies. It's a deadly combination for sure!
Quick Tips: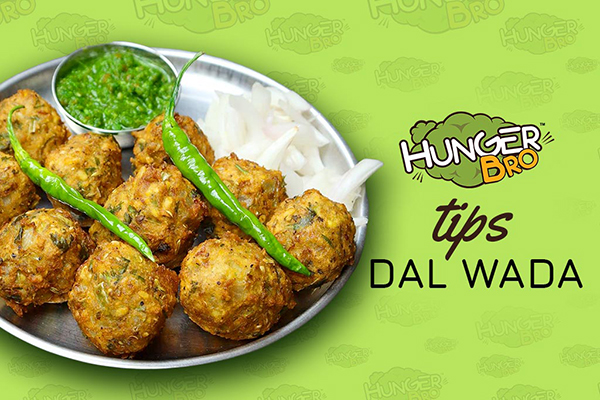 It's necessary to soak the dalfor at least 4 hours.
Do not grind the ingredients to a fine paste. We need a thick and coarse batter for crispy crunchy bites!
Add very little water to make paste.
Stir and mix the batter thoroughly for almost 3 minutes to get fluffy fritters. This helps in making fluffy, spongy and light vadas.
To skip the rubbing dal step, use half yellow moong dal without skin and half with skin.
Add few cloves of garlic to the dal while grinding for a taste variation.
Add some coriander seeds to the paste for a distinct taste.
Keep some whole soaked dal aside. Later add it to the batter just before frying. This makes dal vadas more crispy and crunchy.
Cilantro chutney and tamarind date chutney taste great with Dal vadas.
FAQs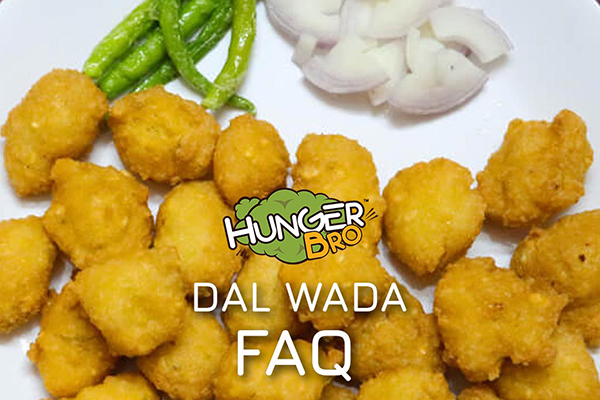 Can we make Dal vadas without soaking the dal for long hours?
No Minimum 4-5 hours of soaking is required to get best result
May Dal vadas keep breaking while frying. What is the reason for it?
If too much water is added, it becomes a thin paste and won't make good Dal vadas. Thick and course does the trick.
It's deep fried but very tempting. Can we have it more often?
As rightly pointed out, it is deep-fried, so not a healthy food season with a hot cup of tea!
Does it tasted good if not hot?
Ideally, it tasted great while piping hot. But even at room temperature, it tasted good.
It's heavy as it's deep-fried. Should we add more appetizers to our guest menu along with Dal vadas?
It rules the show and is hot favourite at most gatherings. So, Dal vadas with onions and fried chillies, and probably, one more starter, and you are good to go!. It's mostly enough! An elaborate menu for starters is really not required.