Dal Bati, a traditional delicacy of Rajasthan consists of hard, baked wheat balls with a mix of spicy lentils. Topped with oodles of ghee, it tastes delicious.
Diverse food options, delectable taste!
An authentic cuisine of Rajasthan, people know of the rich cultural heritage of Rajasthan, but not many know of its diverse food variety, truly delectable in taste!
India with its rich cultural diversity has a vast variety of food recipes, one different from the other! Each region is characterized by its own mesmerizing food delicacies! And Rajasthan is no different!
Immense versatility of Indian food variety
Indian food is not just roti sabzi, dal chaval! It is a lot more! Living abroad, many do not know of the variety of food items with its authentic taste and preparation!
Recipes like Gujarati khandvi, South Indian dosas or Rajasthani Dal Bati are unknown overseas! To relish the taste of Incredible India's incredible food variety, you need to be in Indian soil, and enjoy these soulful delicacies!
Vegetarian options are ample
The Indian cuisine variety for vegetarians is vast and flavorsome. Rajasthani food is a perfect example of awesome food with diverse options for vegetarians!
Minimal fresh produce, yet awesome food variety
And the most amazing part is without having much of a fresh produce, this state has some lip-smacking food options that stays fresh in one's memory for years to come!
Dal Bati – A Delightful Cuisine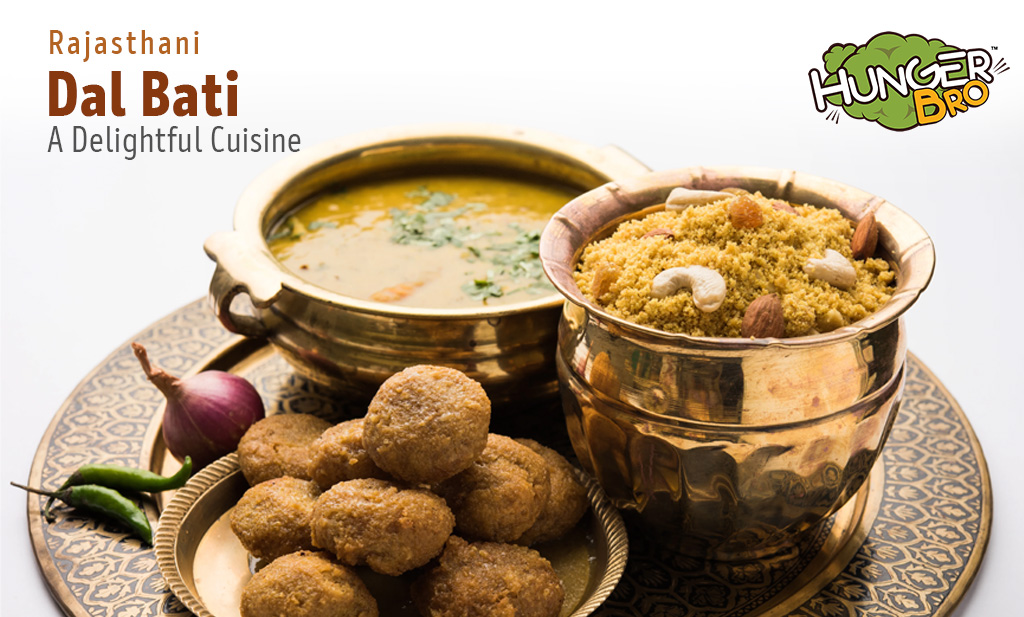 Dal Bati is one such example of mouthwatering food that people relish not only in Rajasthan, but pan India, it is one of the most popular and hot favorite recipes!
What is Dal Bati?
Well, dal of course is a mix of different lentils. It is Panchmel Dal. Panch means five and 5 different types of dals are mixed to make Dal for Dal Bati.
Seasoned with a lot of spices, the dals used are a mix of arhar, chana dal, green moong dal, ural chilka and urad dhuli. masoor dal is also usually used in the recipe.
What is Bati?
It's a hard whole-wheat roll/ dough ball, which is baked and then flavored with lot of ghee.
Churma
Another part of the recipe is churma, which is of the same dough as bati, but minus the spices and salt. The balls are fried, then crushed, and mixed with ghee, sugar and nuts.
There's also a third part to this dish – "Churma" which is almost the same dough as Bati (minus the spices and salt), the balls are fried then crushed and mixed with ghee, nuts and sugar.
The best way to relish Dal Bati
The traditional way of relishing it is crushing the bati to a coarse mixture, add dal and add lots of ghee on top. Eat with churma by its side.
Add chutney (lasan), papad and chaas along with dal bati for an ultimate meal! The flavorful taste of the recipe comes from oodles of ghee!
When good food is on mind, it's Dal Bati time!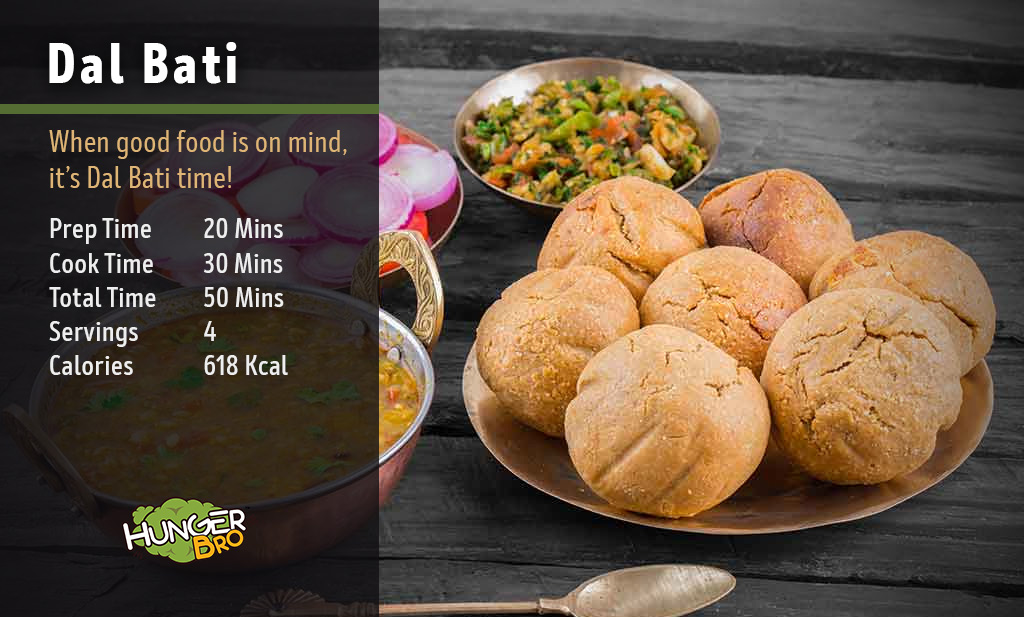 For Bati:
2 tbsp. besan (gram flour)
Ajwain (carom seeds) – 1 tsp.
1/8 tsp. red chili powder
1/4 cup + 1 tbsp. milk as needed to form a stuff dough
1 cup mixed dal (equal amount of arhar, chana, green moong, urad chilka and urad dhuli, or masoor dal as per taste preferences)
finely chopped garlic – 1.5 tsp.
finely chopped ginger – 1.5 tsp.
1 green chili finely chopped
1 medium onion finely chopped
2-3 medium tomatoes finely chopped
1/4 tsp. garam masala to sprinkle
Green cardamom powder to sprinkle
1/4 cup melted ghee (while serving)
Stepwise instructions to make Dal Bati: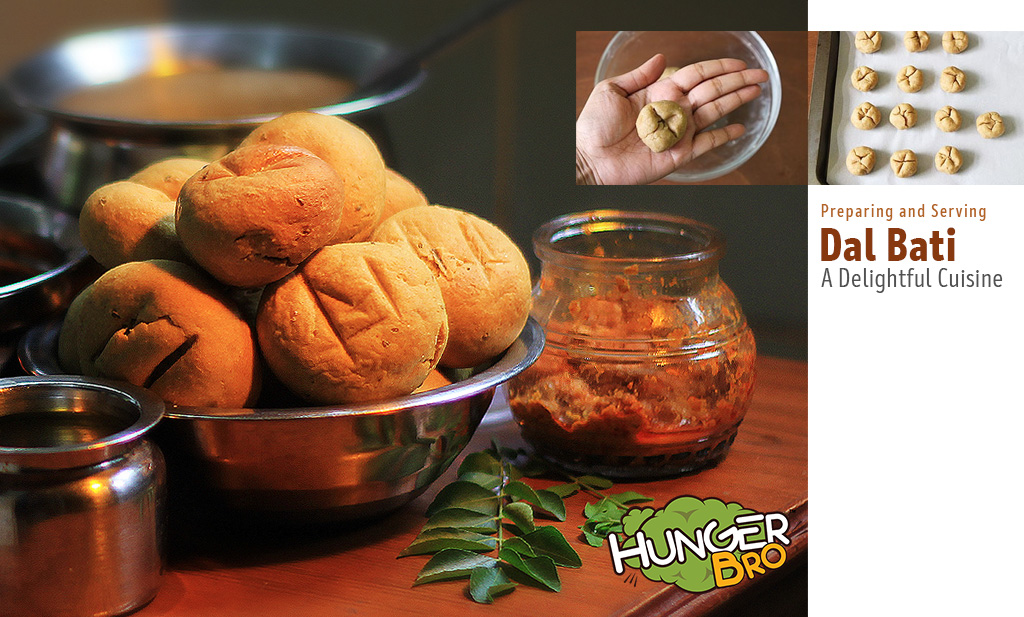 Preparing Bati:
Add atta (wheat flour), sooji (semolina), besan (gram flour), carom seeds (ajwain), fennel seeds powder (saunf), red chilli powder, salt and a pinch of baking soda. Mix properly.
Mix ghee with the flour; rub with your fingers until crumbs are formed.
Add milk in small quantity as required to form stiff dough. Set it aside for 15 minutes.
Divide the dough into 8 equal parts. Make a ball, press it and make a dent in the centre.
On a baking sheet, place all the bati, and brush it with ghee. Bake it at 375 F degrees for approx. 20 min. until the bottom turns light golden brown. Then flip the bati on the other side and bake again for another 20 min.
Preparing Dal:
Until the bati bakes in the oven, cook the dal (Panchmel Dal). Add all dals in a bowl and soak it for approx. 4 hours.
Drain the water and pour dal in a pressure cooker. Add turmeric powder, salt, 4 cups water and mix well.
Pressure cook for 2 whistles on high flame. Then lower the flame and let it cook for 15 min. until dals are softened. Set aside.
Heat oil and ghee on medium heat in a pan. Add mustard seeds and cumin seeds to it. Let it crackle.
Add chopped ginger, green chilies and garlic. Sauté for few seconds until they turn golden brown.
Add chopped onions and cook until that raw smell goes away and onions turn translucent.
Add tomatoes and cook them for approx. 2-3 min.
Add cumin powder, garam masala, coriander powder, and salt as per taste. Cook the spices for approx. a minute.
Add cooked dal and the spices together. Adjust the consistency of the dal, add water to make it thin in consistency. Let it simmer for 5 min. and add fresh coriander leaves.
Sprinkle it with garam masala powder and cardamom powder and serve with bati and lots of ghee. Crush bati in a plate, top it with dal and ghee and Dal Bati is ready to binge on!
More ghee, tastier it is! Be generous with your usage of ghee. It will add authenticity to the taste and make the recipe out of this world!
While serving:
To relish this recipe in its most authentic form, crush the bati in a plate, add lots of dal to it and pour a generous amount of ghee over it. Enjoy!
Nutrition Facts:
FAQs
Dal Bati is made up of what ingredients?
Bati is made from wheat flour and Dal is a mix of 5 dals together, topped with a lot of ghee!
It is a specialty of which region?
It is traditional dish of Rajasthan but is popular across the nation.
What dals are mixed together?
Equal amount of arhar dal, chana dal, green moong dal, urad chilka and urad dhuli, or masoor dal as per taste preferences.)
How much ghee to use in this recipe?
A generous amount of ghee is integral part of the recipe. More the amount of ghee, tastier the outcome is!
What is churma?
Churma is almost same dough as bati, but without spices and salt. The balls are fried, crushed and served mixed with ghee, sugar and nuts.