For those who relish Gujarati cuisines, this one is a perfect treat. Patra or Alu Vadi as it is known, is a delectable delicacy made from gram flour, select spices and chilli ginger paste.
'Farsan' with a fab taste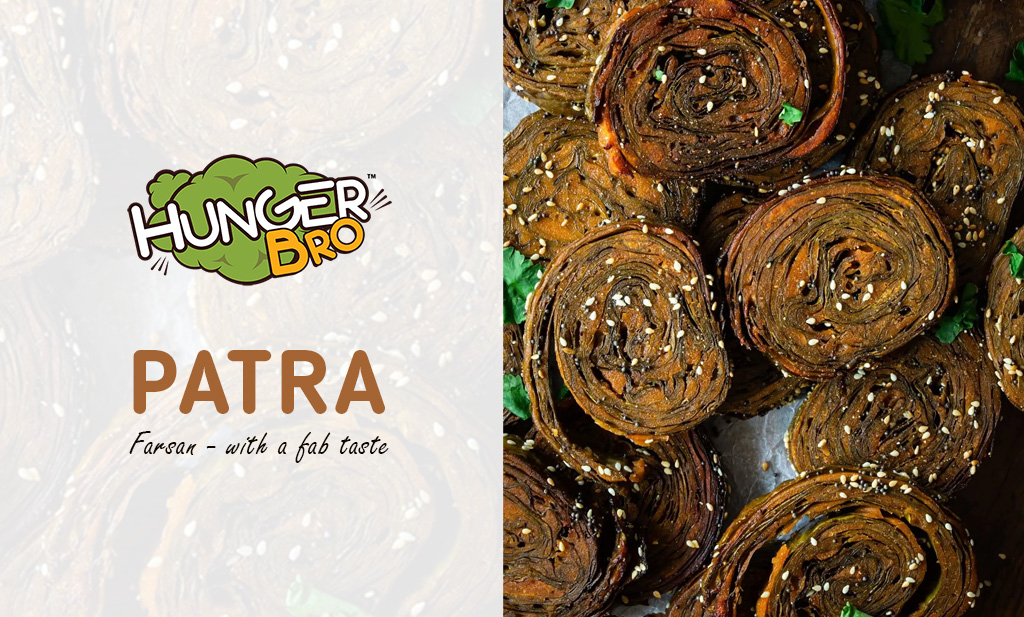 It's a delicious snack and is ready to serve in less than an hour! Relished during special occasions, small get together, kitty parties etc., it is a yummy snack that makes your mood!
A deadly combination is to have it with chutney of your choice and we bet, you won't stop binging on this one! Once its savory taste gets into your mouth, at every gathering, it will be on the menu for sure!
Prep it right
The preparation for this patra recipe is a special one. It needs some amount of practice, but once you get tuned to it, it's pretty easy.
What's it all about?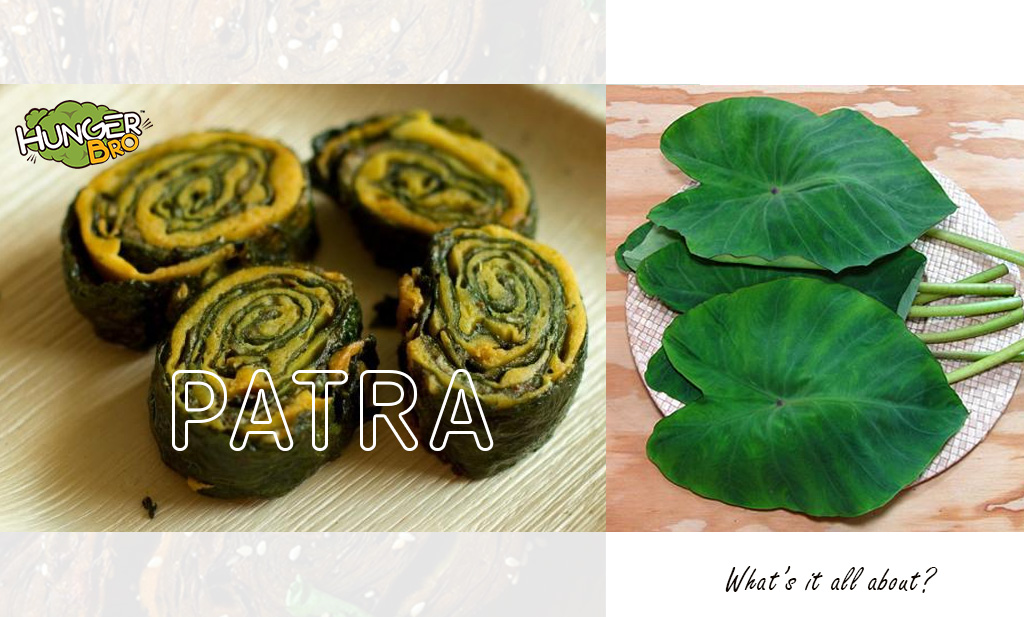 Colocasia leaves are used as the main ingredient.
Gram flour mixture is spread over them, which is a mix of sweet and tangy taste, and then its rolled in a peculiar way, which looks like a pinwheel.
For a mind-blowing menu
Delicious and mouthwatering, each bite satiates the hunger for mind-blowing taste.
Ideally enjoyed as teatime snacks, it can also be served as part of a whole Gujarati thali.
Practice Makes Patra Perfect
Lavingya Patra are the most famous. Rolling it is a skill that needs practice, but once you know it, it's a delicacy that's made easily.
Many names, amazing benefits
Colocasia leaves are also known as Elephant Ears due to its peculiar shape. Taro Leaves is its other name in English. It also goes by a variety of other names in different languages.
As known as Arbi ke patte, or Taro leaves, these green coloured heart shape leaves are rich in nutrients. Light, bright green leaves are ideal. They should be fresh.
Leafy & Yummy
While the colacasia root is a common food ingredient, its leaves are utilized for delicacies, as this one!
Benefits multifold, taste all the more
Few health benefits of eating these leaves include: It strengthens the immune system, maintains good digestive health, aids in weight loss, builds a healthy heart, prevents cancer and is good for the eyes.
Steam it. Relish it.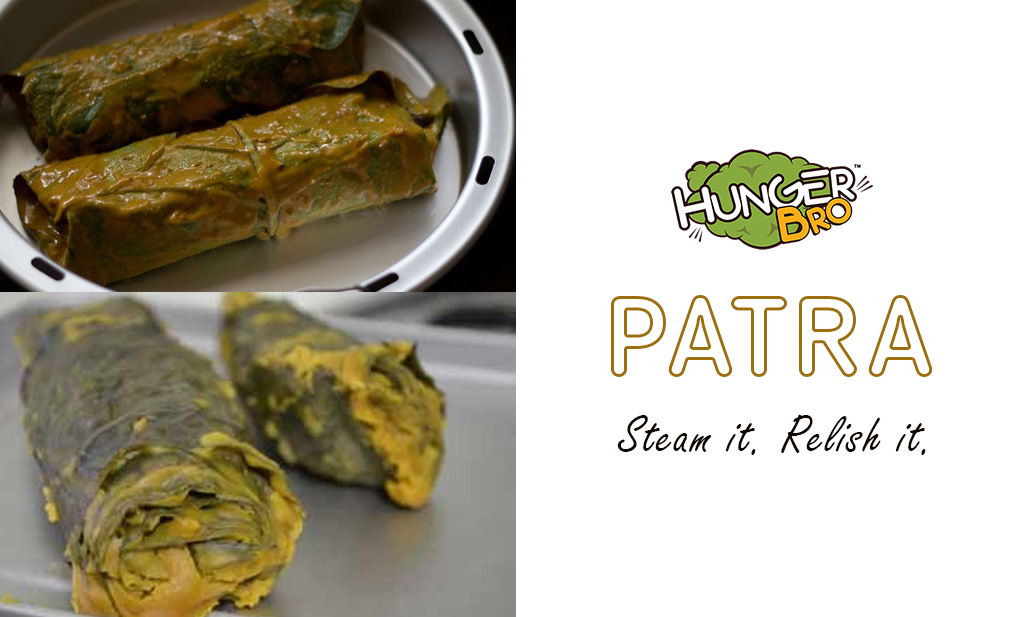 It's a filling dish that's high in nutrients. Raw Colocasia may irritate your throat and cause scratches in your mouth. So it's always more preferable to cook these leaves, either steam or cook them before eating.
Chuck the Menace
It gives phenomenal results in keeping obesity in check. It is low on calories, also aids in cleansing the digestive system and strengthening your immune system.
The fiber in these leaves helps reduce cholesterol levels and potassium helps to maintain blood pressure.
Small Size, Great Taste
Mini Patras are made using small leaves. Make small rolls out of it. Some like it only steamed, piping hot, without tempering. Suit your taste preferences.
Fun is in the Frying
The ultimate fascination is deep-frying patras! Deep fry cooked patras. Make it crispy. Have it at teatime with chutney. It tastes extraordinary!
It's truly worth it
With a wide array of benefits, isn't it something that you should try? Well, try it! We bet it will become a regular dish at your home!
Ingredients:
Pureed green chilli – 1/2 tsp.
Hing (asafetida) – 1/2 tsp.
Red chilli powder – 1/2 tsp.
Step-wise instructions to make Patra:
Besan Mixture. Do it right.
Grate jaggery in a bowl. In another bowl, add gram flour, turmeric, red chilli powder, jaggery, tamarind paste, asafetida, ginger chilli paste and oil. Add water and salt. Mix well. Make it into a smooth paste.
The process with the colocasia leaves
Wash the colocasia leaves and remove veins carefully from the centre of the leaves, placing them on a chopping board, to do it easily and accurately.
Mixture over the leaves
Now apply the besan mixture on one leaf. Place another leave over it. The mixture should be properly and evenly coated. Do the same with the remaining leaves.
Roll the leaves. Let it steam.
Roll the leaves carefully. This requires practice. Once you get hold of this, it is simple. Steam it for about 20 minutes. Let it cool down. Cut it into 1-inch slices.
Heat oil, crackle the seeds
On a medium flame, heat oil. Add mustard seeds and sesame seeds. Let it crackle. Put asafetida to it.
Rolled patras ready for saute
Add patras and sauté for 1 min. Serve hot with chutney of your choice. Garnish with coriander leaves.
Tips
The leaves of colocasia should be ideally medium in size.
Garnish patra with grated coconut (optional).
Instead of tamarind paste, you can also use tamarind water.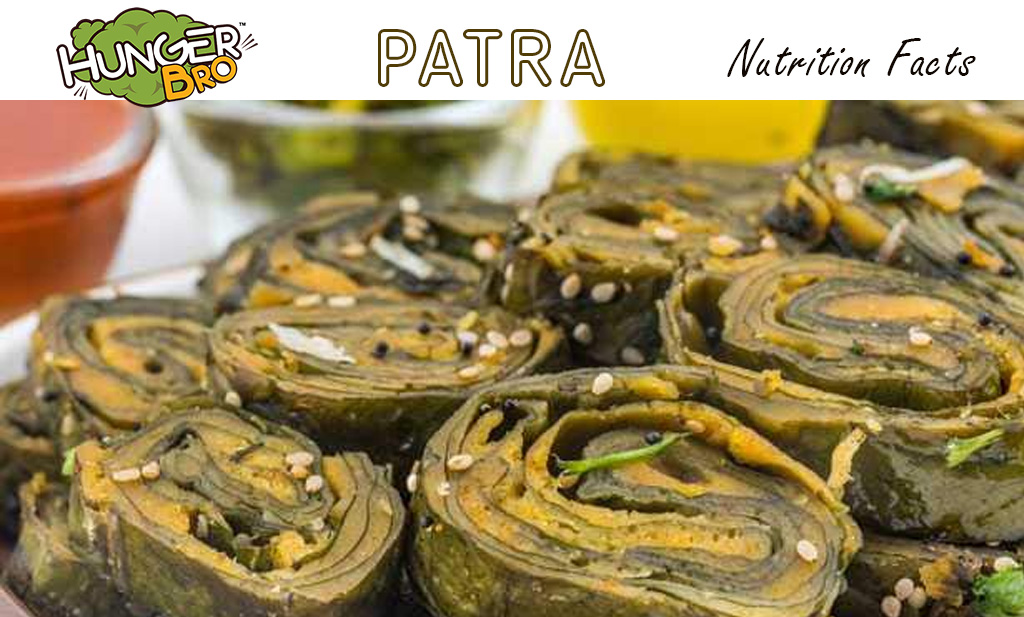 One serving of Gujarati Patra: 604 cal.
Remaining cal. Fats – 133 cal.
1 serving equals to 30 percent of the total calorie requirement of a normal adult diet constituting 2000 cal.
What is Patra made from?
It is made from colocasia leaves, also known as taro leaves or arbi ke patte.
Is it a healthy food option?
Yes, it is a healthy food option. But for people with health complications, they need to watch its consumption.
What are the ingredients of Patra?
It is made from besan, spices and colocasia leaves.
It is a popular delicacy of which region?
A popular dish of Gujarat, it is also relished in Maharashtra and is called Alu Vadi.
I can't roll my Patras properly. What is the trick?
It only comes with practice. Keep doing it till you crack it. Once you know it, it's pretty easy.