Dried ker berry and sangri beans make delicious Ker Sangri, a traditional Rajasthani food item!
Staple food, authentic taste
Authentic taste and simple to make at home, Ker Sangri is great to have anytime!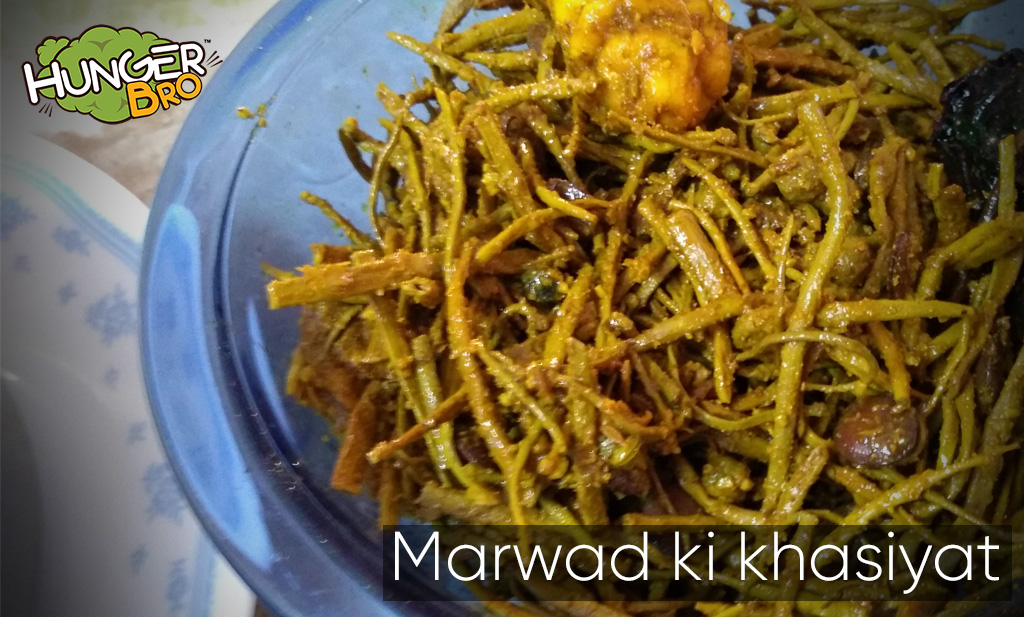 It has a distinct taste, delicious, popular Rajasthani food, perfect for weekday meals and perfect when you are running out of veggies.
Ker & Sangri – Ker and Sangri are usually found in most Rajasthani households. These two are dry ingredients and their combination makes for a delicious sabzi! It can be eaten with Paratha, phulka or poori, as per your liking.
Yogurt– Some add yogurt to the recipe to add a tangy flavor to the recipe. But before adding it, please check that curd isn't sour, else it will ruin the taste of this dish.
Spices – All you need is your everyday spices to make this awesome sabzi! Add red chilli powder, turmeric powder, coriander powder, garam masala powder, amchur powder and salt! These are readily available in your kitchen at any given time!
Adding these spices gives a spicy and tangy flavor to the dish. It simply tastes awesome!
Raisins – Raisins are added which gives a rich flavor to the sabzi, also a bit of sweetness in this spicy tangy dish.
Oil – Any vegetable oil is good to make the sabzi. Some Rajasthani households use ghee to make Ker Sangri.
Others – Besides the above mentioned ingredients, hing, fennel seeds (saunf), cumin seeds (jeera), dry red chilies, and fresh coriander leaves are added to the recipe.
Serving
Traditionally, Ker Sangri Sabzi tastes great with Makki Ki Roti or Bajre Ki Roti.
But as per taste preferences, it can be served along with tawa paratha, missi roti, puri, phulka etc.
As a side dish along with dal, rice and phulka, Ker Sangri can be part of your everyday meals as well.
Ker Sangri is one food item that stays for about a week in the refrigerator, if stored in an airtight container.
If you are making it in large quantities, then make sure you heat only the amount of sabzi you want to serve at one point in time and not heat the entire chunk altogether.
Reheating time and again can decrease the shelf life of Ker Sangri. You may reheat in the microwave or pan until its warm. If you feel it is too dry, sprinkle some water and reheat it.
Let's get cooking Ker Sangri!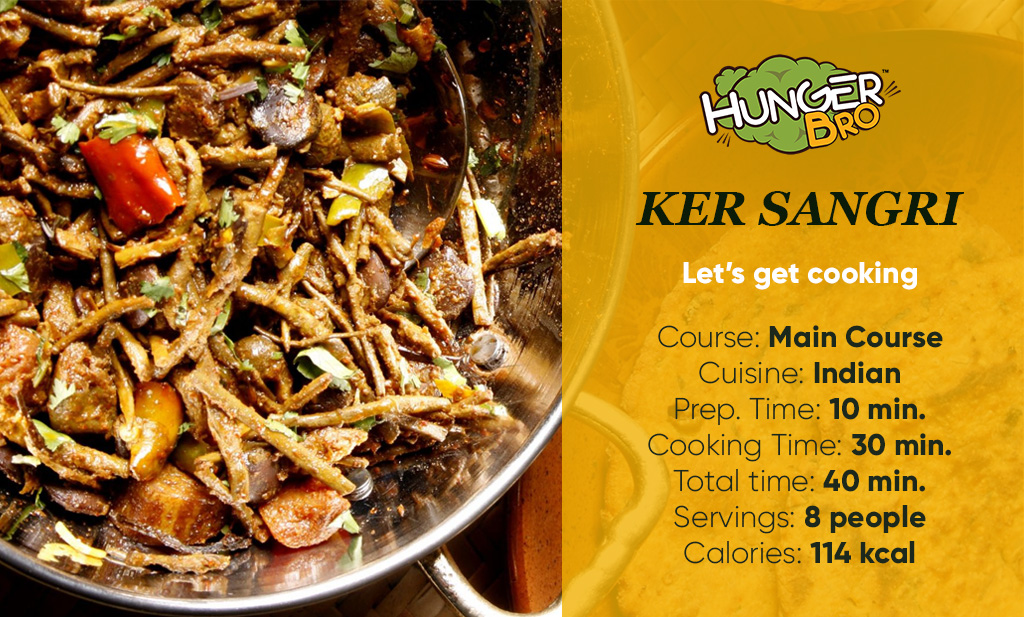 Ingredients:
1 tsp. garam masala powder
2 tsp. dry mango powder (amchur powder)
2 tbsp. fresh coriander (chopped)
Instructions:
Wash Ker and Sangri separately a few times. Remove all the dirt. Clean it nicely.
Soak in enough water for approximately 10 hours.
Wash again few more times.
Add Ker and Sangri in a pressure cooker and add 2 cups of water and 1 tsp. salt.
Pressure cook for 1 whistle on high heat. Remove the cooker from the flame.
Let the pressure release and then open the cooker.
Drain the ker sangria and keep aside.
When the oil is hot, add hing, cumin seeds and fennel seeds.
Add dry red chilies and fry for a few seconds.
Add cooked ker and sangri.
Now add coriander powder, red chili powder, turmeric powder, garam masala powder, dry mango powder and mix well.
Add yogurt, raisins, salt and mix well.
Cover and cook for approximately 7-8 minutes.
Garnish with fresh coriander.
Serve hot with dal, roti or rice.
Notes:
As ker and sangri are full of dust, it is important to wash them properly. Wash them multiple times before cooking.
Sometimes you will find stalk still attached to sangria. Make sure to remove it before cooking.
FAQs
From where to buy Ker Sangri?
A peculiarity of Rajasthan, if you ever travel to Rajasthan, don't forget to stock on these dried Ker Berries and Sangri Beans. Easily found in any local grocery store in Rajasthan, sometimes, you can even find them in Rajasthani stores in your city. You can even try at local stores nearby.
Of course you can order them online too. There are many online grocery portals that sell dried Ker Berries and Sangri Beans.
How to make it vegan?
To make it vegan, you simply skip adding yogurt to the sabzi. Just follow the same steps and avoid adding yogurt. You can add some grated tomatoes to replace it.
How to make it with Buttermilk?
To make it with Buttermilk, Ker and Sangri are soaked in buttermilk for 4 to 5 hours or overnight. Once done, they are washed under running water and then cooked in the pressure cooker to make Ker Sangri.