Fasting tastefully!
Farali Pattice, a Gujarati recipe made during fasts. You can make it during any of the festive fasting time or on regular days too.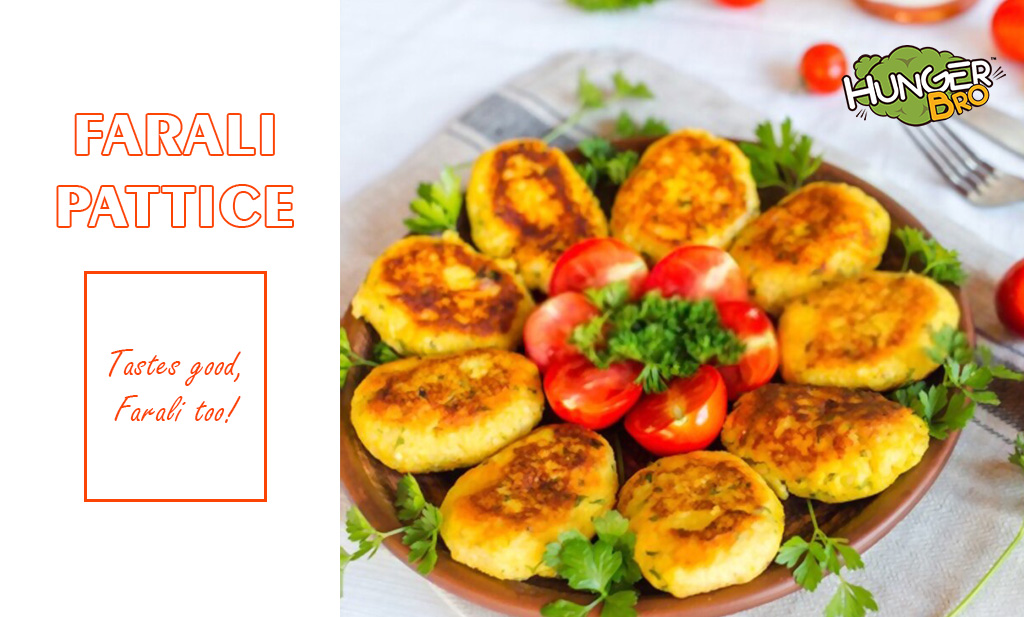 Preparation of Farali Pattice is almost like North Indian Aloo Tikki. Only difference is the taste due to the ingredients. Both recipes have a centre filling. Outer layering is covered with potato.
Aloo Tikki is spicy, whereas Farali Pattice is a bit mild and sweet. The ingredients used in the filling of both recipes are totally different. That is what gives it a different and distinct taste, one unlike the other.
What's the Combo?
You can relish Farali Pattice with curd, tomato ketchup or green coriander chutney, as per your individual taste preferences.
Adding fresh coconut to the recipe gives it a delectable taste. If you don't have fresh coconut, you can use dessicated coconut. You can also use fresh coriander leaves to give it that edge of good taste!
If you do not have coconut at all, nothing to worry! You can just add peanuts, raisins and cashews in double the quantity. It tastes super!
Raisins add that sweet taste. In that case, no need to add sugar. Use rock salt (sendha namak) instead of regular salt if making it while fasting.
Binding potatoes
If you are making it on any other regular day, then to bind the potatoes together, you can use rice flour, breadcrumbs and cornstarch.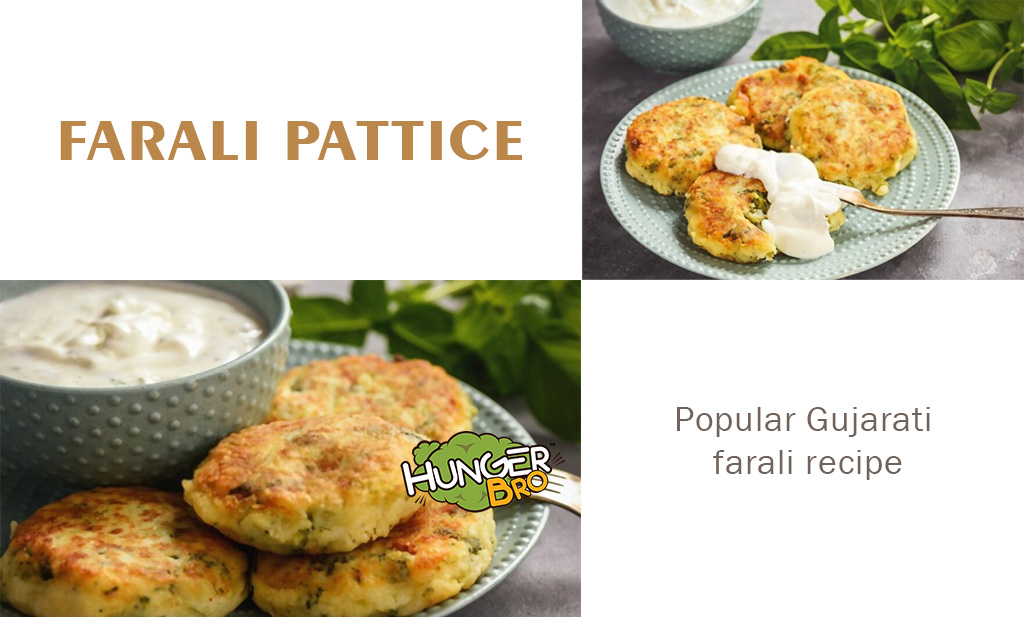 A popular Gujarati snack, this crisp potato patties stuffed with coconut and dry fruits tastes sweet and tangy. It is a famous recipe on the menu during fasting!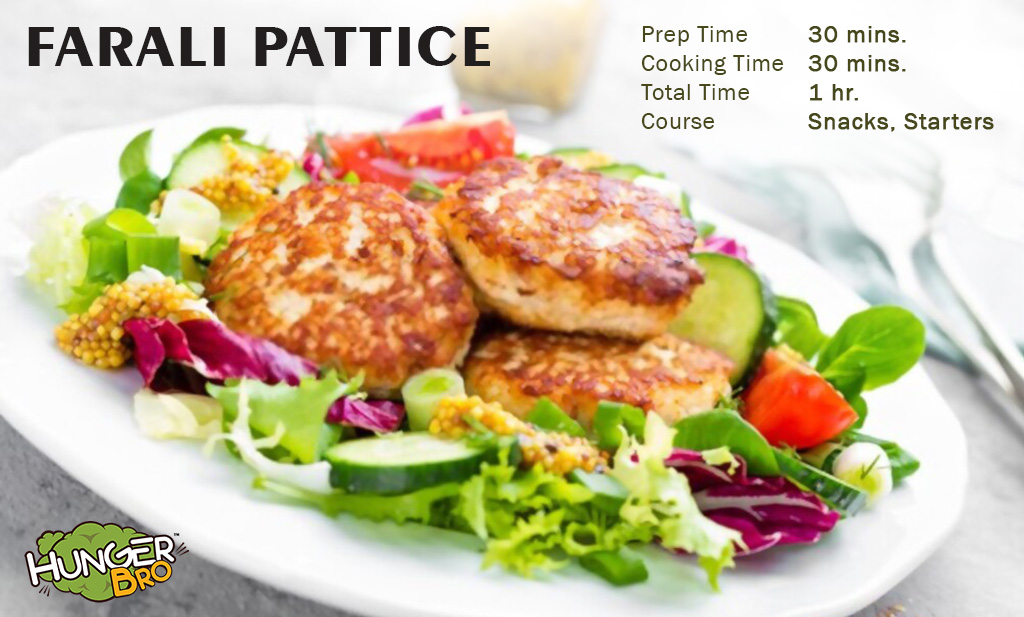 For Outer Potato Cover of Farali Pattice
3 tbsp. arrow root flour (paniphal flour)
Rock salt (edible, food grade) as required
For Farali Pattice Stuffing
3 tbsp. peanuts, roasted and coarsely crushed
3 tbsp. cashew, coarsely crushed or finely chopped
2 tbsp. raisins (kishmish), chopped
2 – 2.5 tbsp. chopped coriander leaves
Rock salt (edible, food grade) as required
Other Ingredients
2 tbsp. ghee or 3 tbsp. peanut oil for frying
Making Potato Covering:
Boil 3 large potatoes in a pressure cooker till they are soft and properly cooked.
Peel them and chop them roughly while still hot. Now put them in a mixing bowl.
Mash the potatoes with a potato masher very well. Let the mashed potatoes cool down properly.
Now add 3 tbsp. arrowroot flour and rock salt. To use this flour as it is made during fasts. You can put buckwheat flour or water chestnut flour as per your choice and liking. If you make it on a regular day, minus fasting, then you can add rice flour, breadcrumbs and cornstarch to bind the potato mixture together.
Mix the arrowroot flour nicely and knead the mixture.
Cover and keep the potato dough aside.
Making the stuffing:
Heat pan and add 3 tbsp. peanuts.
Roast the peanuts well. Stir often on low flame till they become crunchy and have few black spots on them. Remove the peanuts and put them aside.
In the same pan add 3 tbsp. cashews.
Roast the cashews until golden spots are seen.
Keep the cashews aside. Allow them to cool properly.
Now crush the peanuts coarsely. Use a grinder for crushing.
Lightly crush the cashews as well. You can even chop the cashews if you want. Do it in a way that it has small bits and pieces.
In another mixing bowl, take 1/4 cup grated coconut.
Now add 2 tbsp. raisins (chopped) 1/2 tsp. sugar, 1 tsp. lemon juice, 2 tbsp. chopped coriander leaves and 1/2 tsp. green chili paste. You can also add fresh ginger paste. (about 1/2 inch ginger crushed).
Stir the stuffing mixture nicely.
Assembling & making Farali Pattice:
Make medium sized balls from the dough mixture.
Place 1 or 2 tbsp. of the stuffing.
Bring the edges towards the center and close the edges. The filling has to be properly sealed within the potato mixture. Else it will come out or break while frying. Flatten the pattice slightly. While stuffing and flattening the pattice, apply some oil to your hands.
Follow the same process and prepare all farali patties like this.
Frying Farali Pattice:
In a deep bottom pan, heat 3 tbsp. oil for frying. Each pattice should have a proper coating of the arrowroot flour. Dust excess flour off the pattice. This step is optional though.
Place the arrowroot flour coated pattice in medium hot oil and shallow fry it. You can also deep-fry the pattice. Follow the process as you like it.
Flip over the other side when one side is partially cooked.
Flip again as you see the other side also brown.
Shallow fry these Farali Pattice by flipping them a couple of times until they are golden and crisp from outside.
Now drain these Farali Pattice on kitchen paper towels.
Serve Farali Pattice hot with coriander chutney (without onion & garlic), sweetened curd and tamarind dates chutney.
FAQs:
Can you shallow fry the pattice?
Yes, farali pattice can be shallow fried.
Which flour to use to make pattice while fasting?
You can use arrowroot, buckwheat or water chestnut flour while fasting.
What to use in potato mixture if making it on a regular day?
You can add rice flour, breadcrumbs and cornstarch to bind the potato mixture together, if not fasting.
What to have with farali pattice?
You can relish it with green coriander chutney, tamarind dates chutney or sweetened curd.
Is preparation of farali pattice and aloo tikki same?
The preparation of both the recipes is similar, but ingredients are different.