Veg Kolhapuri recipe is a spicy and tasty mixed vegetable-based dish. It has its origin in Kolhapur, a historical city in South Maharashtra.
Hot, spicy and very tasty!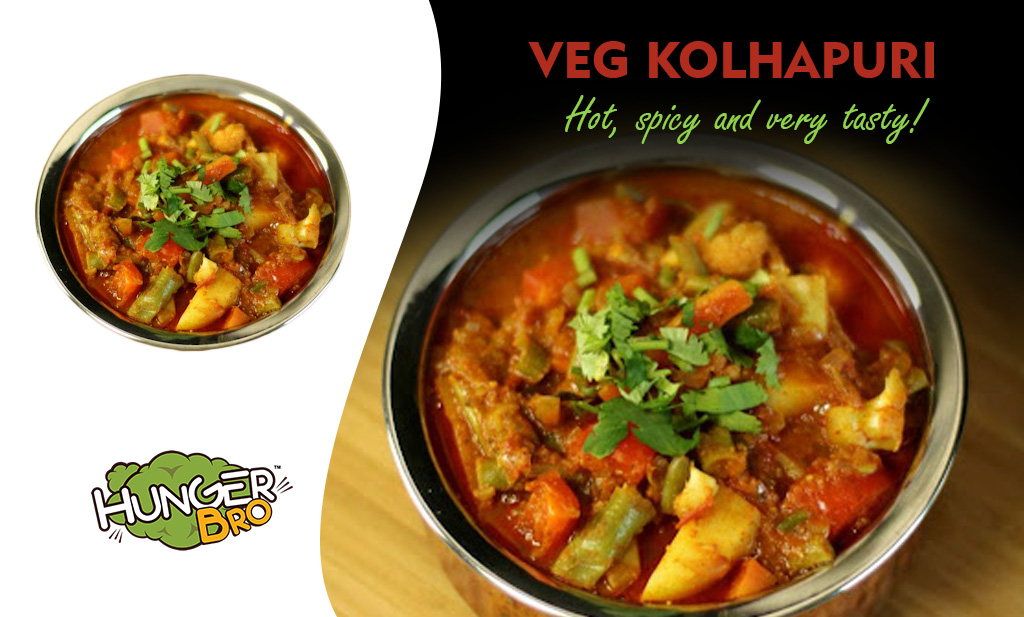 Kolhapuri cuisine is known for its hot, spicy, and pungent flavors. However, not all the food from the Kolhapuri cuisine is spicy & robust.
The Kolhapuri masala is freshly made for curry. So you don't need to have a ready-made store-bought Kolhapuri masala.
What does it taste good with?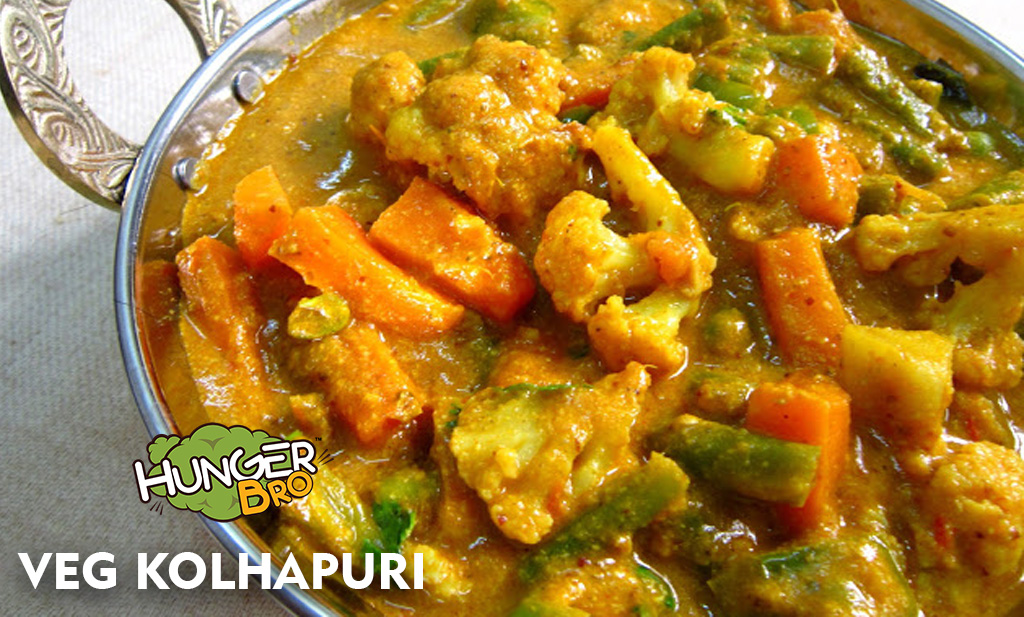 Add any veggies of your choice. Vegetable Kolhapuri is best served with chapatis, bajra bhakri or jowar bhakri, phulkas and even parathas.
To make it mild, cut the chili bit!
The recipe is spicy and has some heat, which most Indians can tolerate. But if you do not prefer spicy food, then cut down on the dry red chilies, garlic, and ginger.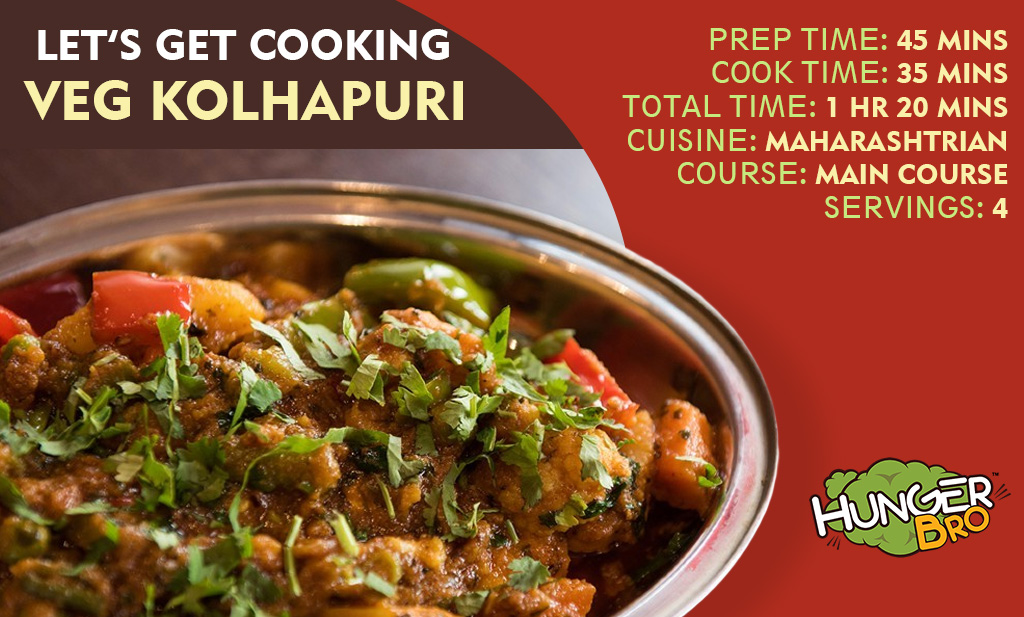 Ingredients
For Kolhapuri Masala
1 teaspoon white sesame seeds
½ teaspoon poppy seeds (khus khus)
2 tablespoon desiccated coconut
4 to 5 whole black pepper
1 teaspoon coriander seeds
1 inch cinnamon (dalchini)
2 single strands of mace (javitri)
Grated nutmeg (jaiphal) – 1 pinch
Stone flower (patthar phool or dagad phool) – 1 Small – optional
nagkesar (cobra's saffron) – 1 – optional
Seeds of 1 black cardamom
1 medium tej patta (indian bay leaf)
½ cup potato sticks or batons or 1 medium sized potato
¼ cup french beans batons or 8 to 10 french beans
Chopped cauliflower florets – ⅓ cup
Carrot sticks or batons – about 2 small carrots or 1 medium carrot – ⅓ cup
Sliced bell pepper (capsicum) – about 1 medium bell pepper (green or yellow or red) – ⅓ cup
Medium tomato or ¼ cup finely chopped tomatoes
1 large onion or ½ cup finely chopped onions
5 garlic + 1 inch ginger – crushed to paste in a mortar-pestle, about ¾ tablespoon ginger garlic paste
1 tablespoon chopped coriander leaves
½ teaspoon red chilli powder
1 pinch asafoetida (hing)
1 to 1.25 cups water or about 250 ml to 275 ml water
Some coriander leaves for garnishing
How to make veg Kolhapuri
First rinse, peel and cut the veggies in thick strips or batons. Place them in a steamer pan.
Then steam the veggies in an electric cooker, steamer or pressure cooker.
The veggies have to be completely cooked and yet retain their shape.
When the veggies are steaming, gather all the ingredients required for making Kolhapuri masala. Listed below all the ingredients for pictorial purpose only. Please note if you don't have stone flower (patthar phool) and cobra's saffron (nagkesar) then its fine. You can also skip poppy seeds (khus khus) as its not available in some countries.
Heat a pan and dry roast the spices first – cinnamon, cloves, black peppers, coriander, cumin, stone flower, tej patta, nagkesar (cobra's saffron), red chilies, nutmeg powder, green cardamoms and black cardamom seeds.
Once the spices become fragrant, then add poppy seeds, sesame seeds and desiccated coconut.
Stir continuously and dry roast till the coconut gets golden.
Once the spices mixture cools, then take them in a dry grinder or coffee grinder.
Grind to a fine powder. A slight semi fine powder is also fine. The sesame seeds & coconut will release oil while grinding. So you have to scrape the sides of the masala and grind. If difficult to grind, then add some water and make a fine paste.
Making veg Kolhapuri
Heat oil in a pan and add chopped onions.
Saute the onions till they are light golden or golden.
Add ginger and garlic paste.
Stir and then add chopped coriander leaves. Stir and saute till the raw aroma of the ginger garlic goes away.
Next, add chopped tomatoes. saute till the tomatoes soften and you see oil leaving the sides.
Add turmeric powder, red chili powder, and asafoetida.
Stir and then add chopped bell pepper/capsicum. You can also skip capsicum if you prefer.
Stir and saute till the capsicum is about cooked and yet having a slight crunch.
Add the ground Kolhapuri masala.
Stir and then add water. Season with salt.
Bring the curry to a simmer.
When you see some oil floating on top, add the steamed veggies.
Stir and simmer for two minutes. The consistency of the curry is slightly thin. Check the taste and add more salt if required. If there is less salt, the flavor and taste of the spices do not come through.
Lastly, add chopped coriander leaves and give a final stir. You can also garnish with the chopped coriander leaves.
Serve Veg Kolhapuri with soft phulkas or parathas or bhakris. You can also serve this spicy curry with bread and steamed rice. For a healthy combo, have it with bajra roti, jowar roti, radish nachni roti, basic ragi roti, or whole-wheat roti.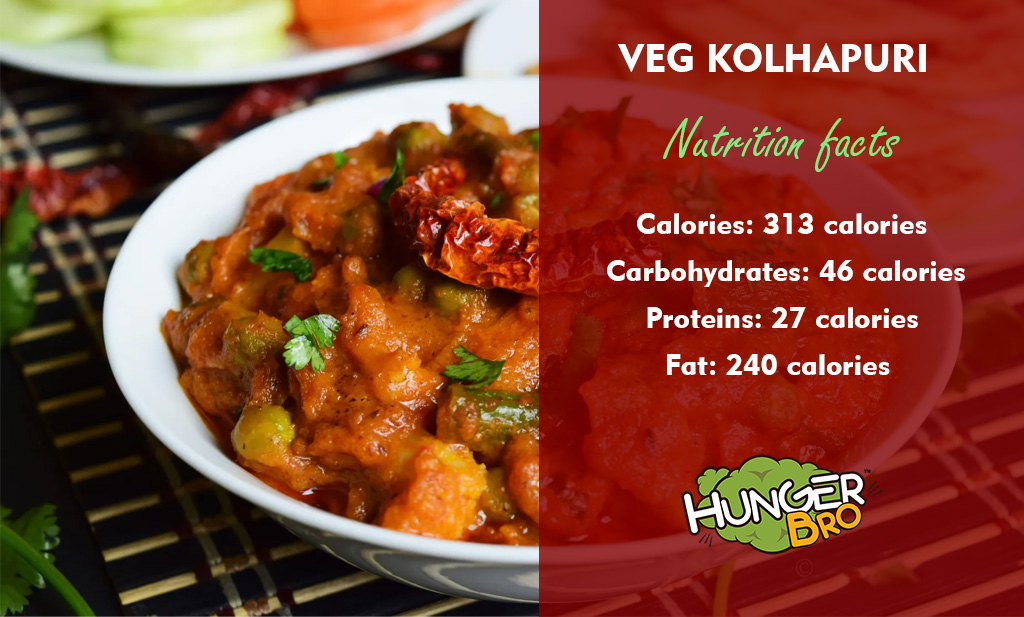 Carbohydrates: 46 calories
FAQs
Veg Kolhapuri is a specialty of which region?
It is a special recipe of Kolhapur region in Maharashtra.
Is it a healthy food option?
As it consists of a mix of veggies, it is a healthy food option.
What to have along with it?
Have it with a bajra roti, jowar roti, radish nachni roti recipe , basic ragi roti recipe, and whole wheat roti to make a healthy combination.
How to make Veg Kolhapuri restaurant style?
The vegetable Kolhapuri restaurant style is made from mixed vegetables (french beans, green peas, carrots, onions cauliflower) with paneer tossed in a Kolhapuri gravy enriched with fresh cream.
Can diabetics, heart patients and over weight individuals have Vegetable Kolhapuri?
Yes, this recipe is good for diabetics, heart and weight loss. Quantity restricted.