The Sweet & Scrumptious taste of the Rajasthan cuisine
Rajasthani Mawa Kachori, a scrumptious dessert of Rajasthan consists of a crispy and crunchy sweet crust, packed with sweetened mawa/ khoya dry fruit mixture.
The traditional treat
Rajasthani Mawa Kachori or Mawe ki Kachori is a traditional Rajasthani delicacy.
It tastes different from other spicy kachoris. Being sweet in taste, it is served as a dessert. It has a lip-smacking taste!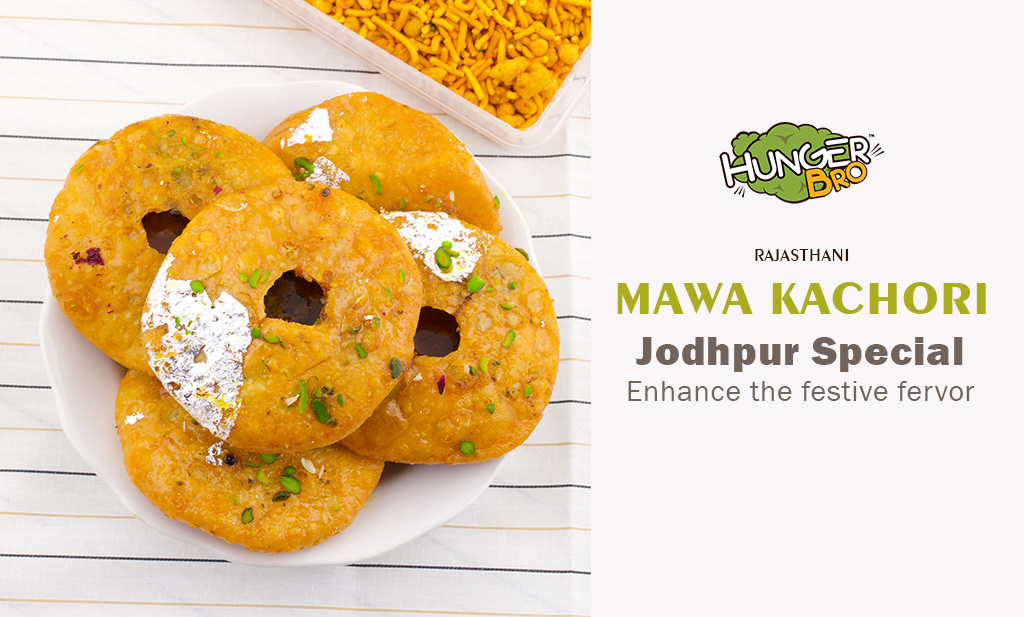 A tempting delicacy, it is a specialty of Jodhpur in Rajasthan! They taste so delicious; you can eat them up in no time at all!
Enhance the festive fervor
Food and festivals go hand in hand! To enjoy the festive fervor, food enhances the joyous vibe and spreads an ambience of happiness with lovely food treats to relish!
Versatile Sweet Variety
No festival is complete without mithai! Food and its versatile variety is the integral charm of India! Festivals are complete with good food, lots of colors & huge celebration!
What does Mawa Kachori consist of?
Mawa Kachori is a rich variety of dessert, which consists of dried milk, nuts and aromatic sugar syrup topped with nuts.
Rajasthan is known for its bright colors and great food! Mawa Kachori surely amps up the taste charts of the authentic and rich Rajasthani cuisine!
Festivities on, delectable food binge on!
Come Holi, Diwali or any big festival, Mawa Kachoris create the festive mood in full swing.
It's great to have these kachoris at any given time of the day! They are a welcome treat at any time.
A 'must have' during festivals, make the most of the festive time with great delicacies by your side!
What is Kachori?
Kachori is a fried dumpling usually made into a savory or spicy snack.
It is a round flattened ball made of all-purpose flour (maida). They are made both in savory and sweet versions.
It is believed that Rajasthani Mawa Kachori was invented in Jodhpur. However, this delicious dessert recipe is savored throughout Northern India.
Mawe ki kachori or Mawa kachori is a famous Rajasthani dessert, which is so popular all over the state of Rajasthan. Kachoris are the most addictive snacks.
This sweet version particularly is very delectable and incredible in terms of its texture and taste!
Crisp deep fried kachoris stuffed with rich dry fruits and mawa (khoya) are coated in sugar syrup.
They taste absolutely extraordinary. Crunchy, sweet and colorful, these kachoris taste absolutely amazing!
Making this Rajasthani Mawa Kachori at home is worth it!
This recipe is a bit time-consuming, but the ultimate outcome and the taste is something that is worth every minute spent in making it!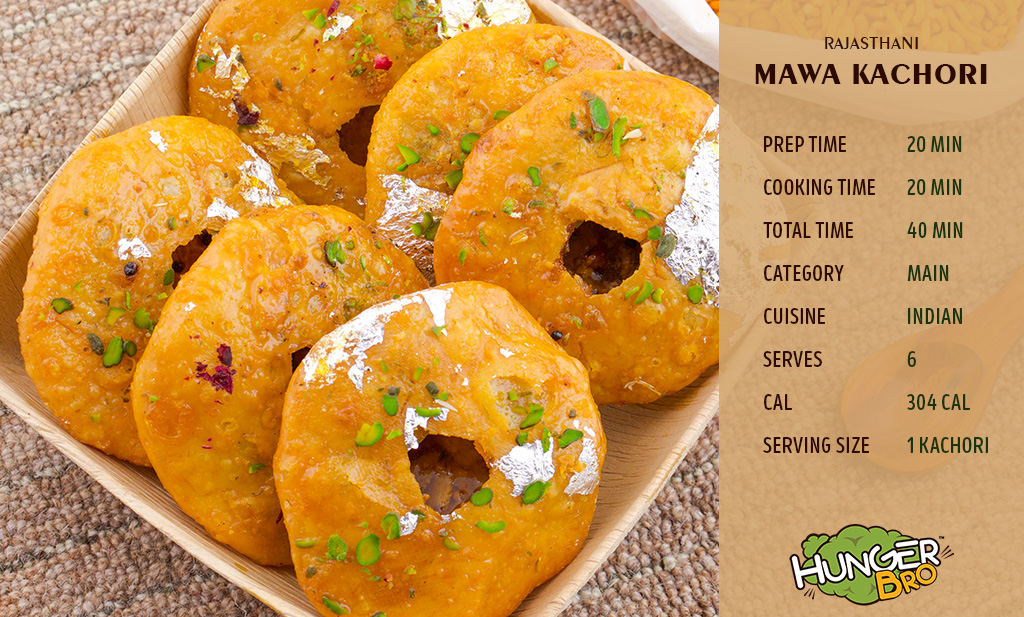 Nutritional Info: 304 cal.
Ingredients:
For Homemade Instant Khoya:
2 cups of milk powder (use full fat)
1/2 cup milk for cooking in the pan, and 1 cup for microwave cooking
For the Mawa Kachori dough:
3 tbsp. ghee (clarified butter)
For Mawa Kachori Filling:
1 khoya/ mawa (dried whole milk), crumbled
2-3 crushed cardamom pods
1/4 cup dry fruits, finely crushed (almonds, pistachio, cashews)
For the Sugar Syrup:
Ghee /oil for deep frying
For garnishing:
Silver vark (edible silver)
Stepwise instructions to make Mawa Kachori:
Make Mawa/ Khoya in the Microwave or Pan:
Add milk powder, ghee, and milk to a mixing bowl.
Whisk well to get a lump-free mixture.
Microwave it on high for 2 minutes.
Remove the bowl from the microwave and whisk well.
Microwave again for two more minutes. Mix well again. The mixture should look crumbly yet soft. (You can microwave for 30 seconds more if needed.) Set it aside and let it cool completely. Khoya Mawa is ready for use.
You can also make mawa/ khoya in a pan. Add milk powder to a mixing bowl. Add 4 tablespoons ghee and 1/2 cup milk to pan and heat over medium heat.
Let the mixture come to a boil. Add this milk ghee mixture to the milk powder. Mix well with a spoon. The mixture will look crumbly yet soft. If the mixture seems too dry, then add some more hot milk to it. Grease your palm, shape the warm mixture into a ball. Let it cool at room temperate. After cooling, it will harden and hold the shape. Just crumble or grate this mawa/ khoya. It is ready to use khoya to the recipe/ delicacy.
Make Mawa Kachori dough:
In a mixing bowl, add flour, salt, and ghee. Gently rub the mixture with fingers.
Add water and knead into smooth dough.
Cover and keep it aside for 30 minutes.
Make Mawa filling for Kachori:
Heat prepared mawa/ khoya in a pan.
Keep stirring and cook it on medium-low heat until it starts to melt and leave the sides of the pan.
Turn off the heat. Add powdered sugar, cardamom powder, crushed cardamom, and chopped dry fruits.
Mix everything well. Keep it aside to cool.
Make Sugar Syrup:
Add sugar, water and crushed cardamom to a pan.
Let it boil until it reaches 1 string consistency.
To check sugar syrup thickness, spill a drop of sugar syrup in a spoon, plate or bowl. Allow it to cool for a few seconds. If the syrup forms 1 thread then your syrup is ready.
Make Kachoris:
Divide the dough into 6 equal parts.
Take one dough ball and roll it into a disc of approximately 2-inch diameter using a rolling pin.
Put about 2 1/2 tbsp. of prepared mawa filling in the center. Bring the ends together.
Seal tightly and flatten to make discs.
Roll gently again to make a 3-4 inch circle. Make remaining kachoris the same way. Keep them aside.
Fry Mawa Kachori:
Heat ghee/ oil in a pan over medium heat. When the ghee is medium hot, put the kachoris into the pan.
Fry them on medium heat till they turn slightly brown from both sides. It will take about 8-10 minutes to fry.
Remove fried kachoris on an absorbent paper and let them cool completely.
Serving: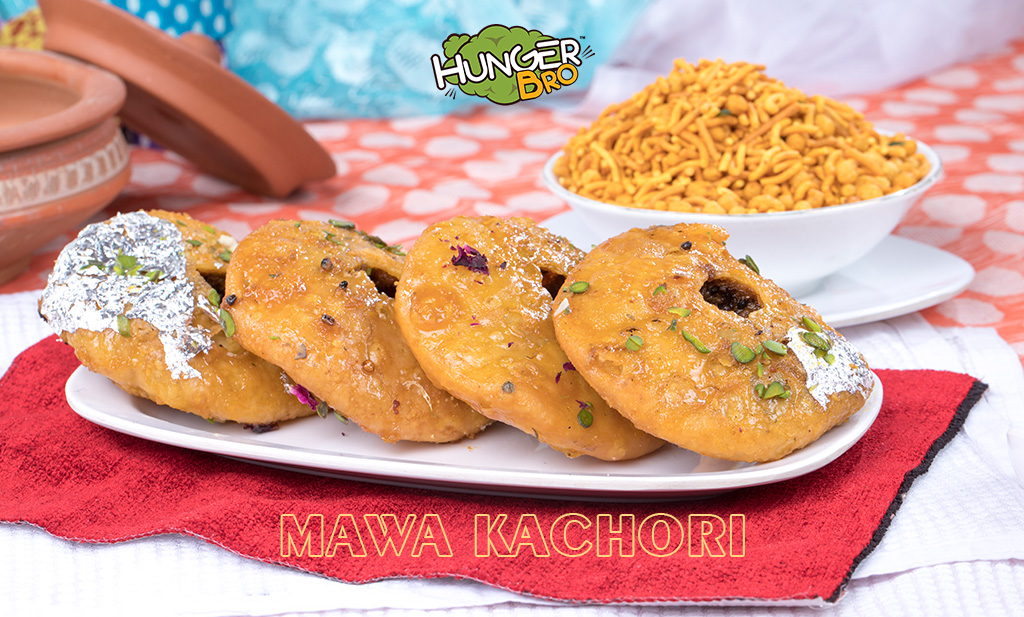 Heat the sugar syrup if it is cold.
Put the cooled kachoris in the warm sugar syrup and let them soak for 2 minutes.
Take them out on a serving plate. Garnish mawa kachoris with chopped nuts, edible silver vark and rose petals.
Pour some more syrup on kachoris and relish!
Quick Tips
You can store the stuffing in the freezer until 1 month. Thaw it overnight in the refrigerator prior to use.
In an airtight container, you can store these kachoris at room temperature for about 3 to 5 days.
Do not roll these kachoris very thin. If the shell is very thin, they might break while frying.
Nutrition facts:
One Mawa Kachori contains 304 calories.
FAQs:
What is Mawa Kachori?
Mawa Kachoris are Indian hand pies filled with mawa/ khoya and mixed nuts, deep-fried and dipped in sugar syrup. They are a specialty from the state of Rajasthan.
Is Mawa good for health?
It is great at strengthening bones and teeth due to its rich calcium content. Khoya also has a sizeable amount of riboflavin, a good source of vitamin B, which helps to keep the immune system healthy, improve energy production, and maintains skin and hair health.
How long does Mawa last?
No additives or preservatives are added. This khoya stays good for about 3 to 4 days in the refrigerator. In the freezer, you can keep for 6 to 8 days.