A speciality of Rajasthan, Churma Ladoos are popular across India. It is an authentic and traditional Indian mithai.
Coarse texture, classy in taste
Churma is typically a mithai (sweet) made by coarsely grinding whole-wheat flour. Churma ladoo (the deep-fried whole-wheat flour dumplings along with sugar) taste delicious. Enjoy it either in original powdered form or shaped into laddoos.
Churma Ladoo is a popular delicacy not only of Rajasthan but across many regions in Western India. Serve with the traditional Rajasthani delicacy, Dal Bati, Churma Ladoo create a great food fervor.
Switch on the festive mood
Churma ladoos are also a popular delicacy, top most preference during festivals like Ganesh Chaturthi. They are made as an offering to Lord Ganesha, the deity who loves laddoos!
High on calorie, high on demand
This laddoo is full of calories, so much so that it might get shocking on the first go! It is packed with energy, 350 calories per piece, to be precise! Yeah! You heard it right!
Well but it tastes so delicious that people dump their diet to relish this delicious delicacy once in a while and enjoy festive occasions fulfledgedly!
For those who need it, it does good!
People who are looking up diet that is high on calories like athletes, growing up kids, pregnant women, mothers of new born etc. need a high calorie food intake. Churma ladoo is an ideal option for them!
Coarse, coarse baby!
Churma literally means crushed particles. Coarse wheat flour use with shortening (moien) and warm water to bind the dough together. You don't have to knead the dough. Just bind it together and make thick dumplings.
Fry it; try it!
Fry the rolled pieces of dough in oil or ghee. Crush these fried pieces to prepare churma. Add ghee, jaggery and poppy seeds to make laddoos.
The nutty classy bites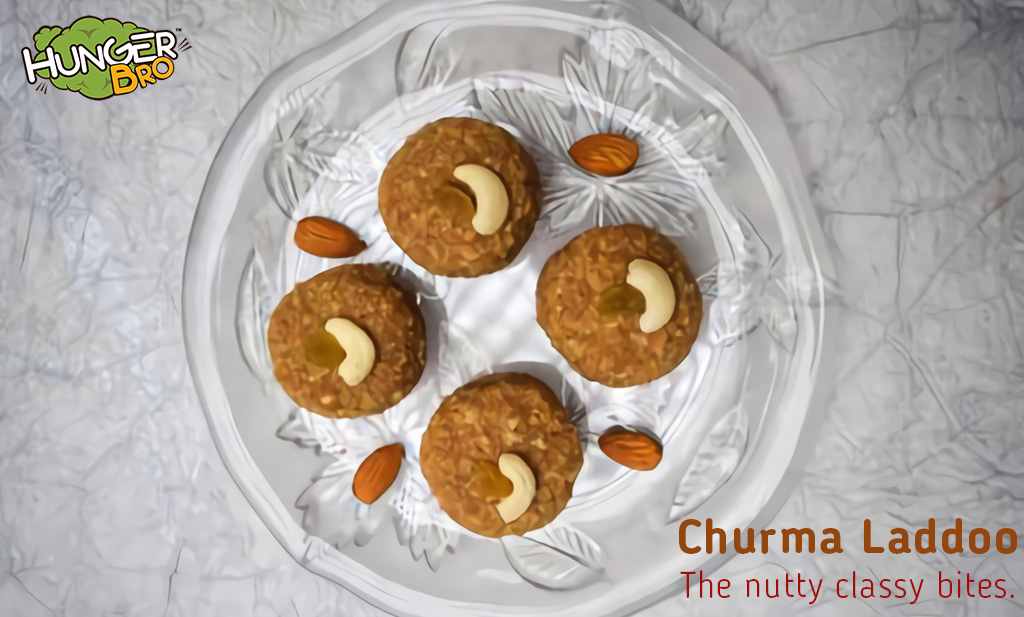 Garnish it with a slight pinch of cardomom, nutmeg, and few raisins.
Important Tips
The wheat flour has to be coarse.
While frying the dough balls, the flame needs to be slow to medium with equal consistency.
The amount of ghee applied to the churma must be correct and balanced. Otherwise, it will become very oily.
Easy to Store
Let the laddoos cool properly. They can be stored in an airtight container in a cool dry place for almost 15 days or so. It retains its great taste stored under proper conditions.ch of cardomom, nutmeg, and few raisins.
About the Recipe
Preparation Time: 20 min.
Ingredients:
Dry Fruits like cashews, pistachios and almonds
Step-by-Step Instructions to make Churma Ladoo:
Take 2 cups of Whole Wheat Flour in a wide vessel.
Add 3/4 cup desi ghee to the flour.
Mix the ghee thoroughly. Rub the flour on both hands so it is properly coated.
Add 1-cup water to the mixture and knead the mixture into a tight dough. Milk is also an option if not water.
Divide the dough into small equal balls and press them.
For frying, heat ghee in a pan. Add the dumplings. Ghee should not be very hot, else they won't cook properly from inside.
Fry them on slow to medium heat until they turn golden brown. Drain the excess ghee on kitchen rolls while taking them out.
Now break these into small pieces. Keep them aside and allow to cool properly for about 10 min.
Grind the pieces to a fine powder.
Now add powdered sugar (3/4 cup) and mix properly.
Add 3/4 cup of ghee to the mixture.
Mix the ghee thoroughly with the churma. Add dry fruits (finely chopped) like cashews and almonds to the mixture.
Shape handful of churma to round firm balls. Garnish with chopped nuts (pistachio). Your churma ladoos are ready to relish.
Store in an airtight container. It stays fresh for few days.
Tips for Making Churma Ladoo:
The flour needs to be coarse. Add laddoo atta to the whole wheat atta. Add suji or rava to the mixture.
While kneading, use very little liquid. To make the dough, you can use either milk or water. It's important to make sure the dough is stiff.
Divide the dough in small portions to cook, make sure to flatten them out for even cooking.
If baking, bake them at 375 degree F.
If frying, keep the heat from low to medium, fry consistently for about 12-15 min.
Cool the batis and make churma.
Before adding the churma, toast the chopped nuts in ghee. To increase the flavour, add toasted nuts. Adjust the amount according to your personal tastes.
Add sugar or jaggery powder to the mix after it comes to room temperature.
Use jaggery powder or grate the hard jaggery. The proportion of sugar to jaggery should be half sugar and half jaggery.
Nutrition Facts:
Total Carbohydrate: 36.9g
FAQs
What is Churma Ladoo made of?
The two main ingredients of Churma ladoo are coarse whole-wheat flour and ghee.
Churma Ladoo is a delicacy of which region?
Popular Rajasthani recipe, it is a favorite across the nation.
Does Churma Laddoo remains fresh while stored?
Let it cool properly. Then store in an air-tight container. It remains fresh and can be relished for 10-12 days.
Are dry fruits added to the delicacy?
Yes, for an authentic taste, pistachios, almonds and cashews (finely chopped) are added to the recipe.
What is the ideal time when these laddoos are enjoyed?
Particularly enjoyed during festive occasions, laddoos add to the celebratory mood in big or small family get together, during festivals or any regular day.