Farali Papdi Chat is made from Kuttu (Buckwheat) ka atta. It is an innovative farali food variety, relatively not too known. But it tastes great!
Chat hai toh swaad hai!
The name 'Papdi Chat' is enough to get the mouth watering! Isn't it! Well then, scroll down to know how to make it!
Farali food has a lot of interesting recipes now to not let you miss your regular food, in anyway. In fact, it tastes good and different, which feels great to the tongue!
Savor good & innovative farali recipes during fasts and enjoy you fasting time!
The crunchy munchy taste
Farali Papdi Chat made from Kuttu(buckwheat flour) is crunchy snack, peculiarly eaten during fasts.
It is a gluten free snack. When you bake it, it gets healthy as well. Use vegan curd to prepare chat.
It tastes delicious and your vegan criteria will also be well taken care of!
Tradition bhi, taste bhi!
To break the monotony of traditional fasting food, this farali papdi chat is a welcome change indeed!
This recipe is special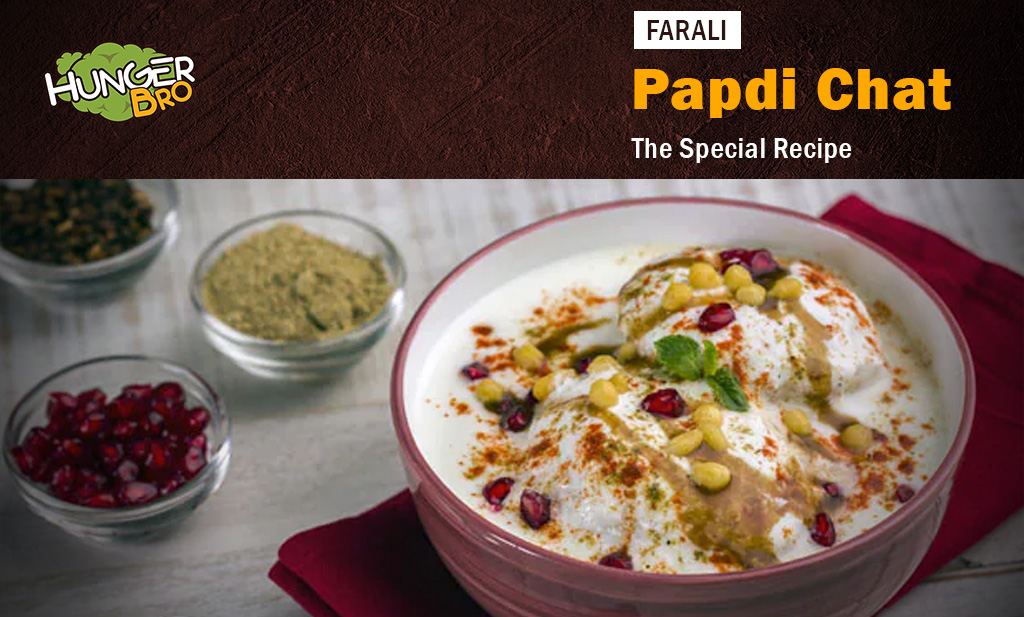 Combined with green and tamarind chutney, with curd, farali papdi chat (made from kuttu) is a savory snack, tangy in taste!
Sprinkle spices
You can sprinkle red chili powder and cumin powder (if that's allowed during fasting). Serve at room temperature and the chat tastes amazing!
Flour as you please!
The flour that you can use while preparing this recipe could be of your choice completely. It could be rajgira ka atta or kuttu ka atta, or singhada ka atta, as you like it, as per your taste preferences!
Fasting ka atta
These flours you can have during fasting days. Plan your day of fast with some special farali recipes.
Fast well, eat good too!
You may choose to eat good food, so what if you are fasting! Goodness of taste and sincere faith, both can go hand in hand!
Course: Main course, snack, breakfast
Ingredients:
For Making Papdis
kuttu flour (buckwheat flour) – 1 cup
1/2 tsp. dry ginger powder
Water to knead the dough (approx ½ cup+2 tsp.)
Other ingredients to make the chat
2 Medium sized boiled potatoes chopped
chutney (used for fasting)
Handful pomegranate pearls
Handful dry roasted peanut
Only with a few ingredients, these papdis are ready to relish!
For Making Papdis: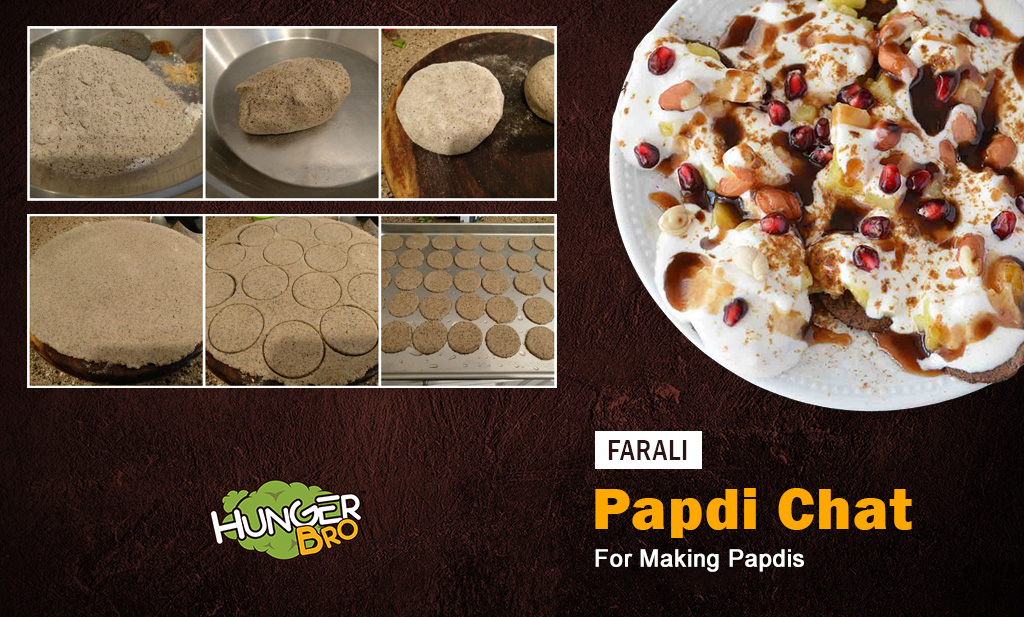 Use buckwheat flour (kuttu ka atta) to make this delectable recipe
Rock salt, dry ginger powder and cumin seed powder are used as spices.
Use water to knead to soft consistency dough. Oil to add in the flour.
More for the chatpata Papdi Chat:
Use thick curd. Whisk it with little water for smooth consistency.
Boil potatoes for topping and it tastes yummy.
A few pomegranate seeds as garnish look great and taste even yummier!
Dry roasted peanuts are a great idea to add as extra crunch over the top of the chat.
Add rock salt as per taste
Quick run through of the recipe
First you have to prepare papdis. Knead the dough as required. Cut small circles from the rolled dough. Bake it at 350F for approx. 15 min.
Midway through the baking, flip them.
Garnish it with boiled potates, curd, chutneys and pomegranate seeds.
Preparation Beforehand:
Keep chutney ready beforehand. Saves time and is quick to access while
Boil potatoes and cut them into small pieces. Keep this ready as well. Now prepare for making vrat ki papdi.
In a mixing bowl, put all ingredients together needed for papdi chat.
Step-wise instructions to make Farali Papdi Chat:
Knead dough to soft consistency with water. Let it rest for 15 min. Pre-heat the oven at 350F.
After 15 min., divide the dough into two equal parts.
Dust the rolling surface and roll it in a big circle.
Cut small circles with the help of a cookie cutter.
Grease over a cookies sheet. Place the small circles carefully over it. Bake these for approx. 15 min. Flip them midway through the baking process.
Take them out and let them cool down.
Now gather all ingredients in a bowl to make the chat.
Arrange approx. 8 papdis on a plate. Now put few chopped boiled potatoes over it.
Pour beaten curd over the papdis. Add the chutneys (tamarind and green chutney) as per individual taste preferences.
Sprinkle rock salt, red chili powder and cumin powder over it.
Garnish with roasted peanuts and pomegranate seeds.
Serve it at room temperature. Enjoy your fast with family with this delicious farali recipe!
Serve it right
You can have it at any time of the day. Snack, appetizer, or a complete meal in itself, choice is yours completely!
Store it right
Papdi can be cooked in advance. It can be stored for 15 days in an airtight container.
Store at room temperature, not in fridge. It will make papdis soggy.
Rajgira or singhada – these are flours peculiarly used during fasting. You can use flour as you like it!
Sometimes certain ingredients are prohibited during fasting. It's always better to double check the ingredients before cooking, so that you do not falter while fasting.
You can prepare Papdis before hand. They taste great as a snack with tea!
Use vegan curd. It adds delicicous flavor to the chat recipe!
Nutrition Facts: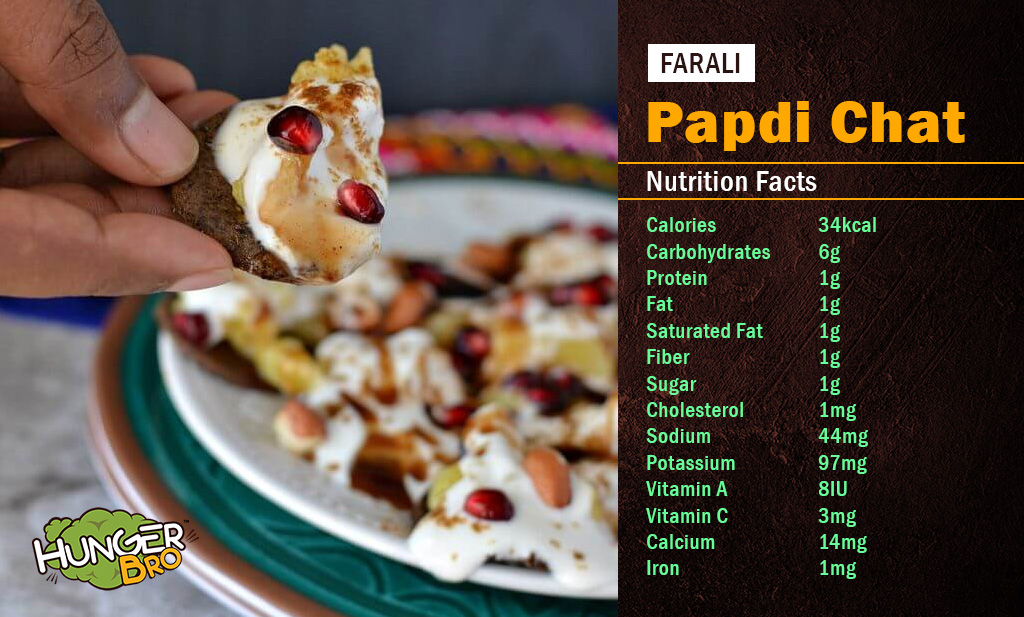 FAQs
Can I use any other flour to make papdis?
You can use rajgira or singhada flour to make these papdis.
Can you make papdi in advance?
Surely, Papdi is a great snack in itself. You can surely make it in advance and store it in an airtight container at room temperature. Do not put it in the fridge. It will turn soggy.