A delicious Gujarati Savory cake, Handvo, the name itself creates a mouthwatering temptation! Easy to make at home, it tastes simply delicious! You can cook in an oven or on a stovetop in a pan. Green chutney tastes superb with it. You can savour the taste as a snack or breakfast option.
There are various ways to cook Handvo – in a pan, oven, handvo cooker or regular pressure cooker!
Handvo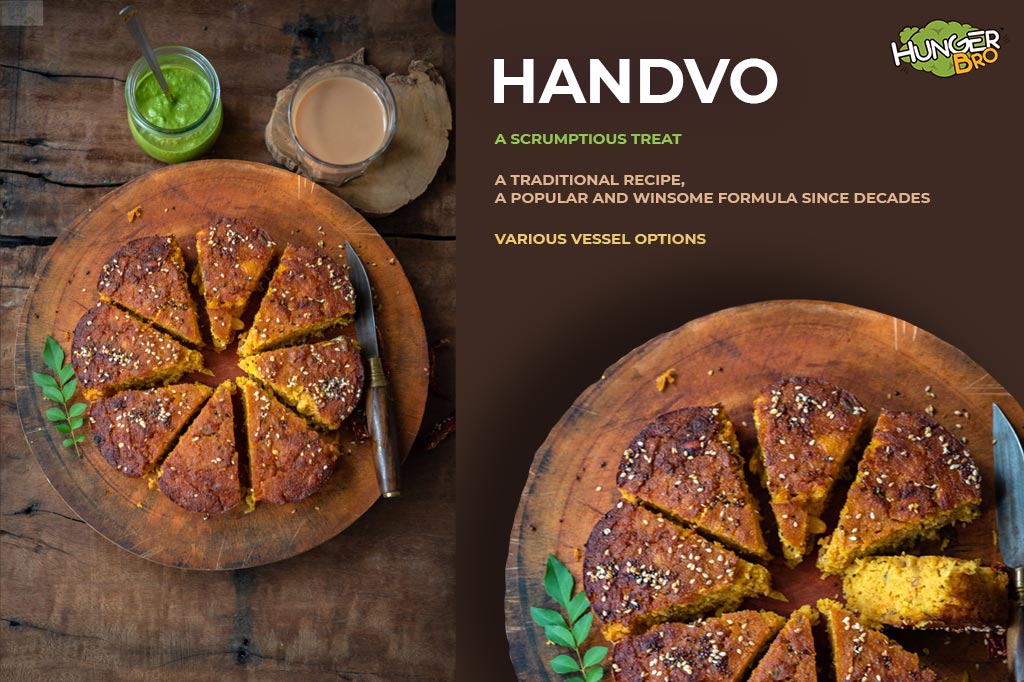 It is a savory baked delicacy, authentic and traditional Gujarati recipe, made with lentils like chana dal, moong dal, rice, veggies and spices. Spiced with green chillies and ginger, it has tempering of sesame seeds, mustard seeds, curry leaves to add that irresistible and delicious flavor to it.
Veggies of your choice
Besides grated bottle gourd (doodhi), you can add veggies of your choice, including carrots, corn, etc. It tastes amazing with a mix of these veggies.
Various vessel options
The equipment to cook is entirely your choice. Traditionally, a handvo cooker is used, but you can use an over or a pan, as per your convenience.
A Scrumptious Treat
The crispy top layer with the bottom fluffy texture is a scrumptious treat indeed! Healthy, filling and wholesome delicacy, it's perfect in taste and a healthy bite!
A traditional recipe, a popular and winsome formula since decades
A healthy delicacy as it is filled with lentils, hence a protein rich recipe. It tastes wonderful and is a healthy option too!
Filled with veggies, it can be cooked instantly. No fermentation is required.
Time Taken:
Ingredients:
3/4 cup toor dal split pigeon peas
1/2 cup channa dal Bengal gram
2 tbsp urad dal skinned black gram
2 tbsp moong dal green gram (optional)
Grated bottle gourd – 1/2 cup
Yogurt thick curd – 1/2 cup
2 tbsp chopped coriander leaves
2 green chilies finely chopped
1/2 tsp Eno fruit salt) or 1/2 tsp baking powder + few drops of lemon juice
Tempering
1/2 teaspoon mustard seeds
Instructions to make Handvo:
Rinse and soak the mixed lentils, chanal dal, urad dal, toor dal and moong dal in 2 cups of water for 4-6 hours. Soak raw rice separately for 4 hours.
Mix rice and lentils in a mixer grinder and grind together. Make a coarse paste, without adding water.
Add curd and salt as per taste. Mix properly and blend to a paste. Only if necessary, add some water to it.
Now pour the batter to a mixing bowl. Add green chillies, grated veggies (doodhi, carrot), coriander leaves, minced ginger or ginger garlic paste and some sugar. Mix thoroughly.
Add fruit salt just before putting handvo over the flame. It will react instantly, so mix well. Instead of fruit salt, you can add some 2tsp. lemon juice with ½ tsp. baking soda.
Add oil and mix properly. Batter is now ready to cook.
To cook handvo – the pan method
Heat pan. Pour 2tbsp. oil. Add some mustard seeds, sesame seeds and curry leaves. Fry until seeds turn golden in color.
Pour 3/4 cup batter. Add few oil drops to the edges of the pan.
Cover and let it cook for 6-7 min. Now flip and cook for 6-7 min. on the other side. Handvo should turn fluffy and the edges should turn crispy. Remove to a plate. Cut it to slices. Relish hot.
The Oven method
Set the temperature of the oven to 190 C or 375 F. Preheat it. Grease the baking tin well. Pour the batter into the pan.
Make the mustard seeds, sesame seeds and curry leaves tempering and pour it over the batter. Bake it for approximately 45-50 minutes. The top layer should be nice golden and crispy in texture.
Keep a watch
It is important to keep a watch over the batter after about 35 minutes to avoid the top from getting burnt.
Batter Consistency
Thickness of the batter and its consistency matter a lot, and the variation in time, is accordingly.
After 35 min. you can prick in the center to see if handvo is ready or the golden top is a good indicator as well.
Serve hot
Once it is cooked properly, let it cool. Slice it and serve with green chutney
The Handvo Cooker Method
Fill ring or tray with fine sand. Grease the tray with oil.
Make tempering of mustard seeds, sesame seeds and curry leaves as mentioned above and pour it in the greased tray.
Now pour the batter over it and close the lid. Place it over the tray or ring filled with sand. Cook on low to medium flame for 35 minutes.
Using Pressure Cooker
Handvo can be prepared in pressure cooker as well. Fill the base with sand or salt. Preheat on low flame until 10 min.
In a greased baking tray, pour the batter. Pour tempering as mentioned above.
Close the cooker without the whistle and gasket. Cook for 35 min. on medium flame. After it's cooked well, let it cool. Slice and serve hot.
Ingredient Variations
Rice– Add brown rice, or a mix of rice, oats or poha. Soak along with rice.
Flavoring– Grind ½ inch ginger, 2 cloves of garlic and 2 green chilies to a paste and add to the batter.
How To Store Handvo?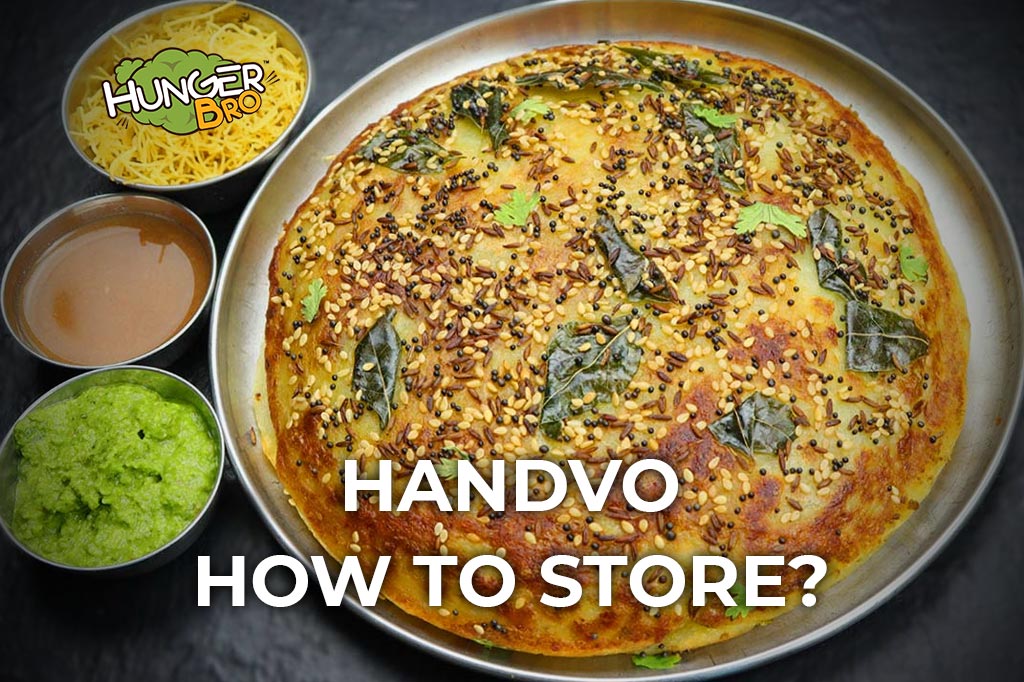 Store it in an airtight container and keep it refrigerated for about a week.
While serving, sprinkle some water over handvo and heat in the microwave or pan for 3-4 min.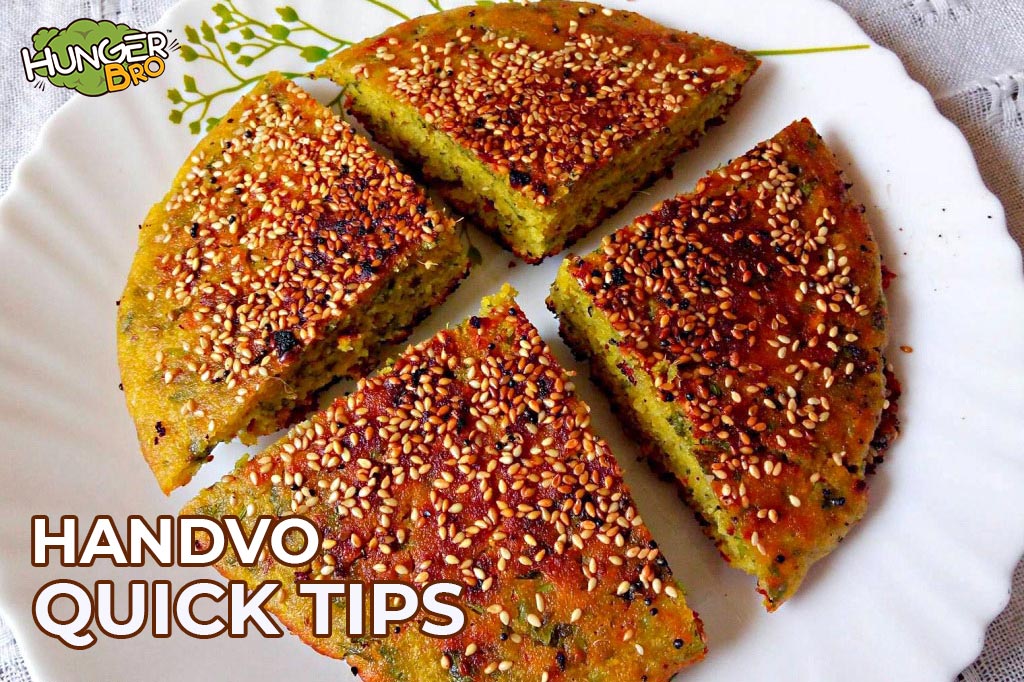 While grinding rice and lentils, do not add water. The moisture of the grains is enough to grind them.
The batter consistency you can adjust with curd. It should be relatively thick yet flowing in consistency.
If using a pan, make sure the pan is thick and sturdy for handvo to cook properly.
After adding fruit salt or baking soda, you need to cook the batter immediately. Do not store it for later use once you add Eno or baking soda.
FAQs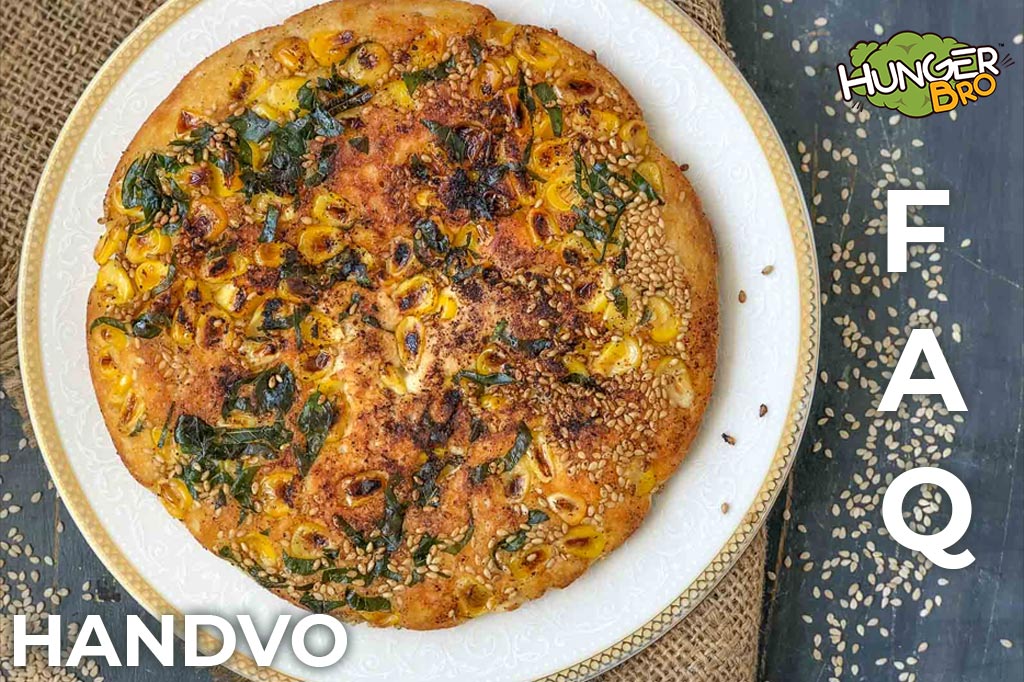 What is handvo flour made of?
It is essentially made of different lentils and rice.
Is handvo good to eat in dieting?
You can have it but do it in moderation as it consists of rice.
Can handvo be steamed?
You can cook it via various cooking methods – steaming, baking, pan frying etc.
How long can I store handvo?
Store it in an airtight container and keep it refrigerated for about a week. While serving, sprinkle some water over handvo and heat in the microwave or pan for 3-4 min.
What to have along with handvo?
Serve with green chutney or pickle with a hot cup of tea.