People in Gujarat are foodies. The variety of food delicacies that this state offers is astonishing! Rich in ingredients and taste, Gujarat is a food lover's dream come true, absolute delight!
A traditional Indian food delicacy, Puran Poli is in fact a favourite across the country. It is an easy to cook at home recipe. Festivals are feasting time. Special occasions or festivals, this recipe is a sure shot hit, a savory treat!
Stuffing that is lip-smacking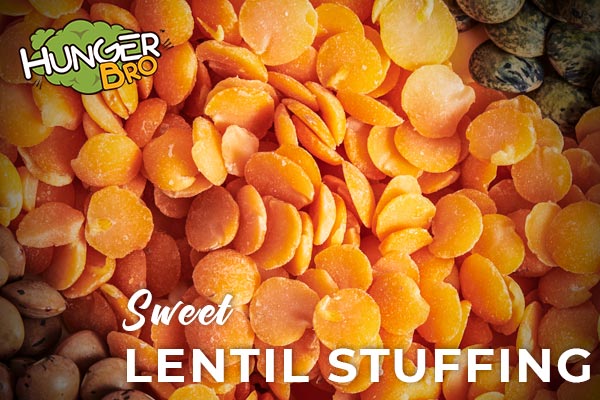 Puran Poli has sweet lentil stuffing. Puran is stuffing and Poli is roti, the outer layer. The whole-wheat roti stuffed with sweet lentil stuffing becomes Puran Poli! Big Indian festivals include this delicacy as part of the feast.
In Gujarat, it is called Sweet Roti or Vedmi. Every region has its own slight variation of ingredients to make this recipe. Essentially made with bare minimum ingredients, this traditional delicacy tastes delicious and it's actually very heavy, with oodles of ghee, saffron, cardamom etc.
Cooking Instructions: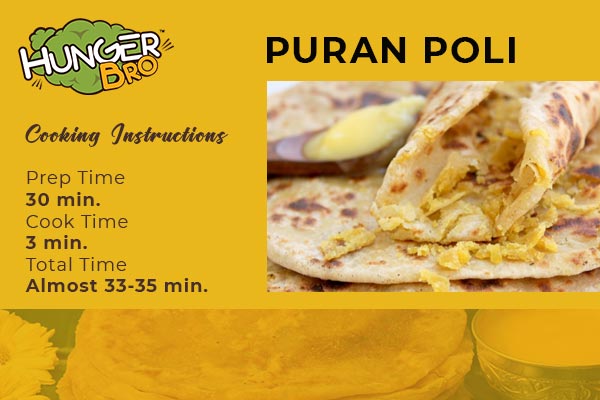 Total Time: Almost 33-35 min.
Ingredients
For Stuffing (Puran):
3/4 cup Toor Dal or Chana Dal
1 pinch Green Cardamom seeds powder
For Roti (Poli):
Ghee for frying and to pour on top while serving
Preparing Stuffing: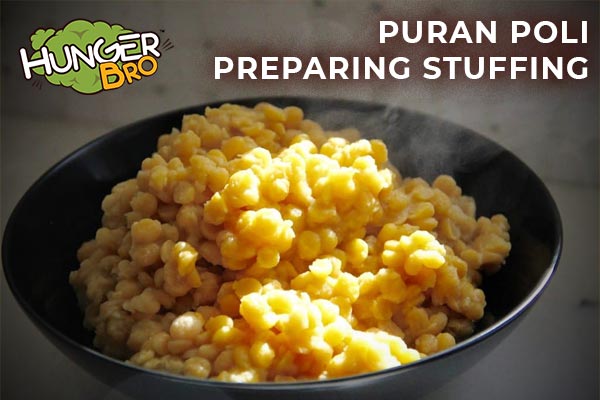 Wash dal well under water becomes clear. Soak in warm water for 30 minutes, if using Toor Dal. In case of Chana Dal, soak for an hour. Discard the water used for soaking, and put dal in the cooker with fresh 2-3 cups of water. Let it cook on medium heat. Cook till 3- whistles, until dal is properly cooked. It should be properly cooked but not turn mushy.
Drain dal water separately. Press the dal lightly such that all water is drained out through the sieve and dal will mash a bit.
Now pour the mashed dal along with jaggery in a pan. Let it cook on medium flame.
Keep stirring, it will melt and become runny in texture. Let it cook well.
In sometime, it will start becoming thick in consistency. Keep stirring and do not let it stick to the sides or bottom of the pan. Be careful it doesn't burn.
Once the dal thickens, add saffron and cardamom powder to the mixture. Mix well. Switch off the flame and let it cool. While it cools, it will thicken more.
To check the correct consistency, place a spoon or spatula in the centre. If it is able to stand firm, then it's done. If it drops, then you need to cook it more for few more minutes.
Now divide the mixture into 6-7 equal portions and make smooth balls.
Preparing Dough: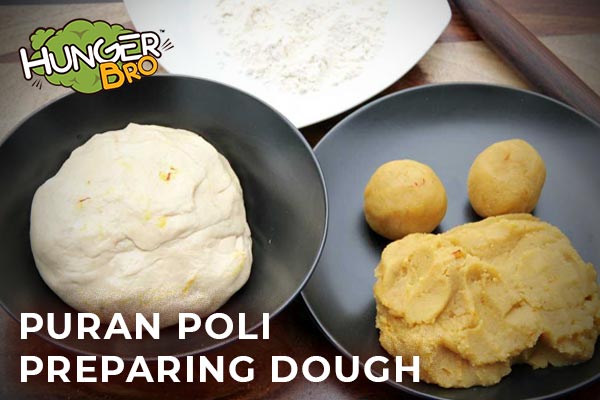 Take atta, mix salt and oil to the flour and rub your fingers.Knead dough to smooth and soft texture, like paratha dough, adding small amounts of water at a time. Cover it and put it aside for 15-20 minutes.Now divide the dough into as many parts as the mixture and make smooth balls. Flatten it.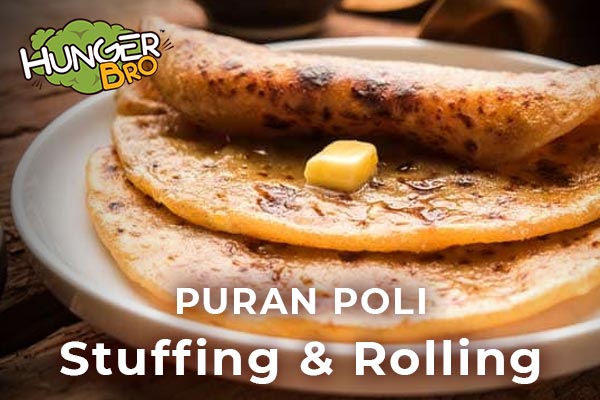 Roll the flattened dough into a circle, almost 3 inches in diameter.
Now place the stuffing ball in the centre and pull the edges together towards the centre, and seal it such that the stuffing remains intact and doesn't pour out.
Pour some flour over it and roll into a roti, roughly 7 inches in diameter.
Cooking Puran Poli:
On medium flame, heat the tawa. Once hot, place the roti and let it cook. Bubbles will form on top.
Flip it once bubbles start forming.
Now turn it and cook by pressing with spatula.
Pour more ghee, now the bottom part shows few brown spots, it is cooked.
Turn and let it cook, by pressing again on the other side. If properly rolled, it will puff up. Now remove it from the flame. Put it in a plate, again add generous amount of ghee on top and serve. The magic ingredient is ghee that enhances the taste of this delectable recipe.
Quick Tips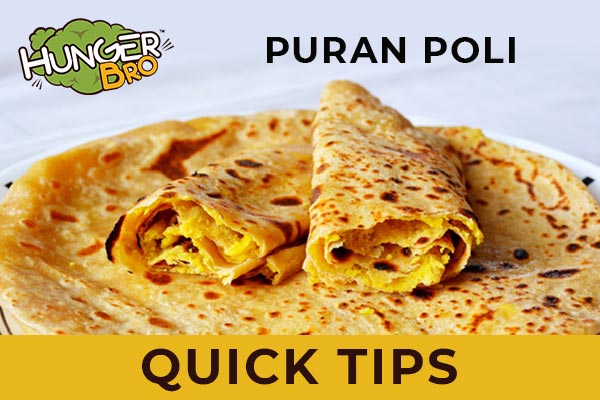 If it's your first time, well practice is required. It will take a while to get the right method of cooking it. If puran comes out while rolling, sprinkle some dry flour to that portion and it will serve as a quick fix. It is a matter of time. Keep trying and you will attain perfection soon!
If you get the right consistency of puran, you have nailed the recipe.
The size of the stuffing ball and atta ball should be of the same size. It will taste good with the right amount of stuffing. Less or more will alter the taste.
Ghee should be applied in generous amount on top to relish this delicacy utmost. More ghee, more tasty!
FAQs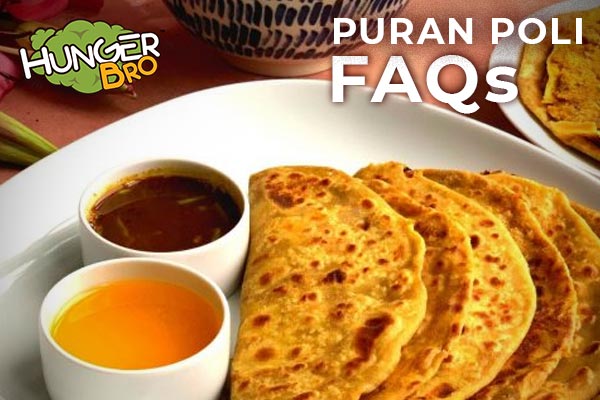 What to serve along with Puran Poli?
In Gujarat, It is served along with kadhi, suki bhaji and rice, which makes a complete meal! Don't forget adding ghee in good amount on top of the Puran Poli while serving.
What to do if puran becomes too runny?
Cook it for more time. let it become thick and moisture will evaporate.
What to do if puran becomes too dry?
In this case, add warm milk or water in small amount, at a time and mix properly. Do it until you get the right consistency.
How to fix the stuffing coming out while rolling?
You have to do it right. Else if the puran consistency is not right, it will come out. Also, Don't apply to much pressure. Roll gently so it won't break. With Practice, you will get it right!