Hot favorite rich dessert
A typical festive dessert, it is a traditional mithai with rich flavor and melt in the mouth texture, made from gram flour, ghee and milk, as its primary ingredients. Rose water and other spices including saffron and cardamom powder add a distinct mouthwatering flavor to it, and the irresistible fragrance is out of this world! The garnish of assorted nuts makes the delicacy rich in taste and an absolute favourite! It's part and parcel of the festival celebrations in Gujarat.
Mohanthal Cooking Secret
Once the flour turns golden with a peculiar aroma, hot sugar syrup is added to the mixture and garnished with chopped nuts like almonds and pistachios as topping.
The cooked mixture is spread in a greased tray, and sliced into desired shapes. The aromatic spices like saffron, cardamom powder and rose essence give the recipe its delectable taste. It is a rich dessert made during festivals like Diwali, and other religious festivals like Janmashtami etc.
Mohanthal & Lord Krishna's Connection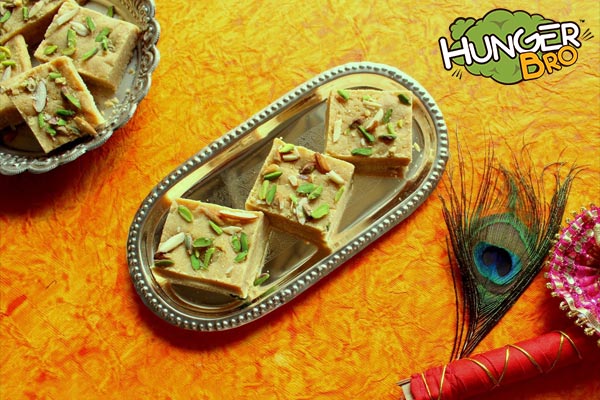 Mohanthal is popular dessert in Gujarat and Rajasthan. In Rajasthan, the recipe has khoya (dried milk solid) in it. This rich dessert is believed to be a favorite of Lord Krishna. It is a tradition to give this delicacy as an offering to the popular Hindu deity. The name also derives from Mohan, means Lord Krishna and Thal means Prasad, which is an offering made to God in the devotional practice.
A rich tradition of Gujarati households
Mohanthal is a popular and delectable dessert of Gujarat. People relish it especially during festivals or special occasions. In Gujarati households, it is a ritual to make it during Diwali. It is also served during get together of close friends and family. Some women master the art so well, homemade Mohanthal tastes out of this world!
A festive delight: Scrumptious & heavy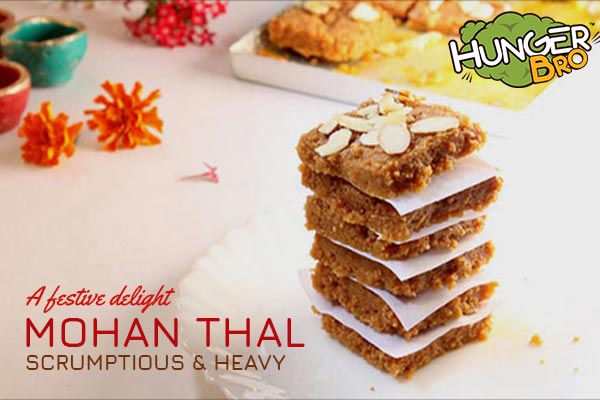 Being a dessert full of ghee, sugar and full fat milk, it is very heavy and fattening too. So it is recommended to relish it on special occasions alone. It's not healthy to consume it often, as it's full of high calories and heavy on the tummy. Relish its rich taste during festivals with your near and dear ones.
It makes the festive mode, merrier and the taste lingers on for long, spreading joy. The distinct taste and preparation makes it a rich dessert preparation, very popular amongst people of Gujarat.
Recipe Details:
Ingredients:
4 cups gram flour (besan)
1 tbsp. cardamom (elaichi) powdered
8-10 almonds (badam), finely chopped
8-10 pistachios, finely chopped
For Sugar Syrup:
Step-wise instructions to make Mohanthal:
Firstly, prepare the dish to set the Gujarati dessert. Grease a plate with ghee and set it aside.
In a large bowl, add 1.5 cups of ghee to the gram flour and combine well with fingers to make a mixture that feels bit course like crumbs. Now at milk to the coarse mixture and rub between palms until it is mixed well.
Heat 2 cups of sugar in a pan and 1.5 cups of water to simmer. It requires 2-thread consistency. Cook for approximately 10 minutes. Remove from the stove and keep it warm.
In a large saucepan, heat ghee and add the flour mixture. Stir continuously until it turns golden brown and releases a perfect roasted aroma. Be cautious that it doesn't burn and it has to roasted perfectly. It will take around 9-10 minutes to get the desired color. Now add nuts and cardamom to the mixture. Mix it well.
Now add sugar syrup to the mixture and keep stirring continuously until the mixture becomes thick and leaves the sides of the pan. Be careful that you don't stir for very long. The mixture will turn rubbery in that case.
Now, take it off the heat and transfer the mixture to the greased square pan and level it until the Mohanthal mixture is almost 2 inches in height. This will help form nice thick pieces.
Cut the Mohanthal mixture into square pieces with a knife. Let it cool completely in the square pan. It might take a couple of hours to set. Once its set properly and cooled completely, take the pieces out and it's now ready to serve!
Tips to make Perfect Mohanthal: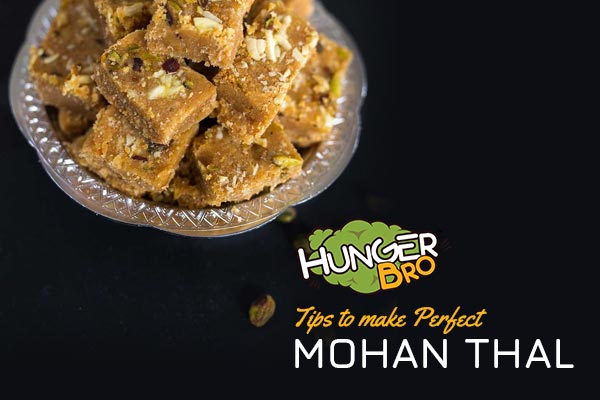 It is usually slightly rough in texture, not smooth like barfi. To achieve best results, one must sieve the mixture. cook on low flame. It requires a lot of patience while cooking, it is also tiring, but the result is marvelous and worth it, eventually. The most important aspect of this recipe is the sugar consistency. The most appropriate is 2 strings consistency. It can be thicker but not lesser than this.
One piece of Mohanthal contains 115 calories.
It is surely not a healthy food option.
FAQs
Can diabetic, heart patients or obese people have this delicacy?
No, it is not recommended for people suffering from these diseases as it contains high levels of ghee, sugar and full fat milk.
If the flour burns while roasting, how to rectify it?
You need to be careful while roasting the flour. The desire aroma and golden color is a prerequisite
Is it ok if we don't add nuts as garnishing?
It enhances the look of the dessert and tastes good too. It is an important ingredient of the recipe to get the right taste.
Can we store it for long periods?
It's best to consume with 15 days. you can store in an airtight container and keep it in the fridge . Longer than this, is not recommended.
How to burn the calories that one gains binging on this sweet?
As the normal course of your exercises, walking, swimming, jogging, cycling etc., you will burn the acquired calories. Don't worry. It's good to pamper your taste buds once in a while, but not too often! Balance is the key!