Ragda Patties, the popular Indian street food is also vegan! Crispy potato patties topped with dried white peas curry, chutney, onion and sev!
Tastes awesome, what a combination.
Ragda Patties is popular street food, particularly in Maharashtra and Gujarat.
Potato patties are served with a spicy white pea curry and garnished with chutneys, cilantro, and sev!
The 2 constituents of this amazing recipe, ragda and pattice is simply outstanding!
Ragda is a curry made with dried white peas. It's flavorful, slightly tangy, and spicy.
The second component of Ragda Patties is the potato patties or aloo Tikki as you call it!
These patties are shallow/pan-fried and require only a handful of ingredients.
Tips for the crispy bites
You can make this extra crispy by adding some soaked poha to the potatoes. This is not compulsory but if you like it crispy, add some poha!
Top it right!
Ragda Pattice is topped with coriander chutney, sweet tamarind chutney, coriander leaves, chopped onion, tomato and sev.
An optional ingredient is yogurt, if you like it, add it to the ragda!
How to Make Ragda Pattice?
Soak the white peas overnight. Peas need to be soft so it's important to soak it overnight.
Once soaked, the white peas are pressure-cooked and then a simple tempering of ginger, cumin seeds, garlic and few spices is added to it.
You can either pressure cook the peas in traditional stove-top pressure cooker or use your Instant Pot.
Keep the peas curry simple. There are a lot of flavors in this ragda pattice recipe and since it's topped with so many things, it is better to keep the patties and the ragda simple.
It's pattice time!
For the pattice, the potatoes are first boiled and then shaped into round patties and then shallow fried. For the pattice, add chilies, ginger and salt for flavor. Keep it minimal; it just tastes awesome!
The Crispy bites
To make the pattice crispy, add soaked poha and cornstarch. These two work great to make the patties crispier. You can also use rice flour in place of cornstarch.
Chai and Ragda Patties! What a combo!
A plate of ragda pattice and a cup of masala chai- there can't be a better combination during the monsoons!
Prep time 20 mins
Cook time 30 mins
Soaking time 8 hrs
Total time 50 mins
Course Appetizer
Cuisine Indian
Servings 6
Calories 421 kcal
Ingredients:
To Pressure Cook:
1.5 cups dried white peas (safed matar), 300 grams, soaked in 4 cups water overnight
1 teaspoon salt
1/2 teaspoon turmeric
4 cups water
Tempering for White Peas Curry (Ragda):
1 tbsp. oil 15 ml
1/2 tsp. cumin seeds
1/4 tsp. hing asafoetida
4-5 large garlic cloves crushed
1.5 inch ginger crushed
1-2 green chilies crushed
1 tsp. coriander powder
1/2 tsp. cumin powder
1/4 tsp. red chili powder
2 tsp. jaggery powder
2 tsp. tamarind paste
1/2 tsp. salt
For the Pattice:
3-4 medium potatoes around 650 grams
3/4 cup poha (flattened rice), soaked for 5-10 minutes
2 tbsp. cornstarch
2 tsp. grated ginger
1-2 green chili finely chopped
1/2-3/4 tsp. salt adjust to taste
3-4 tbsp. oil to fry the patties, I used vegetable oil to fry the patties
To serve Ragda Pattice:
Sweet tamarind chutney to garnish
Onion to garnish – Chopped
Tomato to garnish – Chopped
Cilantro to garnish – Chopped
Nylon sev to garnish
Chaat masala, kala namak (black salt), cumin powder to sprinkle on top
Step-wise instructions to make Ragda Pattice: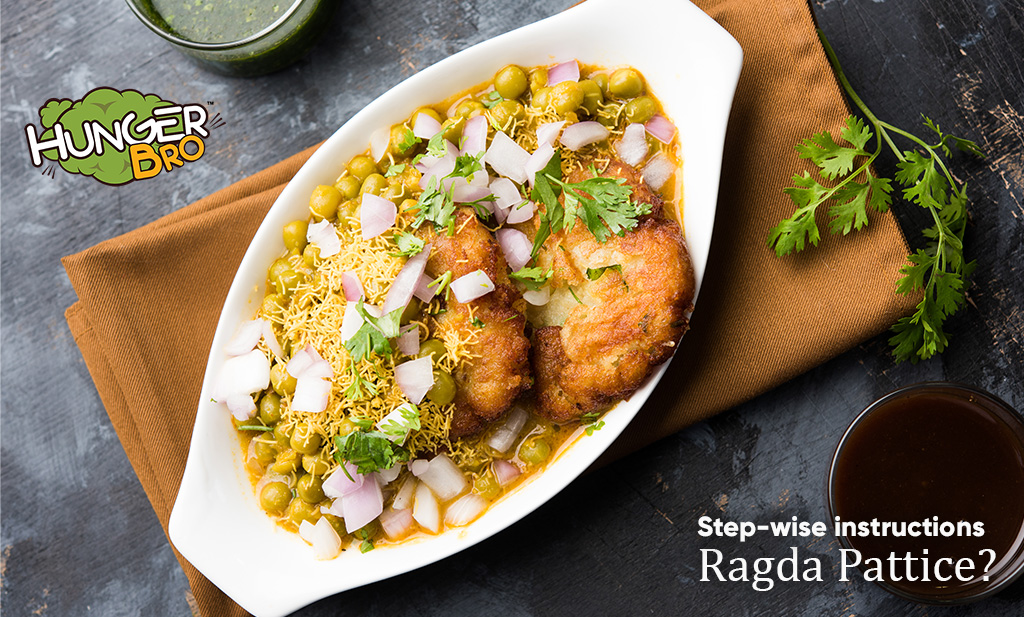 Preparing Ragda
Soak dried white peas (white matar) overnight in 4 cups water.
In the morning, drain the water and transfer the soaked peas to pressure cooker.
Pressure cook with 1 teaspoon salt, 1/2 teaspoon turmeric and 4 cups of water for 2 whistles on high heat. Then lower the heat to medium-low and cook for 4 to 5 minutes more. Let the pressure release on its own.
Once the pressure releases naturally, open the cooker and mash some of the peas with a potato masher or using the back of your spoon. Set it to simmer on low while you make the tempering.
Tempering for Ragda
To make the tempering for the ragda, heat 1 tablespoon oil in a pan on medium heat. Once the oil is hot, add cumin seeds.
Let them sizzle for few seconds and then add hing.
Then add the crushed ginger-garlic-green chili. Saute for 1 minute until it starts changing color.
Then add the coriander powder, cumin powder, red chili powder. Also add 2 tablespoons of water along with it so that the spices don't burn.
Cook the spices for 30 seconds and then transfer the tempering to the simmering ragda.
Add the sweet bit
Also add the jaggery powder, tamarind paste and 1/2 teaspoon more salt (adjust to taste). Mix and let the ragda (peas curry) come to a slow boil. Turn off the heat.
Preparing Pattice
Meanwhile soak poha in water for 10 minutes and then drain the water.
Also, boil the potatoes. 8 to 9 whistles on high heat with natural pressure release if using stove-top pressure cooker.
Ideally, you should boil the potatoes at the same time while boiling the peas.
Once potatoes are boiled, peel the skin and then transfer to a large bowl. Mash the potatoes using a potato masher.
Add the soaked & drained poha, cornstarch, grated ginger, green chili and salt.
Mix everything well to form a smooth dough.
Make equal sized patties from the potato mixture.
Shallow fry the pattice
Heat 3 to 4 tablespoons of oil in a pan on medium-high heat. Once oil is hot, place the prepared patties into the pan.
Cook until the patties are golden brown from both sides (approximately 5 minutes each side).
To serve Ragda Patties, place patties on a plate and then top with ragda. Top with coriander chutney, sweet tamarind chutney and then with chopped onion, tomato, coriander.
Garnish with sev and then sprinkle chaat masala, kala namak (black salt), cumin powder on top!
Special Tips:
You can add yogurt while serving ragda pattice. It tastes great! Yogurt is always a good idea in Indian chaat!
You may add onions to the tempering of the ragda.
Skip hing (asafoetida) to make this gluten-free.
Calories: 421kcal
Carbohydrates: 66g
Protein: 12g
Fat: 12g
Saturated Fat: 1g
Sodium: 866mg
Potassium: 852mg
Fiber: 5g
Sugar: 3g
Vitamin A: 165IU
Vitamin C: 15.9mg
Calcium: 138mg
Iron: 6mg