A mouth-watering authentic & traditional Gujarati dessert
Basundi, is a traditional Gujarati dessert that creamy, with rich taste of nuts in every spoon.
Festive Time means Basundi Time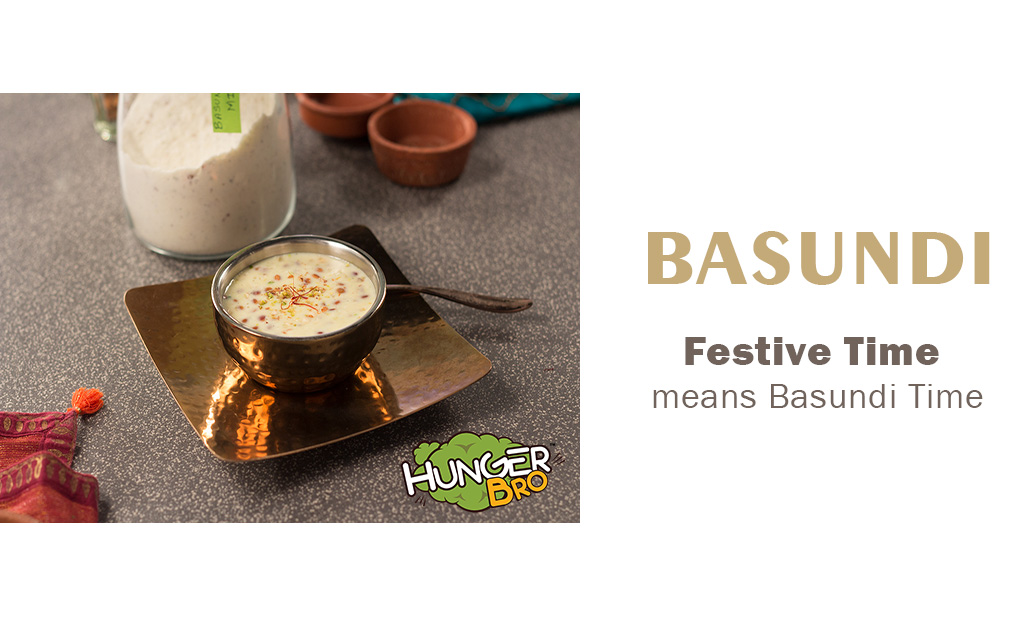 Made specially during festivals and special feasts, Basundi's mouthwatering taste lingers on in your mouth for long!
A dessert delicacy that is popular in the states of Gujarat, Karnataka and Maharashtra, the main ingredient used is milk. It is reduced to half in quantity by stirring it continuously on a low flame.
The ingredients that add magic to the recipe
Sugar, cardomon, saffron and nuts are added to milk for that ultimate and authentic rich taste of Basundi!
'Puri tarah se' Perfect Combination
It is a dessert, but it is peculiarly relished along with main meal, with hot puris, it tastes ultimate! You can relish it as a dessert as well; it tastes awesome!
Freak out with festive treats
Basundi is a sweet specially made during festive occasions like Diwali, Rakshabandhan, Bhai Dooj in Gujarati, while in Maharashtra on occasions such as Gudi Padwa, it is specially made in houses!
Wedding and some great taste
A typical sight in Gujarat is on the menu of wedding functions. It is also made during Navratri or other fasts and relished along with rajgira ni puri!
What is it made up of?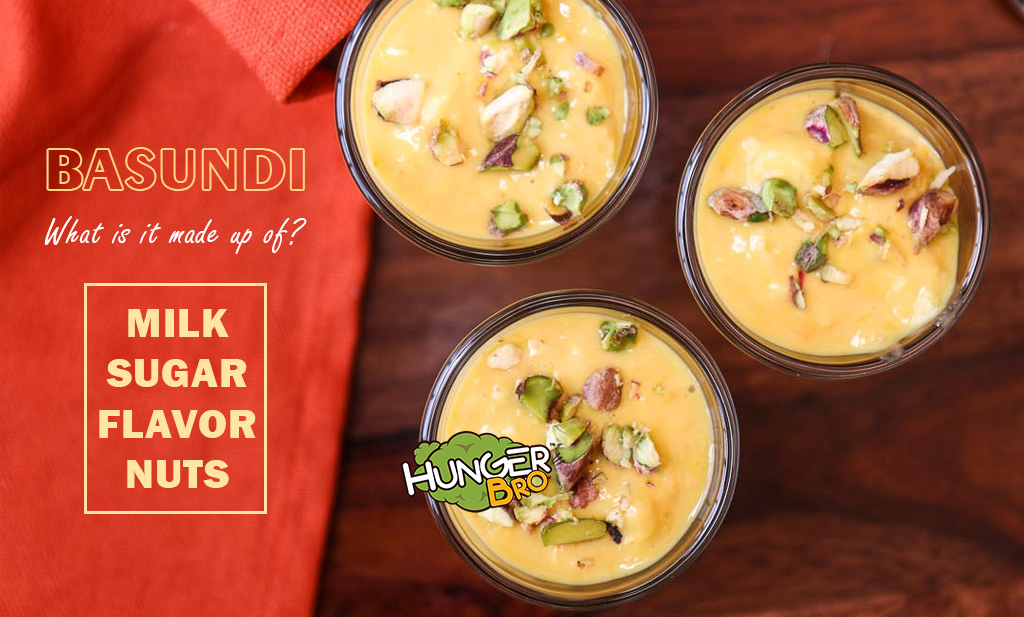 Mainly made from 8 ingredients as such, these are easily available, very basic, easily found at home, nothing fancy, yet tastes delicious!
Special Tips for Ingredients
Milk: Always use full fat whole milk to get best results. You will get a creamy rich texture using whole milk.
With fat free milk or low fat milk, this recipe tastes no good. Binge on the sweet and enjoy its rich taste with the right ingredients!
It's alrite to freak out on food once in a while, if not often!
Sugar: The right quantity of sugar is essential to get the right taste. Do not cut down on its amount, as the taste will be lost otherwise.
Depends on how much sweetness do you prefer, but a generous amount of sugar is essential for its authentic taste and enjoyment!
Add flavor:For that unbeatable and lingering taste of Basundi, saffron and cardamom are a must. You can skip nutmeg though, if not available.
Nuts: The most common options are pistachios, cashews and almonds. This adds that irresistible taste to the recipe. It truly works wonders!
Ingredients:
1 ltr. or 1 ¼ cups Milk (Full-fat Whole)
¼ teaspoon Green cardamom seeds powder
⅛ teaspoon Nutmeg (freshly grated)
Step-wise Instructions to make Basundi:
1. Pour milk in a huge and deep pan. Keep the gas flame on medium heat.
2. Let the milk come to a boil. As it starts boiling, reduce the flame from medium to low. Keep stirring till the milk becomes half in quantity. Keep stirring every 1-2 min.
3. Avoid milk getting burnt at the bottom or on the sides. More stirring, more magic is the main tip of this recipe!
4. As malai accumulates on the surface, mix it with the milk as you stir. It will give the delicacy a grainy texture. After about 35-40 minutes, the milk will become half in quantity.
5. Add sugar and mix it well.
6. Now add cardamom powder and fresh nutmeg (grated). Mix it into the milk.
7. Now mix saffron.
8. Add chopped nuts in the end.
9. Mix all ingredients and let it simmer for 5-7 min. Saffron will give a distinct flavor to the dessert. Basundi will be thick, but flowy in texture and consistency.
10. Now turn off the gas flame. Basundi can be served warm, at room temperature or chilled, as you like it, as per different taste preferences!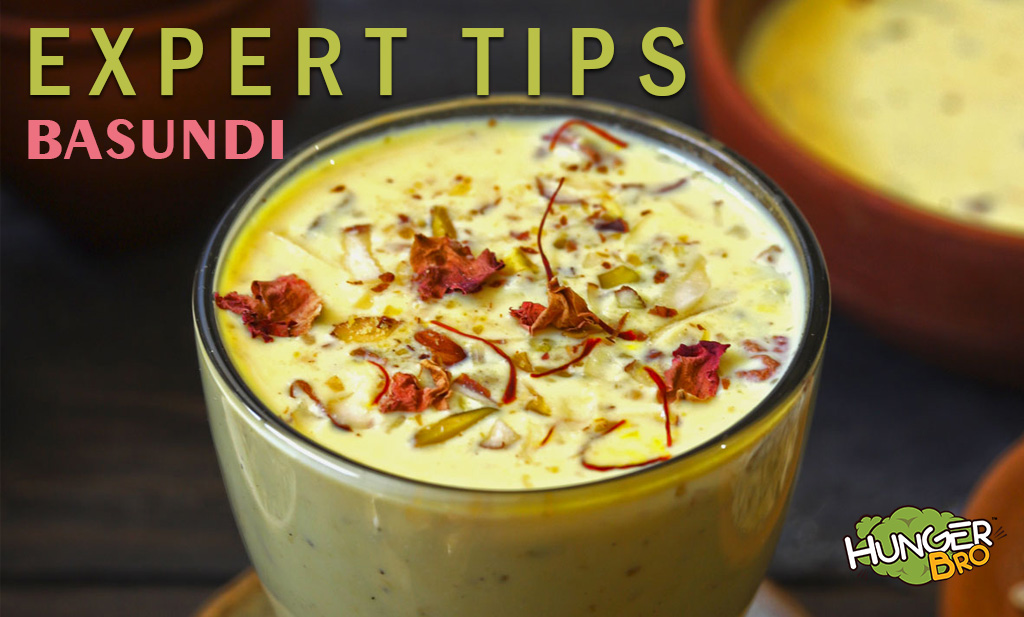 Frequent stirring: This is the most crucial step in cooking this recipe. More stirring, better it is.
In the beginning, every 5 min. you must keep stirring, as it thickens more, keep stirring every 2 minutes.
The correct flame (Medium-Low) heat: If you keep the gas on high flame, you will ruin this recipe. Keep patience.
Keep the flame on low to medium heat and stir till the right texture and consistency is achieved.
The size of the pan is important: It is important to use a big, thick wide and deep pan. Do not use a saucepan. Your milk will spill and will take long to thicken.
If you prefer to serve it chilled: In that case, simmer the milk every 5 min. tentatively. This is because, while it gets chilled, the milk will thicken more.
FAQs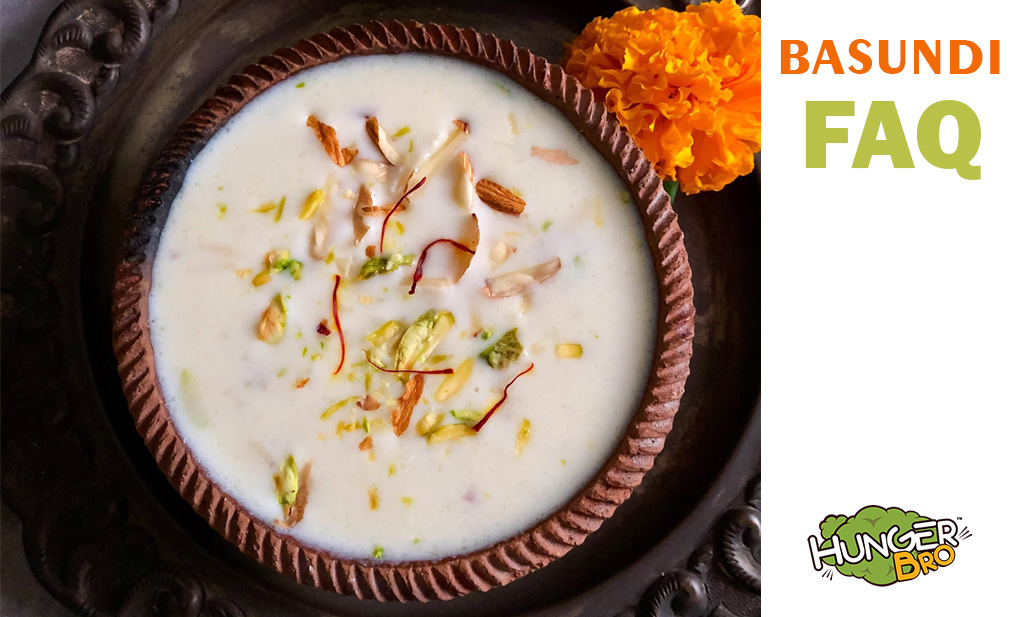 'Basundi' is famous delicacy of which region?
'Basundi' is famous delicacy of which region?
Are rabri and basundi the same delicacies?
No, they are not the same. The ingredients used are the same. But the texture, consistency and taste of the dessert differs a lot.
Rabri is a North Indian sweet, has a thicker consistency, has more malai, while Basundi is less thicker and has strains of malai, not as much as Rabri.
What if I don't stir it continuously?
Stirring constantly is the secret tip to get amazing Basundi. There is no way to skip this crucial step.
How to prepare Basundi using condensed milk?
It takes less time to cook with condensed milk as compared to the conventional method. What you require is 1 can of condensed milk for 5 cups of milk. You need to combine both and simmer it for approximately 15-20 min. on low heat.
Add flavoring (cardamom and saffron along with nuts).
Does it taste better alone or with the main meal?
The ultimate combination to relish Basundi is to have it along with 'puri' and main meal itself. But it depends on individual preferences. You can have it as a dessert after the meal as well.