Muthiya, is a famous food of Gujarat. The name 'Muthiya' is derived from the action of the hand, the fist and it gripping movements.
Methi Muthiya is a steamed snack, healthy, ease to make, and filling, a staple food of Gujarat. Made with fenugreek leaves (methi), and few spices, it is ideal to have at teatime or for light dinner along with coriander chutney. It tastes delicious with the chutney combination.
Varied cooking techniques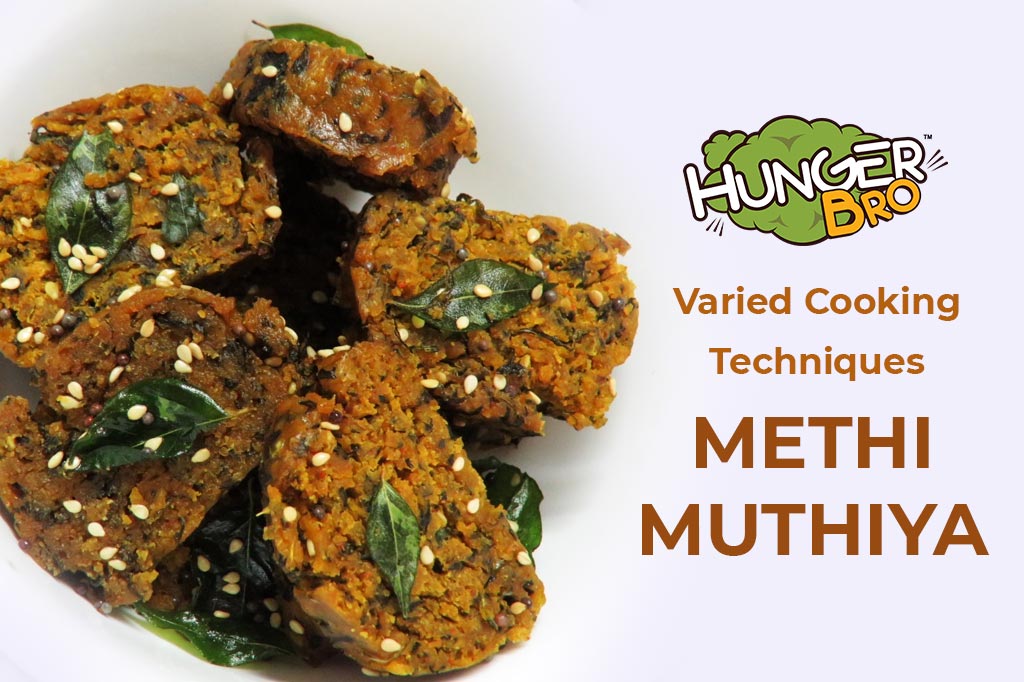 Methi Muthiya has 2 cooking techniques. One is fried and the other is steamed.
The fried methi muthiyas are a main ingredient of Undhiya, a rich mix of vegetables, it is food delicacy enjoyed peculiarly during winters, with fresh winter produce of a medley of veggies.
The other version is a steamed muthiya variety.
Fenugreek leaves are freshly available during the winter season. This is the ideal time to make Methi muthiyas with fresh methi as its principal ingredient. In cities, where methi is available all year around, it can be enjoyed at any time of the year!
Tips to Clean & Store Methi
It's an elaborate task to clean methi leaves. The leaves need to be separated; sometimes it is full of dirt, needs proper cleaning. It's best to buy it in bulk, clean and store it in refrigerator and use it whenever required, the whole weeklong.
Store it Dry & Refrigerated
Tip – It's best to keep leafy veggies dry and sorted leaves in the refrigerator. This way, it stays fresh longer. Do not wash the leaves until use. Else it will become stale soon.
Evening Savory Tea time Snack
Muthiya is an evening snack or light dinner option, when you want a change from the usual dal chawal, roti sabzi routine. It is healthy and filling with the whole wheat flour and besan flour mixed.
Leafy veggies & Muthiyas
Not just methi, muthiya can be made out of any veggies in your fridge, including rice. Any leafy vegetable, e.g. Palak is also a good option. Bottle gourd muthiyas are also a favorite amongst the people of Gujarat.
Healthy food option for kids
It's a healthy eating option for kids, where veggies are not seen, and kids consume it in substantial amounts! The hidden veggies do the trick! If your kids are fussy about eating veggies, use muthiya as an alternate recipe and it will work wonders, most of the times!
Does wonders for fussy eaters
Most people don't like bottle gourd. But bottle gourd (doodhi) muthiyas taste delicious! They will change your mind about eating doodhi!
Methi & its health benefits
Methi has several health benefits. It aids in weight loss, aids in digestion, helps cholesterol levels in check, aids soar throat, can manage and ease heartburn, helps diabetes symptoms etc. With a multitude of health benefits, it is a 'must have' food recipe!
1. Wash, clean, drain and finely chop the methi leaves.
2. Add whole-wheat flour and chickpea flour (besan) in a bowl.
3. Other ingredients include green chilli & garlic paste, haldi powder, Kashmiri mirch powder, sugar, asafetida (hing), salt as per taste, and a tsp. of oil.
4. Next, add methi leaves, finely chopped (a cupful of leaves) to the flour and spices. Knead to a soft dough using water.
5. Shape the dough to 4-5 medium size logs and place it in a steamer.
6. Grease the plates of the steamer with some oil and place the dough logs for steaming. Let it steam for about 15 minutes.
7. Once steamed properly, remove them from the steamer and let them cool completely.
8. Now cut the muthiya into thick slices and it's now time for tempering!
9. For tempering, heat a small pan, add mustard seeds in some oil. Let it crackle. Add sesame seeds. Add sliced muthiyas in to it and toss well. Garnish coriander leaves over it. Serve hot. It tastes great with coriander chutney.
Store it Right
It stays good for 2-3 days in the refrigerator, storing in an airtight container. If pan-fried, then will not remain crispy. But if it has to be used in the vegetable curry, then you can make it a day prior and keep it in the refrigerator. Crispiness doesn't matter in that case. It stays good for 2-3 months in the freezer.
Nutrition Facts:
Carbohydrates – 5.74 g (66%)
FAQs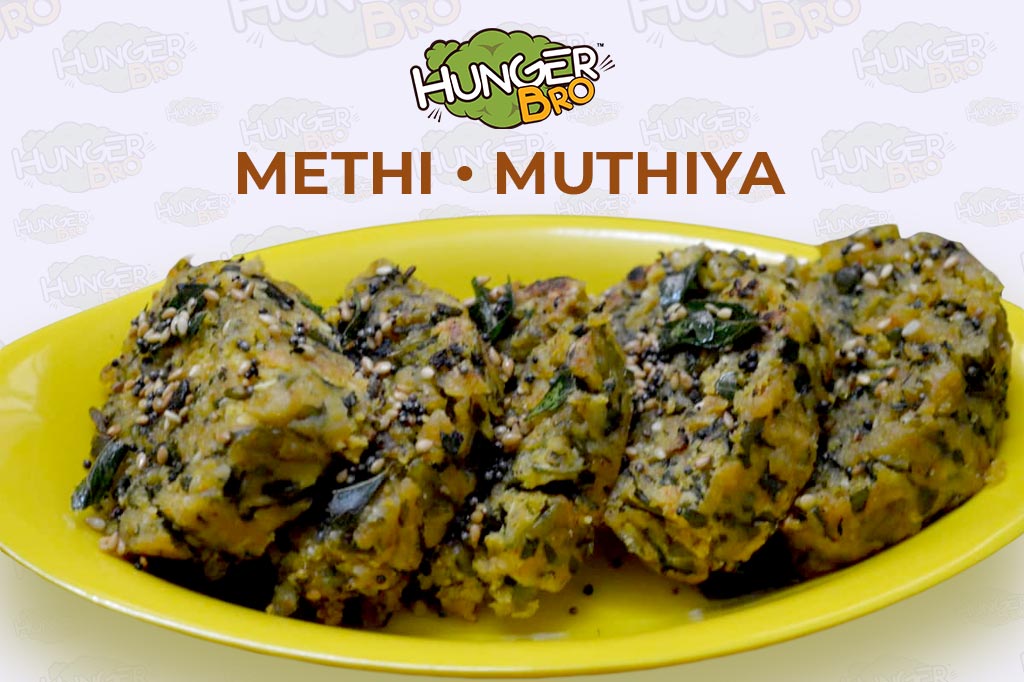 Is it compulsory to add sugar?
It is optional, but highly recommended, as it reduces the bitterness of methi and balances the spicy flavor of chilies added to the recipe.
How long can muthiyas be refrigerated?
Steamed muthiya logs can be refrigerated for 72 hours. Later fried when required.
What should one have along with muthiyas?
Methi Muthiya tastes great with both sweet and coriander chutneys. It tastes delicious consumed piping hot. It also tastes good with ketchup.
Is it a dinner recipe or snack?
It is perfect as an evening time snack with tea. You can relish it as a light dinner recipe as well.
Is it vegan/ gluten free recipe?
A. It is vegan. To make it gluten free, skip asafetida (hing) and use jowar flour (sorghum) instead of whole-wheat flour.