The taste of Maharashtrian Onion pakoda recipe or kanda bhaji – deep fried onion fritters made with gram flour and spices is ultimate!
Crispy-crispy baby!
The crispy texture is achieved by adding rice flour to the onion rings with other spices. In Mumbai, it is known as Kanda Bhaji. For the unawares, kanda is onion and bhaji means fritters!
Let's delve into its types!
There are two type of onion pakoda: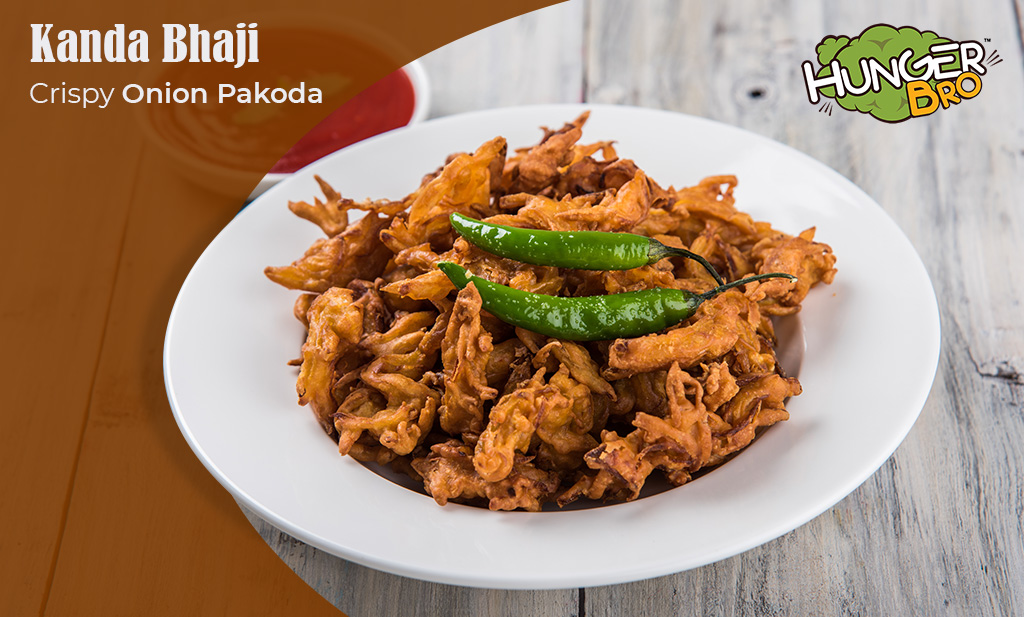 To make it crispy, do not add any extra water. Onion releases its own water. That water will just moisten the gram flour. It is just the sufficient amount of water because we just want to moisten the ingredients. No need to make thick batter like other pakoda recipes. Less water means crispy pakodas!
Soft and fluffy pakoda:
To make fluffy pakoda, make thick batter using extra water. Also add pinch of baking soda. This baking soda will help to make it nice and fluffy. This is similar to the one we make for pakoda kadhi. Either ways, pakodas tastes yummy! It's all about personal taste preferences.
Adding ajwain (carom seeds) aids in digestion. This is because pakodas are deep-fried and besan can sometimes be heavy on the tummy!
Let's get cooking!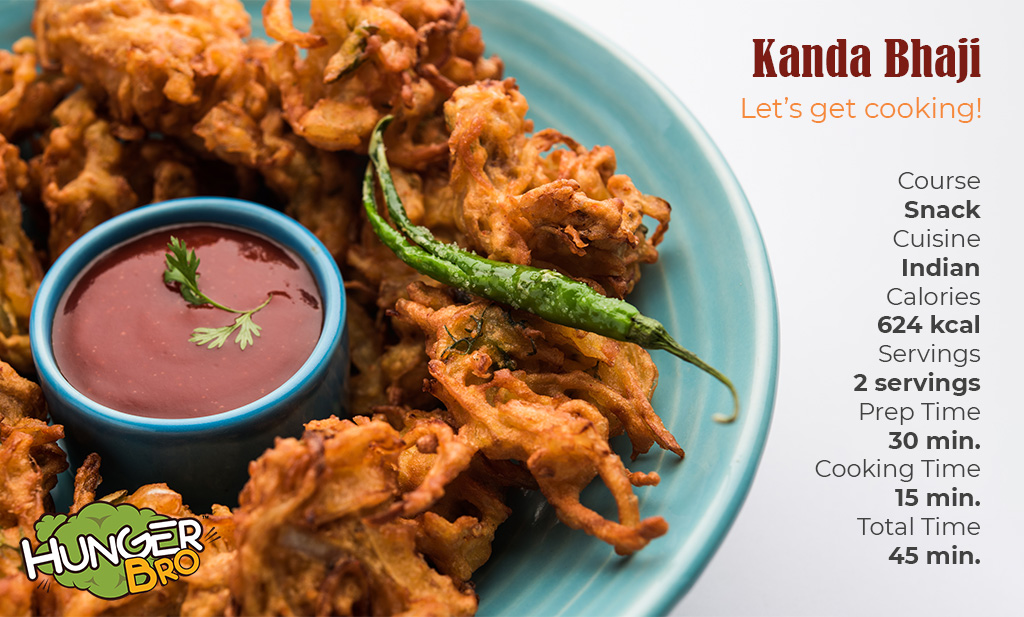 Ingredients:
1 medium red onion thinly sliced
1 green chili finely chopped
½ tsp. ginger paste or freshly crushed/ grated
4-5 curry leaves chopped, optional
1 tbsp. coriander leaves finely chopped
How To Make Onion Pakoda Or Kanda Bhaji: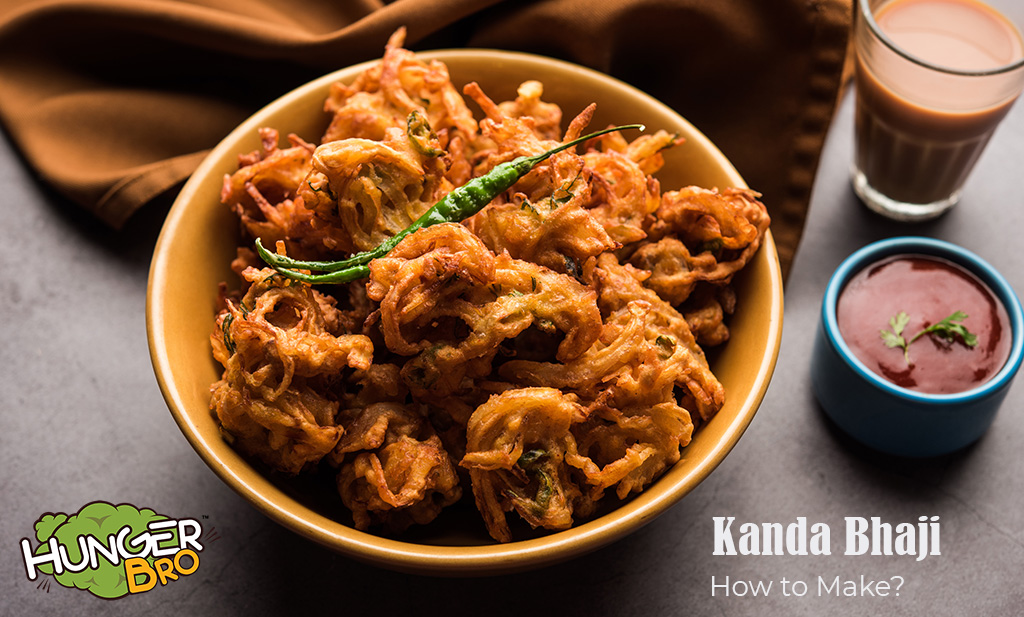 In a bowl, place the sliced onion. It is critical to thinly slice the onions. If the slices are thick, the besan will cook during the frying process. However, the onion remains half-cooked.
Add chopped green chilies, coriander leaves, curry leaves and ginger paste.
Salt, turmeric powder, red chilli powder, coriander powder, and carom seeds are all good additions. Adjust the proportions of red chilli powder and green chilies to your taste and heat level preferences.
Now add rice flour and besan.
Mix it well. So all the flour and masala coat all sliced onions. Adjust the besan quantity to coat the onions. All the sliced onions should be properly coated with the flour.
Leave it aside for 20 minutes. By this time onion will start to leave its water. Flour mixture will get wet. We don't have to make batter. So no need to add any extra water to it.
Heat the oil in the pan on medium heat for deep frying. Once oil is hot, add spoonful of pakoda mixture. Make sure that oil is hot enough. If it is not hot then it will absorb too much oil. If oil is too hot then outer part will get burnt and inside will remain uncooked.
Fry it till it becomes golden brown on both sides. Turn them around while frying for even cooking. Deep-fry few pakodas at a time. Avoid over-crowding at one time.
Then remove it on paper towel lined plate. And serve hot. It should be served hot. As it cools, it loses its crispness.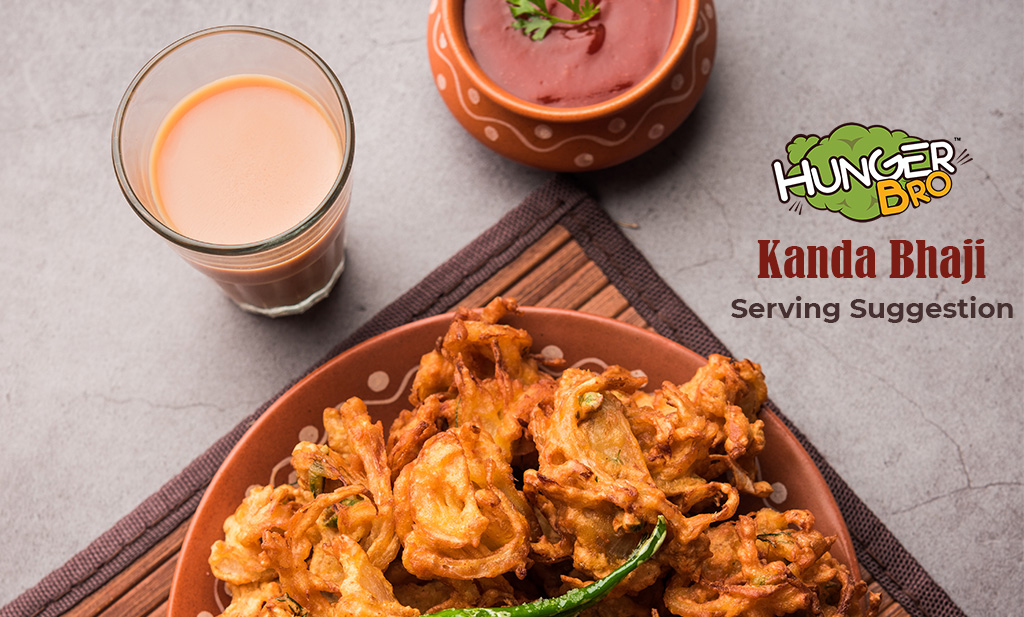 Serve with a cup of hot tea or coffee as an afternoon snack or breakfast. It can be served with mint chutney or coriander chutney and tamarind date chutney as appetizer or snack.
Nutrition Facts:
FAQs:
What is kanda bhaji called in English?
Kanda Bhaji are fried onion fritters. These crisp fritters are prepared mainly with onion and gram flour (besan). It is a popular street food snack in Maharashtra.
How do you store onion bhajis?
Make sure you keep it flat. Allow the onion bhajis to freeze for a few hours. Take them out of the freezer and pop them into a labelled freezer bag and replace them back in the freezer. It really is as easy as that!
What is onion bhaji called in India?
The onion bhaji is a famous Indian appetiser or snack that you'll find in most authentic Indian restaurants. Also known as bhajji or bhajiya, this Indian dish is a spicy snack that's quite similar to fritters and has several variants.
Can I microwave onion bhajis?
Microwave your onion bhajis for 5 seconds. Grill for a further 2 minutes, or until the bhajis are completely crispy. For thicker bhajis, a lower grill temperature is better. On a higher heat, the outside of the bhajis may burn before the inside has cooked.
How long does the onion bhaji batter last?
These onion bhajis will last around 3 days when stored in the fridge. To reheat, simply place in your oven for around 5 minutes on 180 degree C. They're also amazing cold the next day in lunch boxes.