Delectable Dal – Taste that stays for long!
Maharashtrian Amti is a dal recipe made from toor dal along with a rich combination of other Indian spices.
Amti gives that authentic flavor of Maharashtra, an innate taste of the region with its specific ingredients and preparation.
Curry that is a culinary delight!
Amti is an Indian word for any curry of dal, which has an acidic ingredient. Tamarind adds a tangy flavor to the curry. The flavours range from sweet, sour to spicy.
The unique ingredient that adds an authentic and distinct flavor to the recipe is Goda Masala. It is made from dry coconut and sesame seeds.
The game-changer Goda Masala
Goda Masala is one of the game-changer ingredient of this recipe. If you use any other masala e.g. Garam Masala, you will not get the same taste.
Special ingredients of Goda Masala
Few spiceslike Dagad phool or kalpasi (stone flower), sesame seeds, dessicated coconut or dry red chilies are not there in garam masala. These add up to the flavor and rich taste of Amti.
Garam Masala gives naram taste relatively…
If you add garam masala, the taste of the dal would be good, but it won't be the authentic taste of Amti.
It is a perfect light meal and tastes awesome when served with rice. A wholesome meal, it is an authentic delicacy relished across the state of Maharashtra!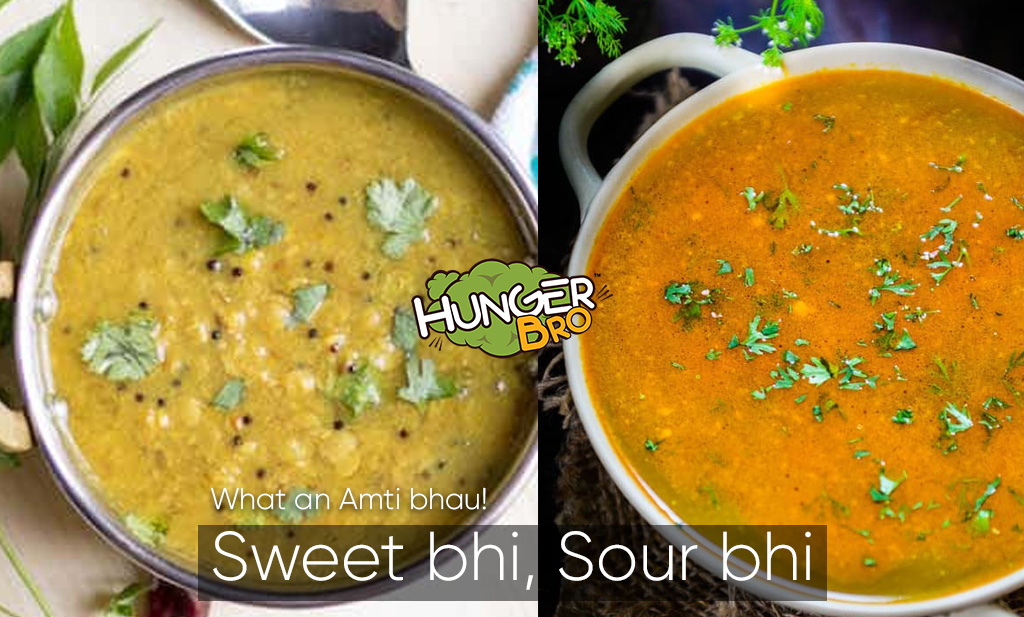 Amti, specifically has sweet and sour tones to its taste. Tamarind adds the sour tone and jaggery adds the tinge of sweetness.
Toor Dal basic taste blends with other ingredients and the final taste is amazing and lip smacking!
If tamarind or kokum are not available, you can opt for lemon juice.
Another distinct ingredient that one uses in this recipe is a bit of fresh coconut. It just adds a flavor of freshness and rich taste to any delicacy.
But if not available, it is perfectly fine to skip it altogether. You can serve Amti dal with rice or rotis.
Let's get cooking Amti: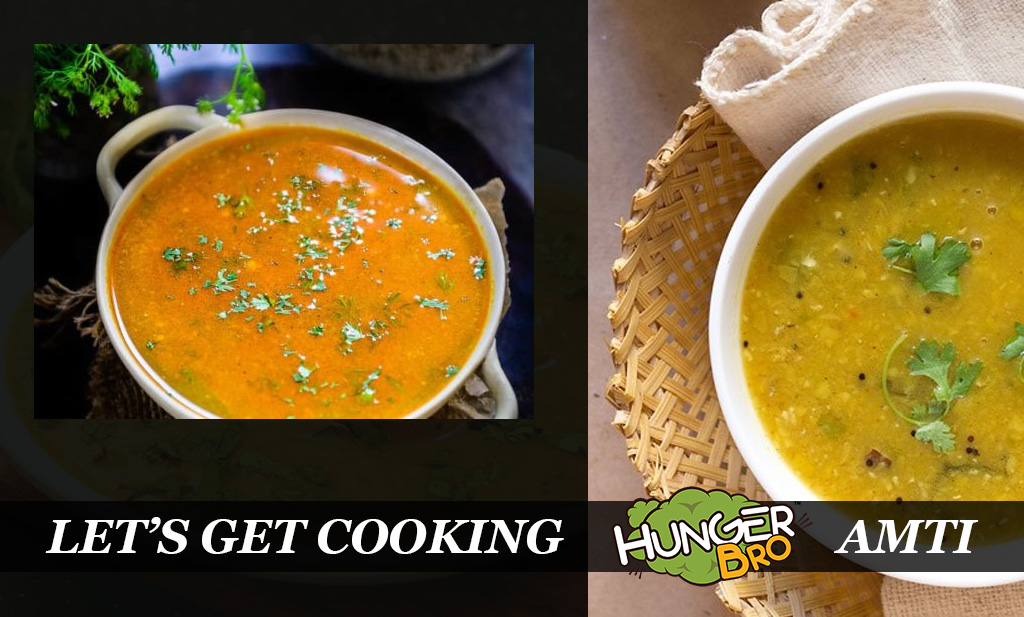 Cuisine: Indian, Maharashtrian
½ cup arhar dal (toor dal or tuvar dal)
1 pinch turmeric powder (haldi)
1.5 to 2 cups water to pressure cook
Other Ingredients For Amti Recipe
2 kokums or 1 tsp. seedless tamarind tightly packed + 2 tbsp. hot water
1.5 to 2 tsp. goda masala (kala masala)
Powdered jaggery (gud) or as required – ½ tbsp.
Chopped coriander leaves (dhania leaves) – ½ tbsp.
½ to 1 cup water to be added later or add as required
1 to 1.5 tbsp. grated coconut optional
For Tempering Amti Dal
½ tsp. mustard seeds (rai)
7 to 9 curry leaves (kadi patta)
1 to 2 green chillies or ¼ to ½ tsp. red chilli powder
¼ tsp. turmeric powder (haldi)
1 pinch asafoetida (hing)
1.5 to 2 tbsp. oil or ghee
For Garnish:
Few chopped coriander leaves (dhania)
How to make Amti:
Rinse ½ cup of tuvar dal (arhar dal) thoroughly in water. Then add the dal in the pressure cooker along with 1.5 to 2 cups of water and a pinch of turmeric.
Pressure cook the dal on medium to high flame for 7 to 8 whistles until dal is properly cooked. It should be mashed properly once done. Once the pressure of the cooker settles down, open the lid and mash the dal with a whisk or spoon. Keep it aside. dal is cooked completely and is of a consistency that can be mashed easily. When the pressure in the cooker settles down on its own, open the lid and mash the dal with a spoon or a wired whisk. Keep aside.
Making Amti dal:
In another pan, heat 1.5 to 2 tbsp. oil or ghee. Lower the flame and first crackle ½ tsp. mustard seeds.
Then add ¼ tsp. turmeric powder and a pinch of asafoetida (hing).
Stir and then add few curry leaves, 1-2 chopped green chillies. Instead of green chillies you can also add ½ tsp. red chilli powder.
Add the mashed dal and stir.
Add 1 cup water or as required to get a medium consistency in the dal. Stir very well.
Add 2 tsp. goda masala, ½ tbsp. powdered jaggery, 2 kokum, 1 to 1.5 tbsp. grated coconut (optional), ½ tbsp. chopped coriander leaves and salt. Instead of kokum, you can also add tamarind pulp. For the tamarind pulp, before you start cooking the dal, heat 2 tbsp. water and add 1 tsp. seedless tamarind to it. Soak for about 20 minutes. Squeeze the tamarind pulp and keep it aside. Now add it at this step.
Simmer for 10-12 minutes on a low flame and stir frequently. Check the taste of Amti and add more jaggery, salt or goda masala, if required.
Garnish with coriander leaves and serve Amti. Serve it with steamed rice or rotis, topped with a little ghee.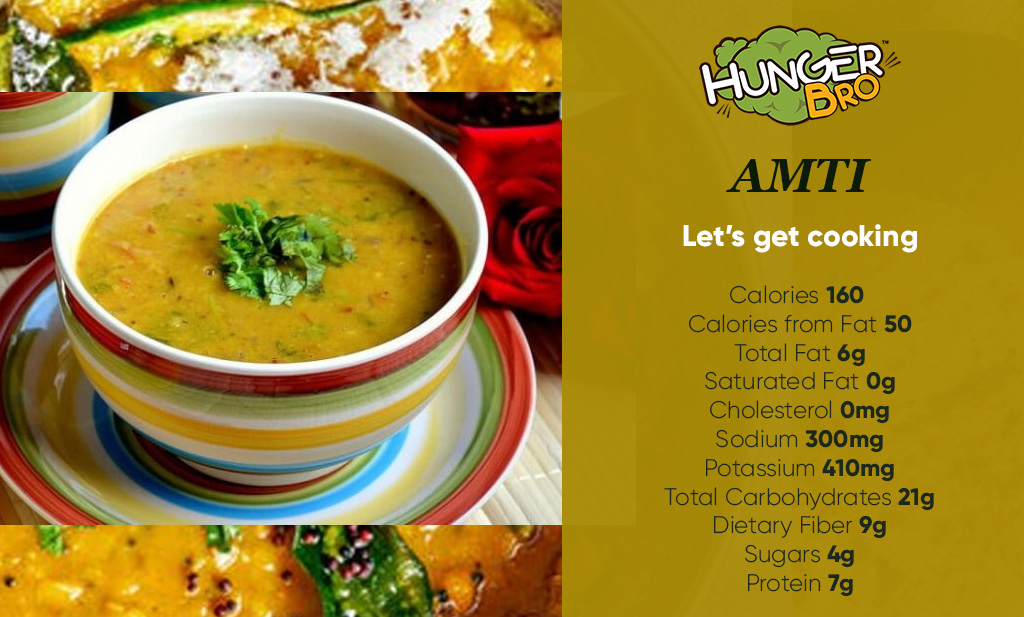 Amount Per Serving (recipe is 4 servings)
FAQs
Amti is a specialty of which region?
Amti is relished and popular in Maharashtra.
What is Amti made from?
It is made from Toor(Arhar or Tuver dal/ pigeon pea lentil.)
What is the masala to use to get the authentic taste?
Goda Masala is used, a peculiar Maharashtrian spice to get the authentic taste of Amti.
What is the taste of Amti?
Amti comprises of a slight tinge of sour and sweet taste.
What to have along with Amti?
Steamed rice or rotis topped with ghee taste great with Amti.