With a higher number of covid-19 cases, we all want to stay safe from this deadly virus. The new mutation of the coronavirus needs extra care and precaution in terms of hygiene, immunity and health.
By staying at home, we can save ourselves and family members, but at some point, we have to meet new people due to some work. In such a case, a strong immune system can fight foreign disease-causing pathogens and reduce the risk of infection.
Yes, I agree that building a strong immunity takes time and asks for constant efforts, but today's is better than tomorrow. So read this post and find the best 3 drinks to boost the immune system against COVID-19
3 Drinks To Boost The Immune System For COVID-19
Immunity booster 1:
Our first drink to boost the immune system for covid-19 has ajwain/carom seeds, basil/tulsi. Honey and black pepper.
Tulsi leaves have a myriad of medicinal properties, including antibacterial, antifungal, antipyretic, antioxidant, antiseptic and anticancer. If you don't have Tulsi leaves, you can use Basil leaves. It contains many vitamins and minerals and antioxidants.
Ajwain or carom seeds have anti-inflammatory, antibacterial, and antifungal properties. Honey is also a good source of antioxidants, antibacterial and antifungal properties.
Black pepper has an active compound named piperine that has potent antioxidant and anti-inflammatory properties. Some studies suggested improving blood sugar control, cholesterol levels, and brain and gut health.
Together this drink boosts your immunity and gives relief from cough and cold. Adding black pepper and honey to drink also improves the taste of this immunity booster.
List of Ingredients (serving for 2):
Water: 2 glass
Ajwain seeds: 1 tsp
Fresh Basil or Tulsi leaves: 10-12
Black pepper powder: 1 tsp
Honey: 2 tsp
Steps for making:
Take a pan and add 2 glass of water to it. With water, add carom seeds, black pepper, and basil/tulsi leaves it.
Now turn on the flame and keep this solution on the stove for 5-10 minutes. Turn off the flame when the solution becomes roughly half in volume.
Cooldown the concoction for a while and strain it in a cup. Add honey and drink it. Drink it warm for better result.
Immunity booster 2: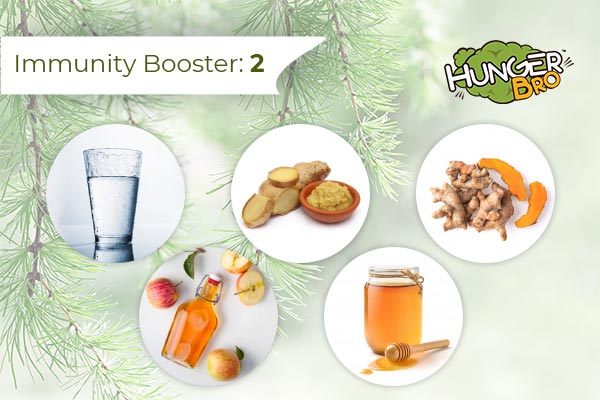 This drink consists of water, ginger, turmeric, apple cider vinegar and honey. This drink is loaded with organic and healthy ingredients that possess antibacterial and anti-inflammatory properties.
The roots, ginger and turmeric have anti-inflammatory, antiseptic and antioxidant properties. At the same time, Apple cider vinegar offers preventive actions. It promotes the growth of healthy bacteria and forbids the growth of harmful bacteria.
Healthy bacteria are essential for strong immunity. Along with different other properties, turmeric is a natural healer. Ginger can destroy foreign pathogens and increase WBC-white blood cells.
Together all these ingredients will surely help you to boost your immune system. To make this, follow these simple steps.
List of Ingredients: (serving for 2)
Water: 2 glass
Raw grated ginger: 1/2 tsp
Turmeric root: 1/2 tsp
Apple cider vinegar (ACV): 2 tsp
Honey: 1 tsp
Steps for making:
First of all, take 2 glass of water in a deep pan. Add raw grated ginger and turmeric root in it.
Turn on the flame and boil this mixture on a medium flame for 5 to 10 minutes. The volume of water reduces to half.
Next, keep the flame off and let this concoction cools down a little bit.
Strain the drink in to cup through a sieve and add honey and apple cider vinegar in it.
Drink it warm. It will cause more benefit than the cold drink.
Immunity booster 3
Giloy is packed with antioxidants properties. It can remove toxins, purify the blood, prevent urinary tract infection, and avoid liver disease. It can help in fighting free radicals that cause disease.
Tulsi, ginger and clove together exhibit antibiotic, antimicrobial, and anti-inflammatory properties. Along with the properties, it also improves taste and boosts immune system.
List of Ingredients:
Water: 2 Glass
Basil or Tulsi leaves: 12-14
Cloves: 10
Grated ginger: 2 tsp
Giloy juice: 2 cups
Fresh lemon juice: 4 tbsp
Black salt
Steps for making:
First of all, take a deep pan and add 2 glass of water. Next, add tulsi leaves, cloves and grated ginger.
Turn on the stove and let this concoction boil for 5-10 minutes. When the volume of the concoction reduces to half, turn of the flame.
Keep it cool, strain the mixture and transfer it to a glass bottle or jar for storage.
To drink this booster, take one teaspoon of this mixture and add it to 1 cup of Giloy juice. Add a pinch of black salt and lemon juice according to taste.
Mix it well and drink. Drink this immunity booster in the early morning if possible.
Conclusion:
It is all about three drinks to boost your immune system for covid-19. Hope you will find all the instruction clear and understandable. If any double related to information or making method, you can use the comment section for more help.