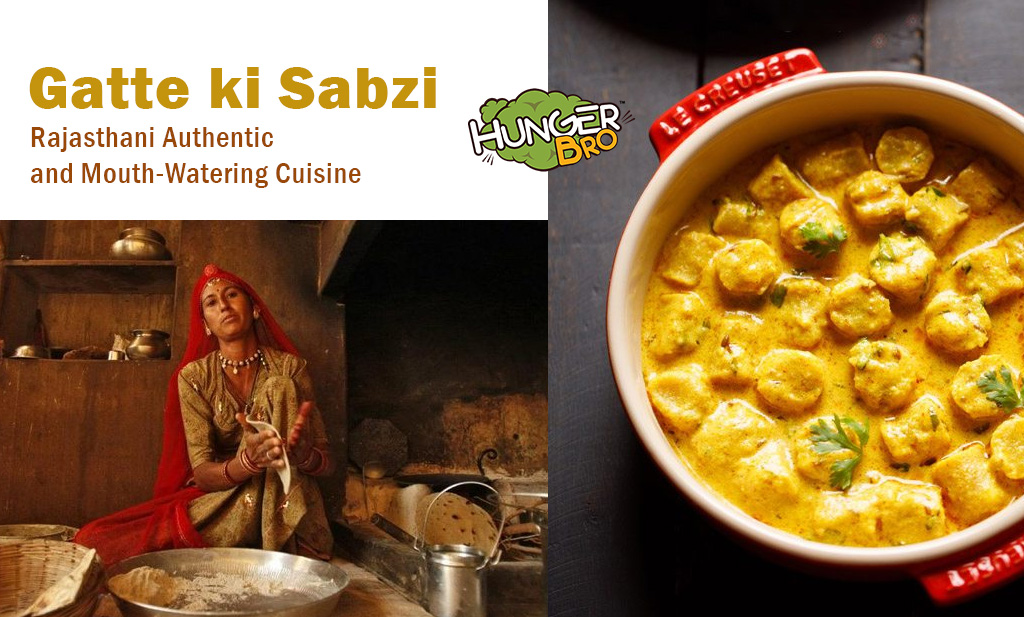 Gatte ki sabzi is a traditional recipe from the Rajasthani Cuisine. A rich preparation of gram flour (besan) rounds, Gatte, added to curd based gravy. It tastes delicious!
One sabzi, many variations!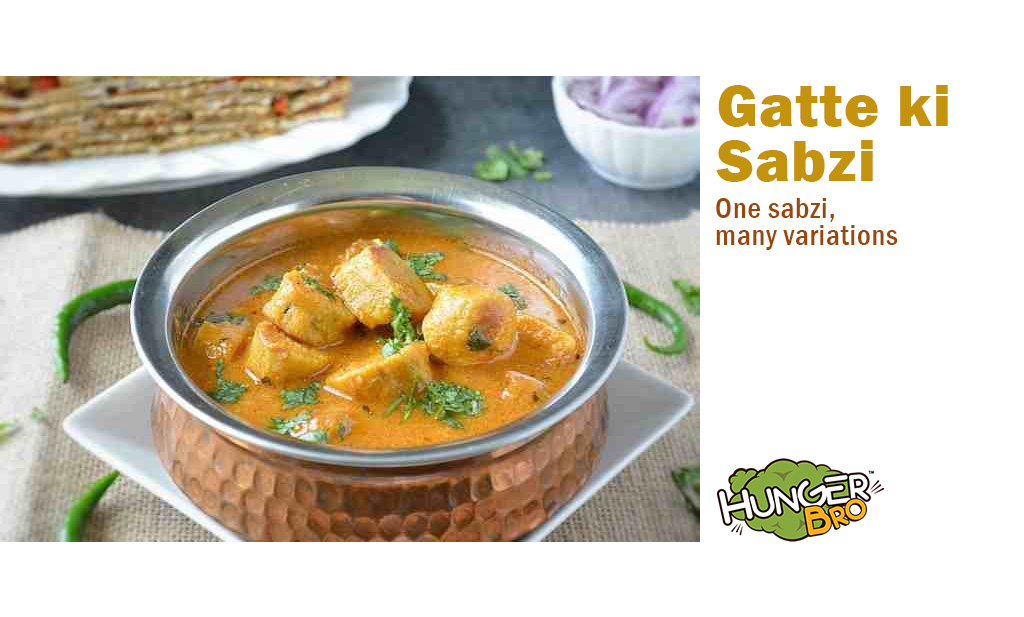 There are many variations to the preparation of this rajasthani sabzi. In this recipe, there is use of garlic, ginger and onions to add that authentic taste.
The ultimate taste of 'Gatte Ki Sabzi' is worth the effort
It's a bit time consuming to make this delicacy. But the efforts put in are truly worth it, with what you see as the end result! The spicy gatte ki sabzi can be enjoyed with roti or rice, as per your choice and taste preferences.
For making Gatte:
1 pinch asafoetida (hing)
1 pinch asafoetida (hing)
½ tsp. carom seeds (ajwain)
Add water as required for kneading
For cooking gatte, 4 cups water
For onion paste:
1-2 tbsp. water for grinding
For the gravy:
Red chili (remove seeds) 1 dry
1 pinch asafoetida (hing)
1 cup of the cooked gatte water
2 tbsp. chopped coriander leaves
Step-wise instructions to make Gatte Ki Sabji:
Preparing dough for gatte:
1. Take 2 cups besan (200 gm) in a large bowl or plate.
2. 1 pinch asafoetida (hing), ½ tsp. carom seeds (ajwain), ½ tsp. red chilli powder, ¼ tsp.turmeric powder, and 1 tsp. coriander powder. Add salt as per taste.
3. Add 3 tbsp. oil and 2 tbsp. curd.
4. Mix everything nicely. Make sure oil is mixed evenly.
5. Add water slowly in parts and begin to knead the dough. Knead properly, allowing the besan to absorb water. Knead it for 10 -11 min.
6. Approx. 4-5 tbsp. water will be needed. Addition of water will depend on the type of flour.
7. Knead the dough to a semi soft consistency like puri dough. It should be easy to roll without any hassle. No cracks should be seen on the dough. If cracks are seen, continue to knead by sprinkling more water. If the dough becomes sticky, then add some more besan
Making besan dumplings (gatte):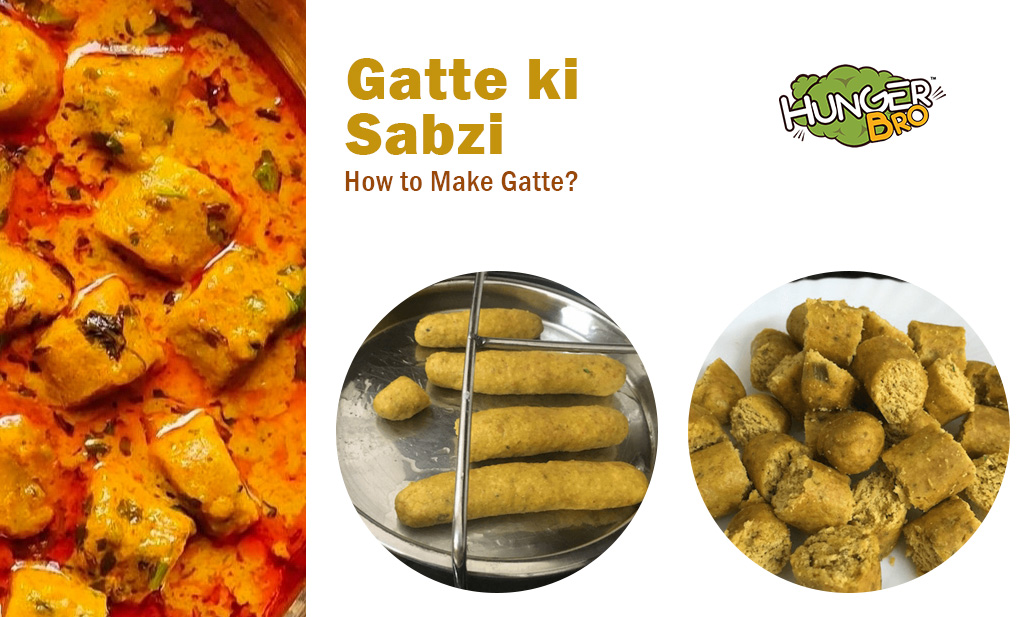 1. Take 4 cups water in a kadai. Heat water on medium to high flame.
2. Divide it in to 6 equal parts. Roll each one to a smooth ball.
3. Now with the help of your fingers, roll each dough ball to the shape of a soup stick, should look cylindrical in shape.
4. Repeat this with all 6 dough pieces. Cut the dough pieces in 2-3 parts to place them in the kadai.
5. Increase the gas flame. Let it be on high until water comes to a boil.
6. Place the gatte in boiling water.
7. There should be enough space in the pan. See that it is not cluttered with gatte. For this, it's best to use a large kadai.
8. Once the gatte pieces are cooked, they will start floating on top and bubbles will appear on them. This is a sign that they are cooked properly.
9. Drain extra water and remove them from the kadai.
10. Place them over a plate and let them cool at room temperature.
1. In a grinder jar, put ½ cup onions. Also add ½ tsp. chopped ginger & garlic.
2. Add 1-2 tbsp. water and grind it to a paste.
Preparing the gravy:
1. Whisk 1 cup of curd (250 gm) until smooth. Use full fat curd. Best is homemade curd.
2. Save 1 cup water in which you cooked gatte. Keep it aside.
3. Cut the gatte in small thick pieces.
4. The texture of these gatte is soft.
5. Heat 2 tbsp. oil / ghee in another pan. Keep medium low flame. Add 1 tsp. cumin seeds, 1inch cinnamon, 2 green cardamoms, 3 cloves, tej patta 1 medium and 1 dry red chili. Keep them ready before heating the oil. Do not burn the spices; fry them on a low flame.
6. Add the onion paste.
7. Mix properly and sauté on a medium flame.
8. Stir often and sauté the onion paste nicely until the color changes to golden.
For making sabzi:
1. Turn off the flame and add the whisked curd. Add it in parts, if you like.
2. Mix curd with the onion paste. Mix it properly.
3. Heat pan on low flame and stir continuously until curd is cooked.
4. When the curd boils, oil specks will appear on top. Stir continuously while cooking curd.
5. Add spice powders – 2 tsp. red chili powder, 1 tbsp. coriander powder, ½ tsp. turmeric powder, and 1 pinch asafetida.
6. Mix the spices properly in the curd.
7. Sauté until you see oil on top.
8. Add the water in which you cooked gatte.
9. Mix nicely.
10. Now add salt as per your taste preference. Mix well.
11. Let the gravy simmer on low to medium flame. Keep stirring often.
12. Let the gravy boil properly. Add gatte pieces when gravy comes to a boil.
13. Once the gravy comes to a boil, then add all of the gatte pieces. Stir the gravy.
14. Let the gravy thicken a bit. This will take round about 5 min. or so. When gravy cools, it will thicken more.
15. Switch off the flame and garnish with coriander leaves.
16. Relish the sabzi with roti, parathas, bajra or jowar ka roti, as per your individual choice. It tastes good with jeera rice or plain rice as well.
Quick Tips:
Homemade curd is the best. It is recommended to use full fat curd.
Onion and garlic you can add or omit as per your taste preferences.
Depending on the consistency of the gravy you like, add water accordingly.
For a less spicy sabzi, about 1 tsp. of red chili powder is sufficient. Also reduce the amount of coriander powder to half tsp.
As per your convenience and time, you can make gatte in advance, i.e. a day prior. You can keep it in fridge and add it while you cook the gravy the following day. It saves time!
FAQs:
'Gatte ki sabzi' is a delicacy of which region?
It is a traditional delicacy, mainly relished in Rajasthan.
What is gatte made of?
These are besan dumplings, simply put, but not deep-fried.
Can we skip onion and garlic from the recipe?
Yes surely, add ingredients as per individual taste preferences.
What goes with gatte ki sabzi?
You can enjoy this sabzi with jowar/ bajra roti, plain roti or paratha. It tastes good with jeera rice also.
Can gatte be made earlier and use while cooking this delicacy?
Yes surely. Gatte can be made a day prior, stored in fridge and put in the sabzi while cooking.