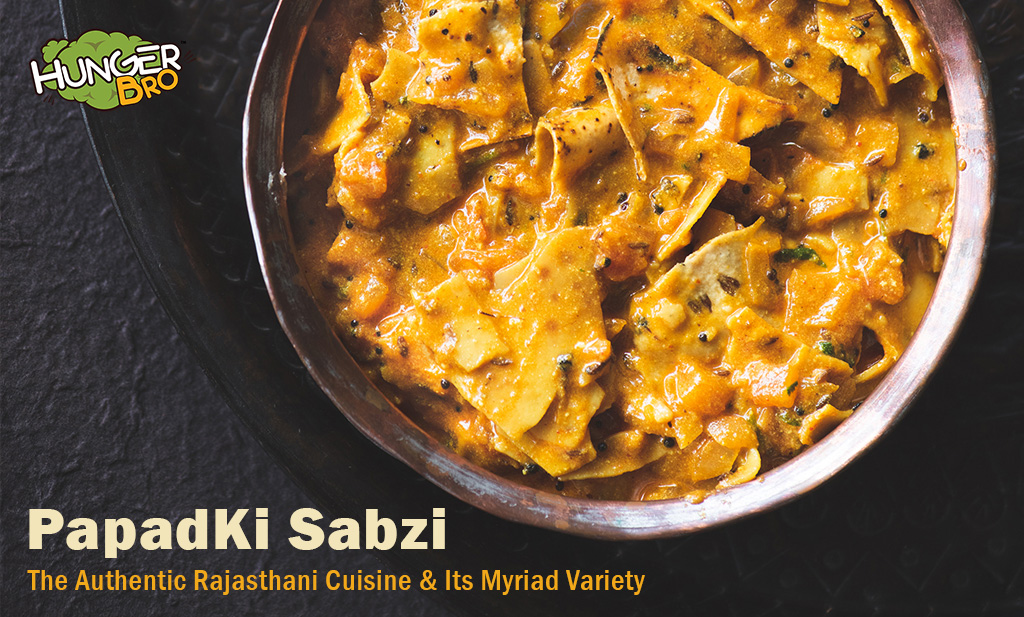 Relish the authentic food of Rajasthan with Papad ki sabzi, a delicacy of the Marwad region in Rajasthan. It's quick to make, easy, yet has an outstanding taste and aroma! 20 min. and the delicacy is ready to relish! It tastes amazing with either chapatti or rice, as per your liking!
The Cultural Versatility of Rajasthan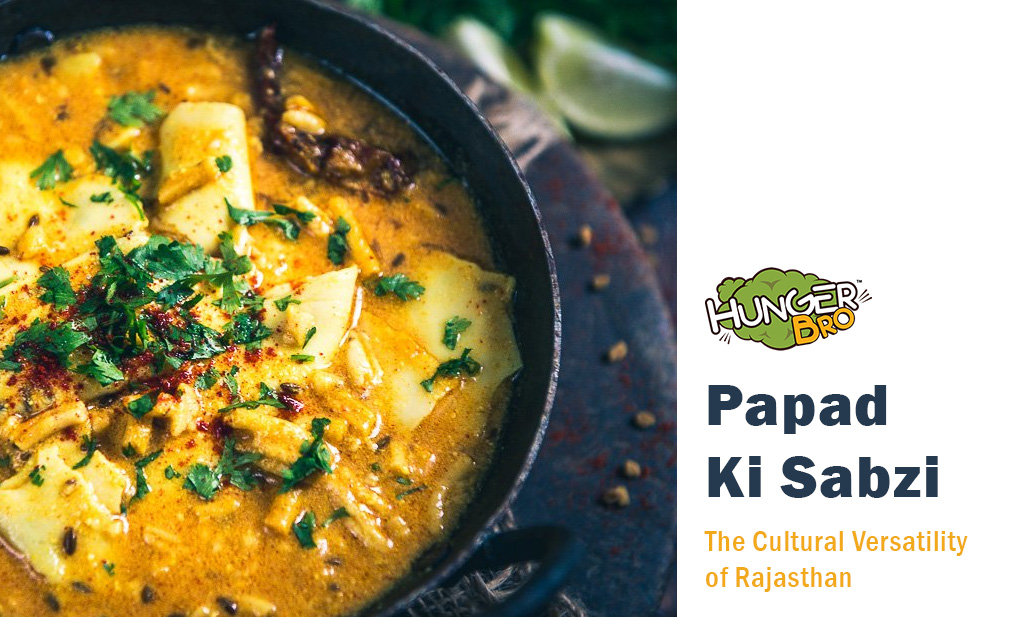 Rajasthan, the western state of India is known for its rich cultural heritage and its cuisine is as rich as its tradition! Rajasthani Cuisine is popular amongst tourists across the world for its irresistible taste and unique preparation! As the colored turbans add to its cultural significance, the taste of food in this region also has an identity of its own! Rejoice the myriad traditional contexts with some awe-inspiring tourist sites and while you travel, enjoy the delectable, traditional, authentic and rich food of Rajasthan with delicious & savoury bites!
Papad it is for that rocking taste: Papad is the staple food item enjoyed across the nation. In Rajasthan, it is used as part of the sabzi preparation. Being a dessert region, it relies more on other food grains, lentils, flours etc. as compared to veggies, which has scanty cultivation in this region due to its climatic conditions. Papad is either roasted or fried, as per individual preferences. It is the main ingredient of the sabzi, as the name suggests as well!
The traditional touch of Ghee: Ghee is the preferred and most recommended choice to cook this delicacy. It tastes authentic and delicious with ghee. Yet, as per your convenience and choice, you can cook it with any oil, as per availability and choice. The most ideal ingredient to use is ghee for sure!
The Magic of Curd: Adding a rustic tinge to the delectable recipe, the tangy taste makes the recipe mouth-watering! It is an essential part of the recipe to obtain that authentic taste!
The Spice Phenomenon: Spices as basic as red chili powder, garam masala powder, cumin seeds, fenugreek seeds, asafoetida/hing, and salt as per taste, together create an ultimate treat for the tummy!
Fresh Veggies: Use green chilies, ginger, Onion, and tomatoes for that lip-smacking taste and relish this savory delight with fresh veggies working like magic!
Ingredients:
Asafoetida (hing) – 1 pinch
1 tsp. Kashmiri Red chili powder
few chopped coriander leaves for garnish
Step-wise Instructions to make Papad ki sabzi:
The main ingredient of the recipe, first and foremost, you must roast the papad. You can either roast it or microwave it for a minute.
Now make gravy for the sabzi. Heat ghee; add asafetida (hing) and cumin seeds. When it crackles, add cumin and coriander powder.
Now add red chili powder, turmeric powder, green chilies and ginger (grated). Cook on low flame for about a minute, until spices turn fragrant.
Add curd to the spice mix and keep stirring for approx. 5 min. till curd gets cooked properly. Keep stirring to avoid curd from splitting.
Now add fresh tomatoes (pureed). Let the masala cook on medium flame until oil is released from the sides. Add fresh cream or malai to it. Cook for another 3-4 min.
Now add 1 cup of water and let the mixture come to a boil. Let it boil for approx. 5 min. Now add papad (broken pieces) into the gravy. Turn off the flame.
The delicacy is ready to relish. Garnish the sabzi with some crushed papad. Sprinkle few coriander leaves over it and relish this amazing Rajasthani delicacy!
Quick Tips:
For a quick vegan alteration, all you need to do is skip the curd from the recipe. What you get then is a vegan recipe!
The choice of papad is totally as you like! It could be any papad of your choice, urad dal, moong dal or chana dal papad, whichever you prefer and is readily available in your kitchen works best for you!
You need to either roast for fry the papad before adding it to the curry.
There is one thing you need to keep in mind. Add papad to the curry only when you want to relish this recipe! As papad gets soggy/ softened, do not add it too early. You won't enjoy the meal as much in that case.
FAQs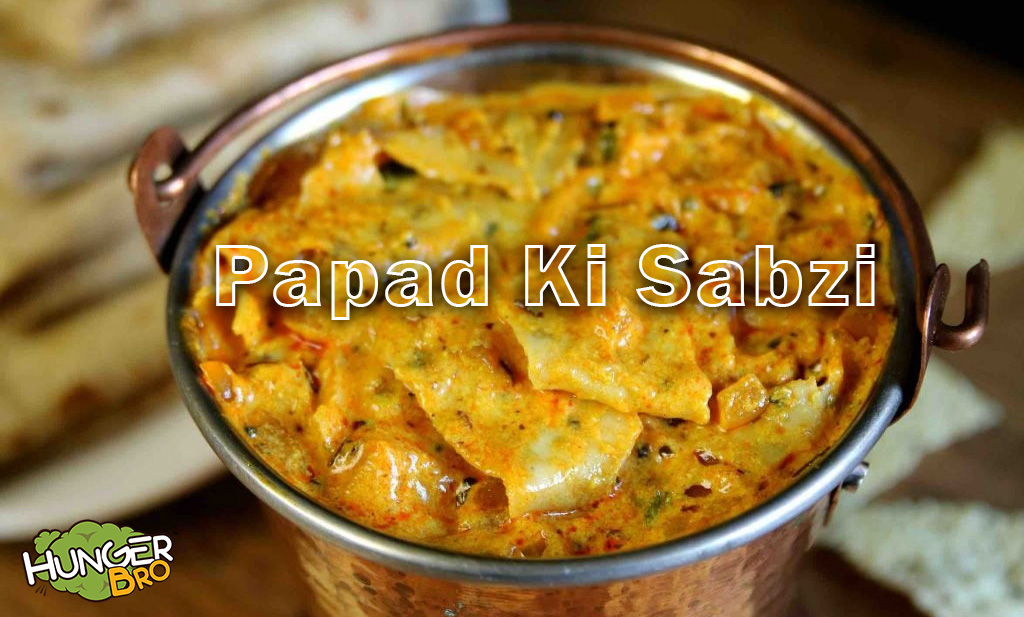 Papad ki sabzi is a traditional cuisine of which region?
It is peculiarly relished in Rajasthan, particularly in the Marwad Region.
Which papad is best for using in papad ki sabzi?
Any papad as per easy availability in your kitchen is good enough. Bikaneri papad tastes exceptional though. Urad dal papad also adds that touch of authentic taste to the recipe.
What tastes good with Papad ki Sabzi?
Papad ki sabzi tastes best with paratha, bajra roti, chapatti, rice or masala khichdi.
Does it take too long to cook this sabzi?
No, it hardly takes any time in fact. It takes barely about 20-25 min. to cook this sabzi. It's quick and tastes awesome!
Is it important to add crushed papad pieces as garnishing?
As it enhances the taste of the sabzi immensely, garnishing of crushed papad pieces over the cooked sabzi is highly recommended.