Monsoons up the Mirchi Vada Mood!
Rainy season and hot snacks are an ultimate combination! Mirchi Vada of Jodhpur in Rajasthan sell like hot cake, especially in the rainy season!
Known for its rich cultural heritage, the city of Jodhpur is famous for traditional food delicacies, that add a delectable flavor to city life.
Blue City and the Mirchi Vada Craze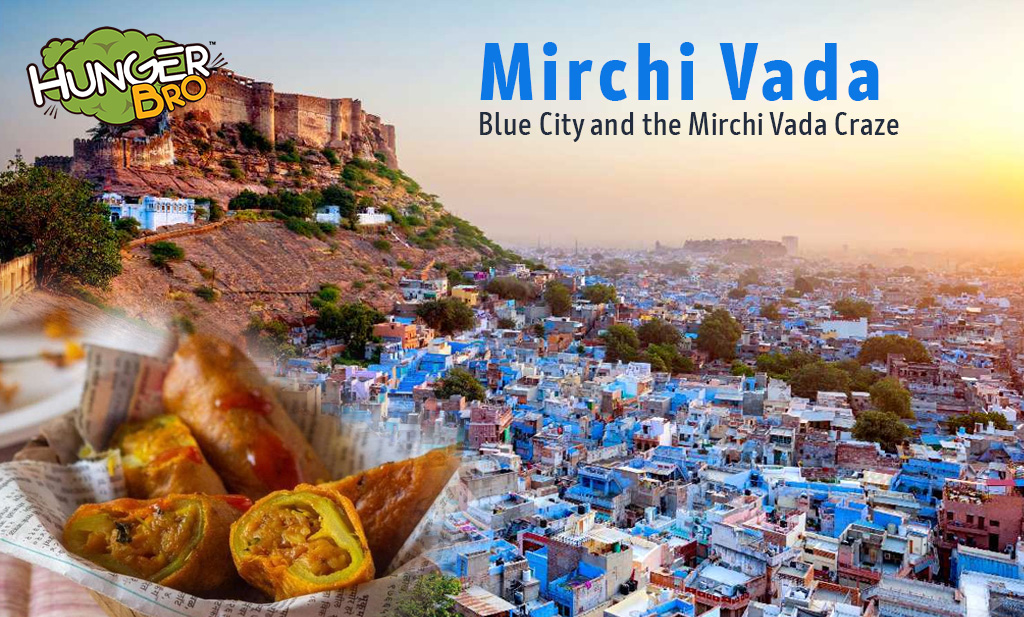 On an average, people eat 75 thousand Mirchi Vada every single day! It's popularity rises immensely in Monsoon, and the figure crosses 1 lakh everyday!
As it is easily available, all strata of society relish this amazing delicacy!
Whoa! All it takes to make Chili Fritters
Popularly known as Rajasthani Mirchi Vada or Jodhpuri Mirchi Vada, these are chili fritters, made from Bhavnagri chilli, stuffed with other ingredients, dipped in a gram flour mix and deep-fried. Served with chutney, it is a popular food variety across India!
The snacky lifeline of Jodhpur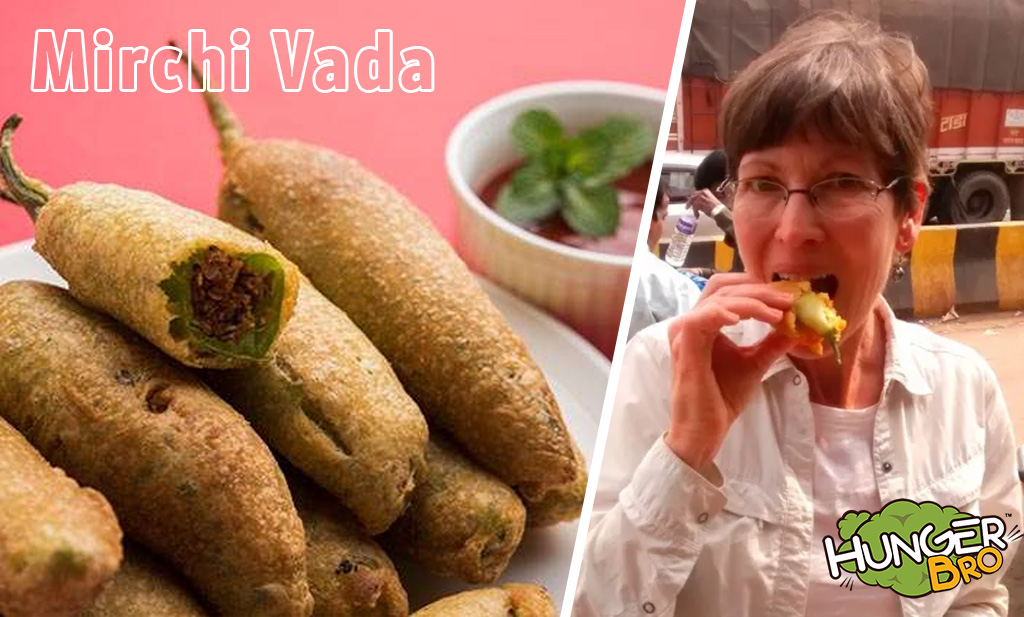 The city has more than 1000 Mirchi Vada vendors.At every nook and corner of the city, the most common sight is that of a mirchi vada vendor. Shops selling mirchi vadas alone round up to approximately 80 in number.
People relish this snack like crazy! And when it rains, these numbers rise even more, its like come rains and Mirchi Vada reigns!
Making 'Mirchi Vada' for a living
Several vendors bank on this popular snack for their business as compared to other snacks. The demand is so high that these chili fritters are found in mithai shops these days.
As soon as the dark clouds cover the sky, the city rushes to relish Mirchi Vadas and enjoy the rain ambience with this delectable food variety.
The boom around Mirchi Vada
As the sales of Mirchi Vada sees a rapid rise, the ingredients used to make it, see a boom as well. Bhavnagri chili, spices, bread, gram flour (besan), cooking oil, everything sees a huge demand!
More is less when it comes to Mirchi Vada
The demand is so high that sometimes there is a shortfall.
The snack is so popular in the blue city that few vendors feel no matter how many mirchi vadas they make, at the end of the day, they are going to fall short.
Many people can't have them as the stock is exhausted towards the day end!
This awesome traditional snack of Rajasthan, Mirchi Vadas is peculiarly stuffed with spicy potato filling in the bhavnagri chilies.
A perfect meal setting is to have it in the evenings on a rainy day!
What is this Mirchi Bada thing?
It's a popular street food of Rajasthan. Particular famous in Jodhpur, people across the state relish this mouthwatering snack!
Long chilies stuffed with potato filling, dipped in gram flour batter and deep-fried in hot oil!
Mirchi Vadas are typically relished during breakfast or snack time with tea.
What's an ideal combination with Mirchi Vadas?
As such, they taste delicious independently; you actually don't need anything to accompany them.
But if you like it with green chutney or tamarind chutney or tomato ketchup, well, sure, go ahead with it!
Is it possible to prepare it in advance?
Surely, the stuffing can be prepared and inserted in the chilies. You can then refrigerate the preparation for about 6-8 hours.
At the time of cooking, make the batter and dip the stuffed chilies in the besan batter and deep fry to make mirchi vadas.
Garma Garam Mirchi Vadas are then ready to eat!
Is this a vegan food variety?
Most definitely! These are vegetarian and vegan. Great taste and vegan it is!
Ideal choice of chili to use to make Mirchi Bada
Large chili peppers are good, but bhavnagri chilies are best! Mildly spicy are more preferred as it enhances the taste of the delicacy. Remove the seeds before stuffing them with the potato filling.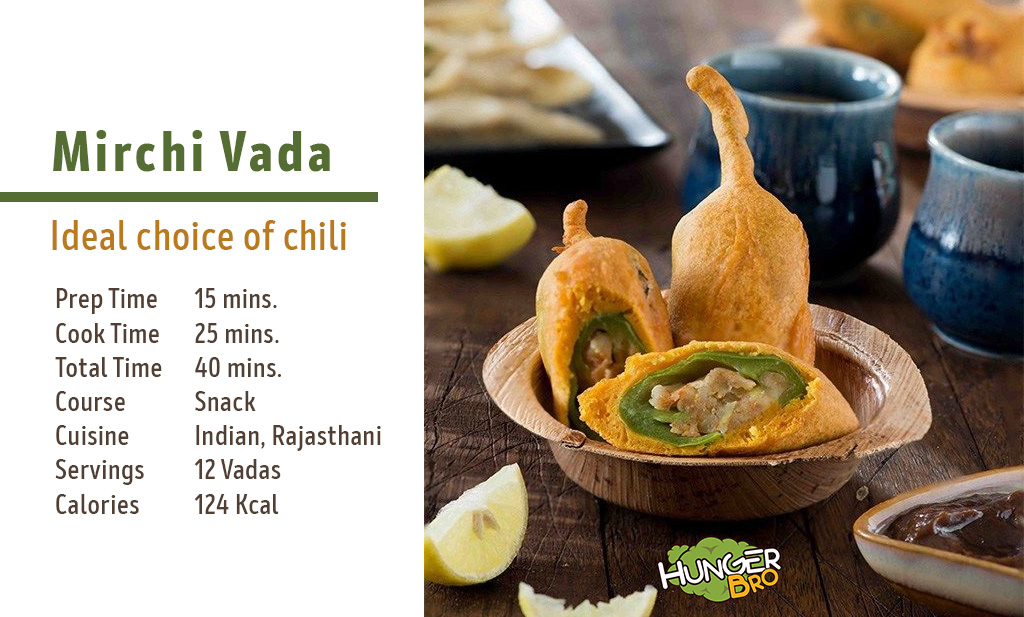 Ingredients:
2 cups Besan / Chickpea Flour
3 – 4 medium sized potatoes approx. 1.5 cups mashed potatoes
Cumin Powder (Roasted) – 1 tsp.
Coriander Powder (Roasted) – 1 tsp.
Roasted and Crushed Fennel Seeds (powdered saunf) – 1 tsp.
1.5 tsp. Red Chilli Powder
2 tsp Amchur / Dried Mango Powder
Stepwise instructions to make Mirchi Vada:
Boil, peel and mash the potatoes properly.
In a bowl, mix the mashed potatoes, with other spices including red chili powder, fennel, coriander powder, cumin powder, amchur powder, garam masala and salt. Mix until everything is combined properly. Keep it aside.
Wash the chilies and wipe them dry. Lengthwise slit the chilies and remove seeds from them.
Now stuff these chilies with the potato filling and keep them aside.
Heat oil for deep-frying.
Combine gram flour, salt, turmeric powder and baking soda in a mixing bowl. Make a smooth but bit thick batter by adding water gradually.
Dip each stuffed green chili in the gram flour batter and then drop into the hot oil for deep-frying.
Fry until crisp and turns golden in color.
Place the fried vadas on a paper towel.
Serve hot with green chutney, tamarind chutney or tomato ketchup.
Nutrition Facts:
FAQs:
Is there stuffing in Mirchi Vada?
Yes, there is spicy potato filling in Mirchi Vada.
What is the best way to eat Mirchi Vada?
Mirchi Vadas tastes good alone, and they can be relished along with green or tamarind chutney or tomato ketchup, as per individual taste preferences.
Mirchi Vada is a food speciality of which region?
It has a mad craze in Rajasthan, particularly Jodhpur. It is popular across Rajasthan, and pan India as well.
When is the optimum moment to savour this treat?
It is best enjoyed during the rainy season. The piping hot mirchi vadas are a popular street food item for the rich and poor alike.
Can mirchi vadas be made in advance?
The stuffing of vadas can be made bit prior to cooking them, ideally 6-7 hours. This stuffing can be put inside the bhavnagri chilies and the preparation can then be put for refrigeration.