Lilva Kachori is a perfect Gujarati delicacy to relish during monsoon or winters! The main ingredient is in its name itself; Lilva na daana (tuver dana), green pigeon peas.Tuver (lilva) dana is the stuffing in the kachori. This is easily available during the winter season!
Crispy outside, yummy inside!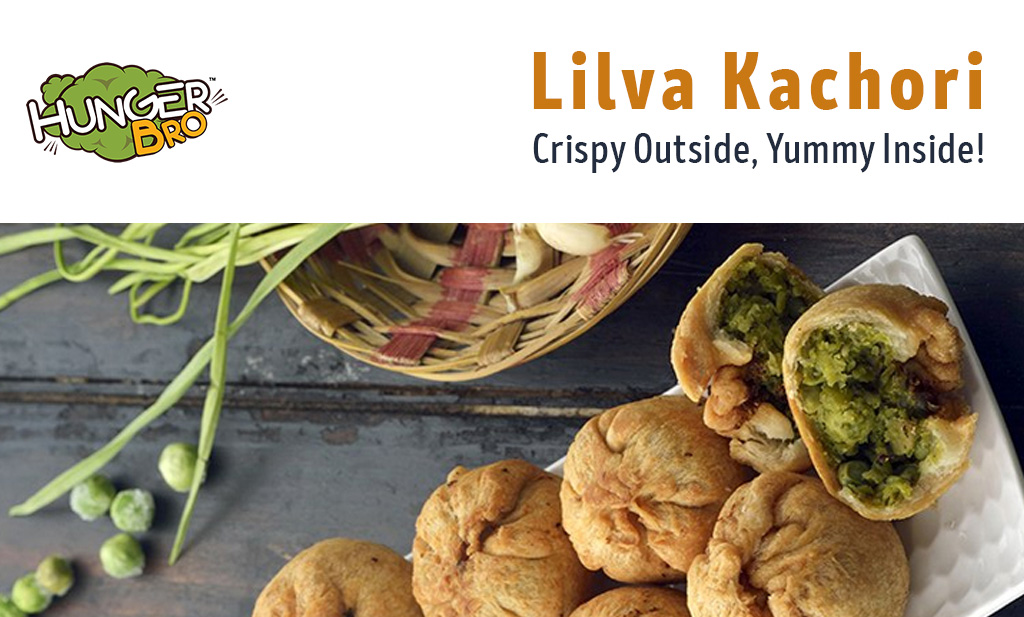 The outer covering of the kachori is crispy. Some people mix all purpose flour and whole-wheat flour together to form the dough. Using all-purpose flour is the authentic way of cooking this scrumptious delicacy!
The lilva dana stuffing has a typical flavor, while there is a distinct nutty taste due to addition of peanuts and sesame seeds to the stuffing.
A combination of sweet and tangy taste comes from sugar and lemon juice. Green chilies add to the spicy flavor. Adjust the quantity as per your taste preferences.
Fresh In Winters
Lilva na dana are freshly available in the winter season. If not fresh, use frozen packets.
You can add green peas to lilva na dana. There are various other delicious recipes made from lilva dana, like khichdi, sabzi, parathas etc.
Ingredients:
For stuffing:
1 ¾ cup f lilva na dana (green pigeon peas)
1 inch roughly chopped ginger
3-4 roughly chopped green chilies
1 tbsp. chopped cashew nuts
For outer covering:
½ cup all purpose flour (maida)
½ cup whole wheat flour (gehu atta)
Step-wise instructions to make Lilva Kachori:
For the lilva mixture (stuffing):
In a grinder jar, add fresh lilva dana, green chilies, ginger and peanuts.
Grind it to a coarse mixture. Do not grind it completely. We do not wish to have a paste. It should have a course texture.
Heat oil on medium flame. Add mustard seeds and let it crackle.
Add sesame seeds. Let it crackle.
Now add the lilva dana coarse mixture along with salt.
Mix well, cover it and let it cook properly while occasionally stirring it.
In approx. 8-10 min. The mixture will turn dry. There won't be any moisture now.re won't be any moisture now.
Add garam masala, sugar, coriander leaves and cashews at this point to the mixture.
Mix well and cook for sometime. Now turn off the flame.
Squeeze lime juice to the mixture and mix well. Now let the stuffing cool completely.
For making dough for outer covering:
In the meantime, make the dough to make the outer covering of the kachori. Take the flours, whole wheat and all purpose flour (maida), sugar, and salt in a bowl.
Make semi-soft dough, using your fingertips, mix the flours and oil very nicely, until everything gets mixed well.
Knead to a proper semi-soft dough by adding water bit by bit. Cover the dough and keep it aside for approx. 20 min.
Making the Kachori:
Once the mixture cools down completely and the dough has been rested for sufficient time, start making the kachori. Knead the dough one more time to make it proper.
Divide it into 10-12 equal portions for kachori. Make smooth balls and flatten them between your palm, one at a time.
Roll the dough into small diameter circles.
Add 2-3 tbsp. of lilva stuffing in the center of the small circle made from the dough.
Make pleats gently and gather it at the center. Now press it a bit to seal it tightly. Repeat the same process with the rest of the dough.
Heat oil in a kadai for deep-frying. Fry on medium flame to get a crispy covering.
Oil should be hot enough but not as hot as we heat for pakoras, else kachoris will form tiny bubbles on the outer layer. Put few kachoris into the hot oil and let it fry.
Kachoris should turn golden brown from all sides and should turn crispy. The gas flame should be adjusted to maintain a uniform temperature during the entire frying process.
To soak excess oil, place a plate with paper tower over it. Once the kachoris are done, place them over these paper towels. Follow the same procedure for all kachoris.
Hot or warm kachoris taste amazing! Even if they cool down, they taste great! Choice is yours, entirely!
Special Tips:
Lilva Kachori tastes mind-blowing with green chutney or tamarind chutney. Relish it with tea or coffee!
It falls under the farsan category. It can be relished as part of the main menu or a starter or snack item.
Traditional, authentic and absolutely delicious! Satiate your hunger pangs with this delectable delicacy.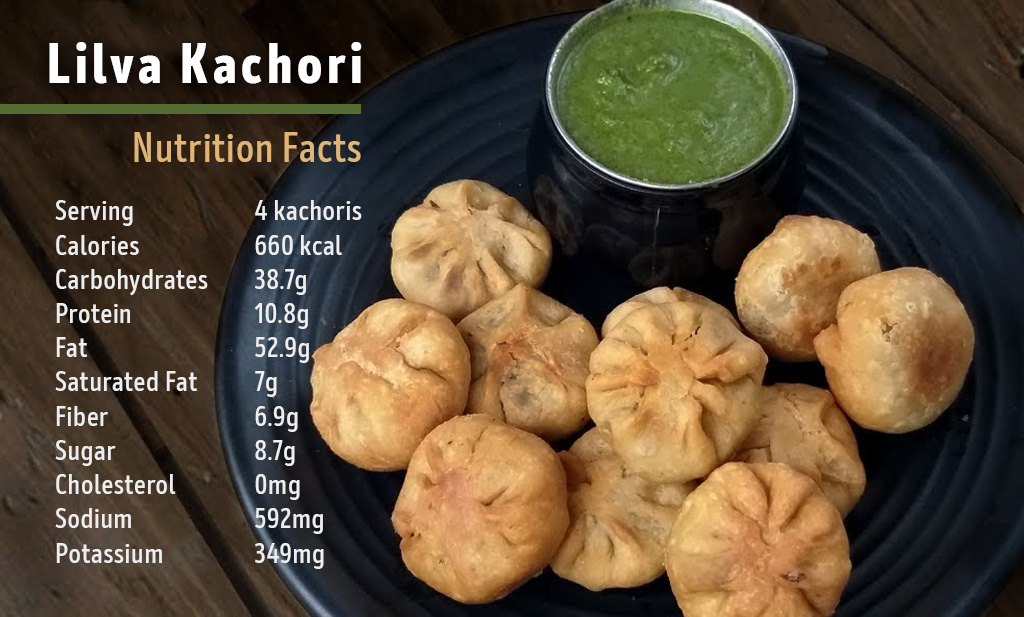 FAQs:
What is lilva kachori made of?
The name itself suggests, it is made from lilva na dana (green pigeon peas.)
Can the stuffing be stored for longer periods?
It is best enjoyed fresh. But yes, you can definitely deep-freeze it to enjoy this delicacy round the year.
Is it a healthy food option?
With lilva dana and its nutrient contents, it sure is, but the outer covering made of maida (all purpose flour) along with deep frying to get the crispy layer, that makes it fattening and unhealthy to some extent.
What is the best combination with lilva kachori?
It tastes amazing with green chutney or tamarind chutney. Typically had as farsan during the main course meal, it can be relished independently as a snack or starter as well!
What is the best time to relish lilva kachori?
Monsoon and winters are the best seasons to relish this mouthwatering recipe!