A fluffy, light, savory and sweet snack, Khaman can be relished any time of the day!Khaman is a popular Gujarati delicacy. It's vegan and gluten-free too, if you skip asafetida and semolina (sooji) in the batter.
It is yellow in color, so also known as yellow dhokla or besan dhokla. Either for breakfast or evening snack, Khaman is perfect!
Instantly made with gram flour, Khaman batter doesn't need fermentation like dhokla batter. Both delicacies have distinct taste.
Fluffy, Spongy Sweet and Savory Cakes
Eno is added to Khaman recipe as a leavening agent. It gives that perfect fluffy, airy, spongy and soft Khaman. Eno should be fresh and it should be minus any flavor.
Use a standard proportion of lemon juice or citric acid to get the fluffy texture. Both ingredients should be fresh.
Step wise instructions to make Fluffy, Spongy Khaman (Gram flour cake)
1. Grease a steamer pan with 2 – 3 tsp. oil.
For Better
2. Take 1.5 cups gram flour (fine texture) in a mixing bowl.
3. Now add
2 to 3 pinches of turmeric powder
some asafoetida (skip to make it gluten-free)
1.5 tbsp. lime juice or ½ tsp. citric acid
1.5 tsp. ginger & 1.5 tsp. green chilly (grind to a paste)
1 tbsp. sugar or as per taste
1 tsp. salt or as per taste
TIP: Don't add too much turmeric powder, else red spots will form, reacting with Eno or Baking Soda.
4. Add approximately 1-cup water and 1 tbsp oil to make a thick & smooth flowing batter. Water is needed as according to the quality of the flour. Start with 1 cup, add more if required. Combine properly. Stir well.
5. Then add 1 tbsp. Sooji. It is optional. It gives good texture to khaman. If gluten free, then skip this ingredient.
6. Stir properly with whisk. Form a smooth, thick batter, without lumps.
7. If batter becomes thin, add 2 tbsp. gram flour.
8. Bring 2.5 cups of water to a boil in the cooking vessel, (pressure cooker, electric cooker or steamer pan.) Amount of water depends on the size of the vessel used.
9. Add 2 tsp. Eno for soft and fluffy khaman.
10. Stir it quick and thoroughly. It should be mixed evenly with the batter. The batter becomes frothy.
11. Now pour batter in the greased pan.
12. Pour it evenly in the pan.
Steaming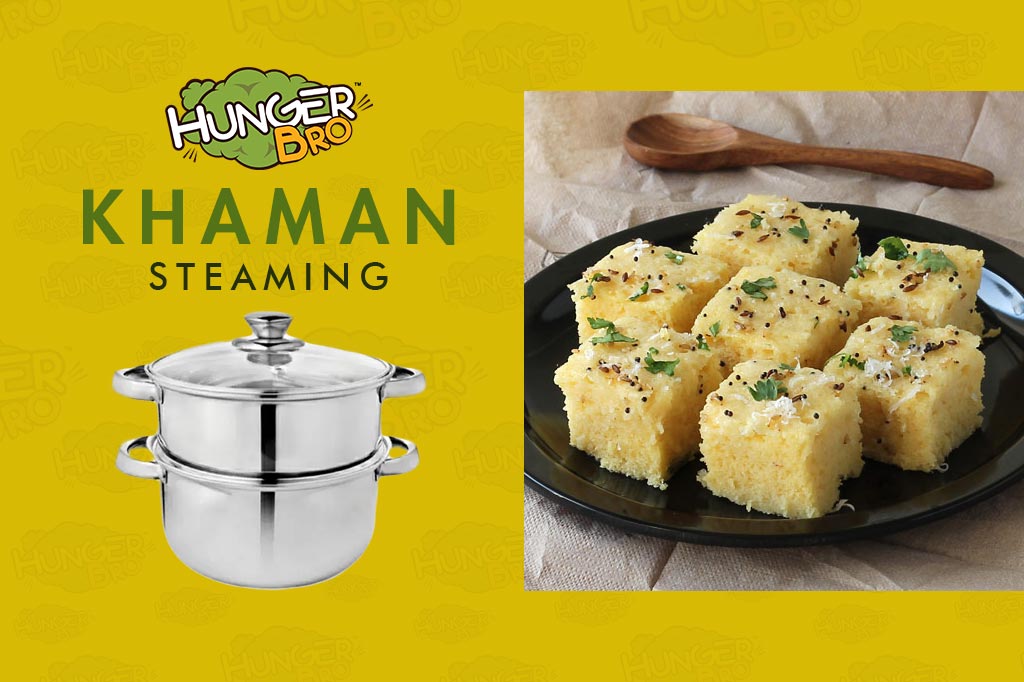 1. Place the pan in the vessel. Water should be boiling hot at this time. If using a pressure cooker, remove whistle off the lid, and cover the lid tightly.
2. Place the pan in the vessel. Water should be boiling hot at this time. If using a pressure cooker, remove whistle off the lid, and cover the lid tightly.
3. To check the batter when done, insert toothpick. If done properly, it should come out clean. If batter sticks to the toothpick, let it steam for few more minutes.
4. When done properly, khaman will slide easily into the plate. With a knife, slide through the edges and release khaman. Place a plate over the pan. Invert the pan.
5. Khaman will slide easily into the plate, if it is greased properly.
6. Cut khaman to square shape slices and keep it aside.
Tempering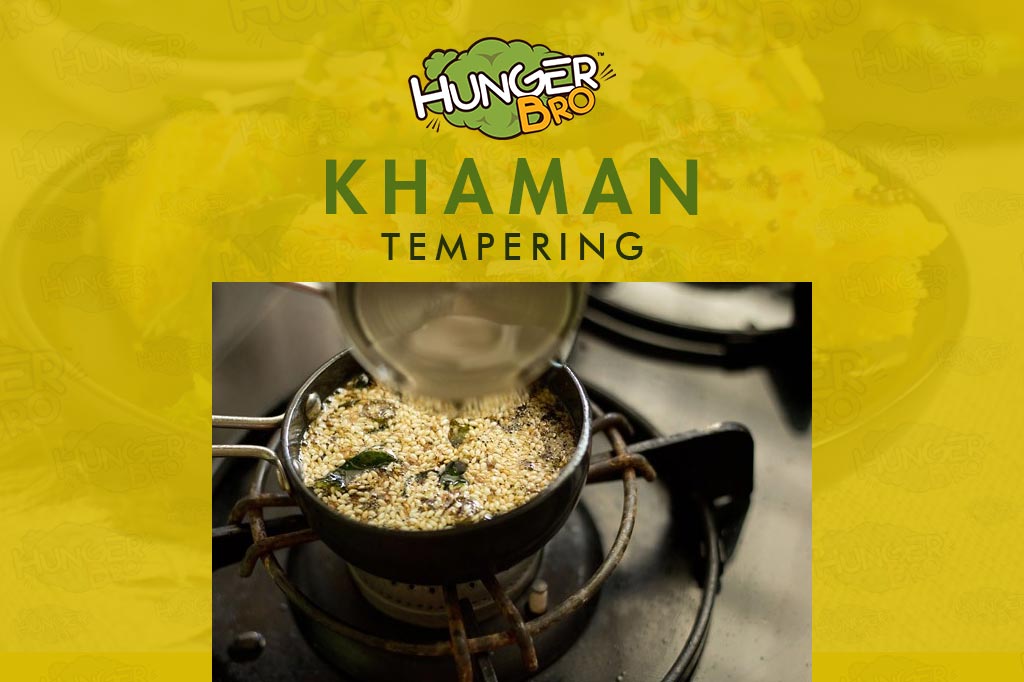 This is a crucial step that adds flavor and moisture to khaman, else it will be dry and bland. For tempering, first heat 2 tbsp. oil in a small pan.
Add 1 tsp. mustard seeds let it crackle.
When the mustard seeds crackle, add few curry leaves, 1 tsp. finely chopped green chili.
Stir and add 2 tsp. white sesame seeds.
Fry it but don't let it turn brown, else will taste bitter.
Add ⅓ cup of water. Switch off the stove while adding water.
Stir and let it come to a boil. Sugar should dissolve nicely.
Immediately pour the tempering on the khaman evenly.
Garnish with few chopped coriander leaves.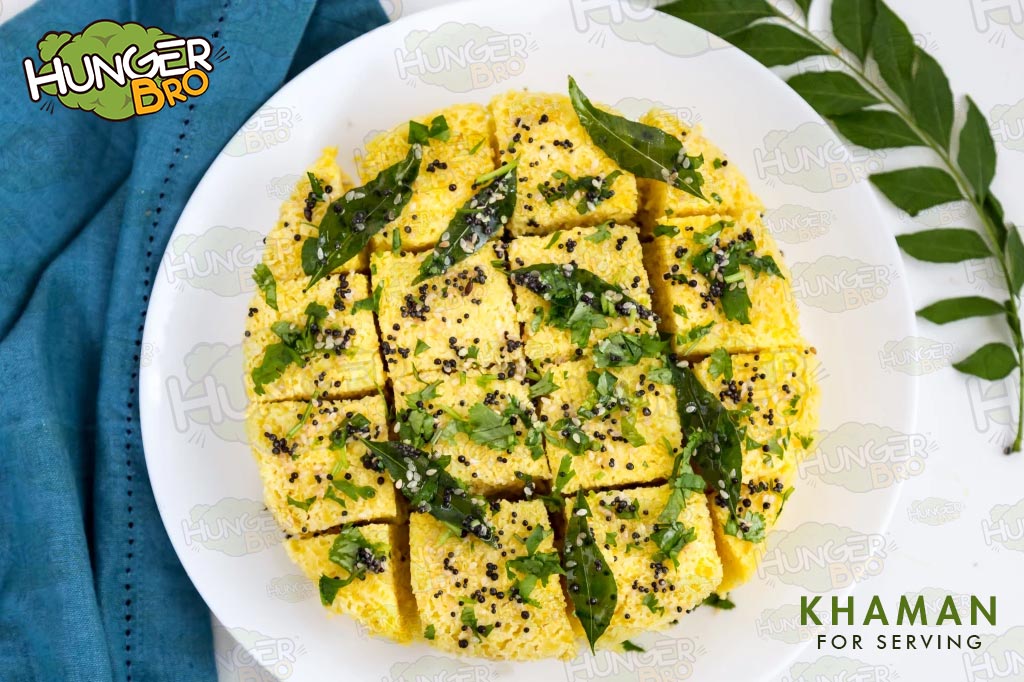 Serve khaman hot or store it in an airtight container and serve later. If refrigerated, sprinkle some water over it and heat it for few seconds in the microwave before serving.
What goes well with Khaman?
Khaman tastes great with mint or coriander chutney. It's a healthy snack option to be relished with evening cup of tea.
Expert Tips
The consistency of batter – Thick yet smooth & flowy
The trick is to get the batter consistency right. It has to be thick but flowy in texture. 1 cup water to 1.5 cup gram flour, is the ratio that works best and gives desired result, but depending on the thickness of batter, water can be added. It shouldn't be too thick, or too thin either.
FAQs
Why my Khaman is not spongy?
The Proportion of Eno with lemon juice of citric acid make it fluffy and spongy in texture. This gives a fizzy, bubbly mixture that helps the batter to rise. This is how it becomes fluffy and spongy when steamed. Using less of Eno or noth using fresh ingredients, will noe make Khaman Spongy. All ingredients use fresh
Why did my Khaman turn orange or red?
It turmeric powder is added more, it react with Eno or baking soda and red colored spots are formed. Your Khaman looks red, Instead of yellow. Use minimal turmeric powder in the batter.
How to eat Khaman, warm or cold?
It is best-enjoyed warm or room temperature. Sprinkle few drops of water and heat in microwave if refrigerated.
What gives bitter taste to Khaman?
If baking soda is added more, then it will make Khaman bitter. It's better to use Eno, and in right proportion.
When to do tempering over Khaman?
Tempering should be done immediately once Khaman is cut to slices. It should be spread evenly to get the accurate taste and flavor.