Pyaaz Kachori is a delicious snack that's absolutely delightful and flavorsome! These deep fried kachoris stuffed with onion filling are a hot favorite in Rajasthan and famous all across India!
Tops the food charts
Rajasthan is known for its rich cultural heritage. Jaipur, the Pink City is famous for some awesome food variety, Pyaaz kachori tops the food charts, undoubtedly!
Spicy bhi, tasty bhi
Spicy in taste and flavor, Pyaaz Kachori is one Rajasthani snack that is deep-fried with onion filling.
It's popular; it's easily available
The delicacy is so popular that it is a snack dish in most parts of North India.
These days you can find this delicious Rajasthani snack dish in almost all the parts of North India.
These days you can find this delicious Rajasthani snack dish in almost all the parts of North India.
Big Size, Ultimate Taste
The giant size of the kachori is a sight to behold! One is just enough. Though your stomach is full, your dil wants more!
The taste of this mind-blowing recipe is simply beyond words! The spicy filling tastes the best ever!
The taste of this mind-blowing recipe is simply beyond words! The spicy filling tastes the best ever!
Simple to make, tastes great!
While its lip-smacking taste creates a special place in your heart, making this kachori is pretty simple!
All you need is maida (all purpose flour), onions, potatoes, spices and oil. And awesome kachori is on its way! Its aromatic flavor and taste is fantastic!
It's Crispiness & Spicy Filling makes it yummy!
The touch of brilliance in pyaaz kachori is due to the crispiness and spicy filling inside it! This gives it that delectable flavor and irresistible taste!
Tips for great taste
The hack to a flavorsome Pyaaz Kachori is adding 2 tbsp. of chickpea flour to the filling.
When the filling is ready, to remove it from heat and add 1 chopped onion immediately to it.
This way crunchiness of the onion remains.
And while you eat the kachori, you will feel it very distinctly.
This is the secret to making a delectable Pyaaz Kachori!
Another awesome ingredient that adds that yummy taste to the recipe is potato!
Chutney is an awesome combination
Kachoris are usually relished with green coriander chutney and sweet & spicy tamarind chutney to enjoy it to the fullest.
Make in advance; enjoy it anytime!
For ease and convenience, you can make the kachoris in advance. Heat them at the time of eating.
They are perfect as breakfast, or an evening snack!
Ingredients:
3 cups all purpose flour (maida)
6 tbsp. oil / ghee (can use vegetable oil)
For Onion Filling:
4 large sized red onions, chopped
2 medium sized potatoes, boiled & peeled
2 tbsp. coriander seeds crushed
2 tbsp. chickpea flour (besan)
2 tsp. dried mango powder (amchoor)
1 tsp. ginger finely, crushed
2 green chilies, finely chopped
1 medium sized yellow onion, chopped
For Frying:
Step-wise instructions to make Pyaaz Kachori:
Make The Kachori Dough:
Mix all the ingredients in a bowl and make stiff dough.
Knead the dough for about 4-5 min.
Cover the dough with a wet muslin cloth and let it rest for 15 min.
Make The Onion Filling:
Heat 2 tbsp. oil in a pan. Add asafetida, mustard seeds, cumin seeds, and crushed coriander seeds.
Sauté for 1/2 minute. Add chopped red onions and salt. Continue to sauté.
When onions turn lightly brownish in color, add green chilies, ginger, garlic, red chili powder, and amchur powder.
Mix well and sauté for about a minute.
Add boiled potatoes, besan (gram flour), sugar, and garam masala powder.
Mix well and mash potatoes.
Remove from heat. Add 1 white onion (chopped) and mix properly. Let it cool now.
Make Pyaaz Kachori: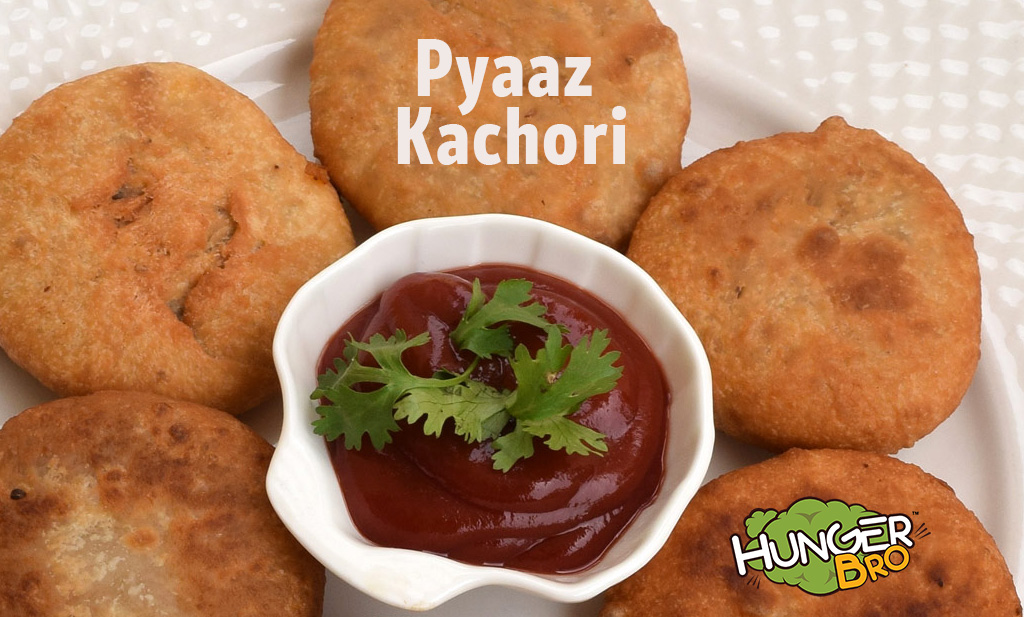 Divide dough into 12 equal parts.
Roll out each dough into a two and half diameter circle.
Place 2-3 tbsp. of the onion filling in the center of the rolled circle.
Press gently. Pat gently to flatten the kachori slightly. Keep sides thin.
Prick the kachoris with a fork once or twice. This is recommended but optional.
Heat oil in a pan on high flame.
Now turn the heat to medium-low and deep-fry the kachoris until golden and crispy.
Drain on an absorbent paper. Serve hot with green coriander chutney or sweet and spicy tamarind chutney, along with tea! It tastes heavenly!
Special Tips:
Pyaaz kachoris are not puffed. Pricking them once or twice stops them from puffing up.
To add chopped onions (raw) to the mixture is optional. Raw onions add crunchiness and additional flavour to the kachori stuffing. It's highly recommended to add them.
FAQs:
Where is Pyaaz Kachori commonly found?
It is a delicacy of Rajasthan, particularly Jaipur. It is found across the state and most parts of North India.
What is Pyaaz Kachori made up of?
It is made up of maida, onions, potatoes, spices and deep fried in oil.
Can we make Pyaaz Kachori in advance?
Yes, as per your convenience and ease, you can prepare it in advance. Heat it before eating.
What goes well with the Pyaaz Kachori?
Coriander green chutney or tamarind sweet and spicy chutney taste amazing with pyaaz kachori. Have it along with tea and enjoy a delicious food experience!
Which oil to use for deep-frying?
Any good oil is preferable. Usually vegetable oil or sunflower oil is good if you have a choice.