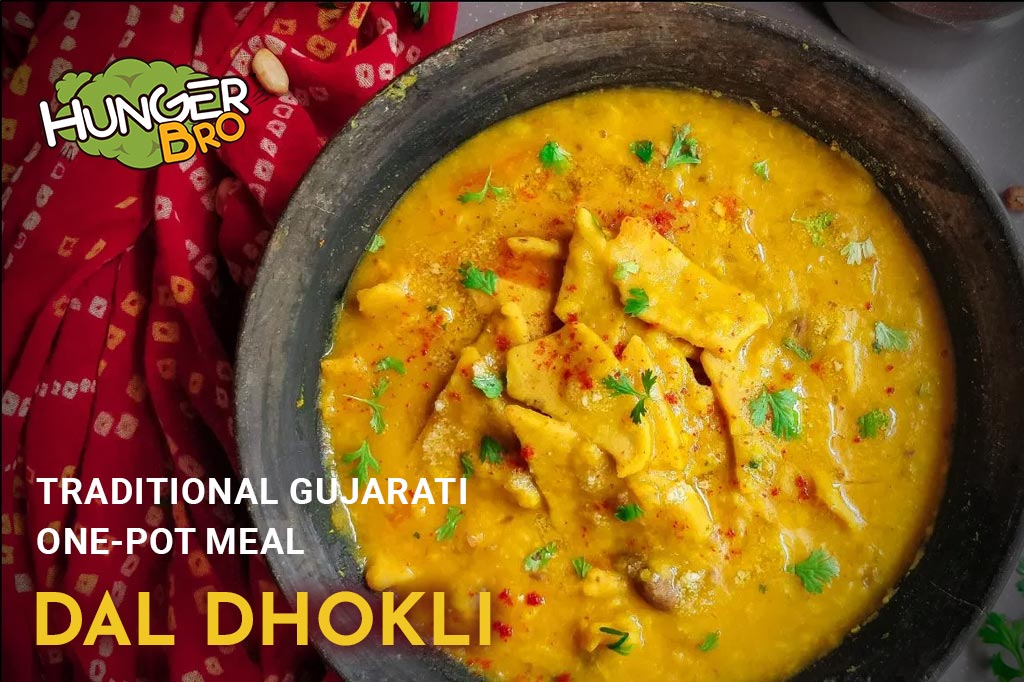 Gujarati Dal Dhokli is a quick one-pot meal, a delicacy especially relished as an afternoon meal across the state of Gujarat. It is a tangy, sweet and spicy lentil curry with fresh whole-wheat cut bites 'dhokli'. It is a popular dish of Gujarat; a traditional delicacy relished in Gujarati households. It is also a famous delicacy in Rajasthan.
Flavor It Right
This recipe has a mouthwatering flavor and tastes delicious with some amazing flavors of jaggery and tamarind. The whole wheat bites 'dhokli' melts in the mouth with its soft texture. The nutty flavours of peanuts, cumin seeds and mustard seeds are simply amazing!
Tempting Tempering
With tempering of ghee, hing, green chillies, mustard seeds, cumin seeds, and curry leaves, a delicious meal is prepared to relish!
Essentially to the left over dal, few fresh wheat dough pieces are cut and added and made into a one-pot meal. You can make the delicacy with fresh dal as well. It can be had along with rice, but it tastes good alone as well.
Region Wise Recipe Variations
People in Rajasthan make this dish using moong or urad dal, while Gujaratis use tuvar dal. In the Rajasthani recipe, they don't put jaggery. People in Maharashtra make Varan Phal, similar to Dal Dhokli. Kokum is the special ingredient they add to the recipe for the tangy flavor.
Usually, this recipe is prepared using pressure cooker. First make the tadka, then add other ingredients including spices, and pressure cook the dal in the cooker.
Next add the thin rolled and cut whole-wheat dough pieces with spices, until pressure-cooked properly. This makes for perfectly cooked Dal Dhokli.
Tips
For dal dhokli ideally dal should be watery. The cut pieces of whole-wheat dough will absorb water and make the dal thick.
It's recommended to have the delicacy on the same day of preparation and not store it for having later. If you refrigerate, the dough bites (dhokli) stick to each other and forms lumps.
For kids, there can be interesting cut shapes of the dhokli.
Onion as a top garnish to the cooked dal dhokli gives it an additional and distinct taste and flavor.
For a vegan recipe, add vegetable or coconut oil instead of ghee.
Usually, veggies are not added to this recipe. But to give it a variation, you can add veggies like beans, carrots, and peas to give it a twist in taste and make it healthier.
It's a main course Gujarati meal.
Ingredients
For Cooking Dal
For Making Whole Wheat Dough Bites (Dhokli)
2-3 green chillies slit to half
Step wise instructions to make Dal
1. Rinse and wash the dal well. Add it to the pressure cooker along with other spices, tomatoes and approximately 4 cups of water. Cook until dal softens.
2. Add jaggery, lemon juice and some more water to the dal. Mix well.
3. For the dough preparation, mix whole-wheat flour, gram flour, ajwain, turmeric powder, oil in a bowl. Mix well.
4. Add water and knead to soft dough. Make thin chapattis and cut in to diamond shaped pieces. You can cut to any desired shape of your choice also.
5. Add these cut pieces to the dal. Add water if dal seems thick. Cook for 15 min. or so on medium heat until dough is cooked well.
6. Now for tempering, heat ghee in the pan. Add hing, mustard seeds, cumin seeds and let it crackle.
7. Add green chillies, curry leaves and let it fry for few seconds. Once done, pour it over the cooked dal and mix slightly.
8. Garnish Dal Dhokli with fresh coriander. You can also sprinkle roasted peanuts on top. Relish it hot.
Variations:
For vegan option, add oil instead of ghee.
To relish it during winters, you can add some cloves and cinnamon stick to the dal for that added flavor and great aroma.
Usually, this recipe has tuvar dal, but masoor or moong dal tastes good too.
Dal Dhokli 1 serving – 366 calories
Remaining calories from Fat 131 cal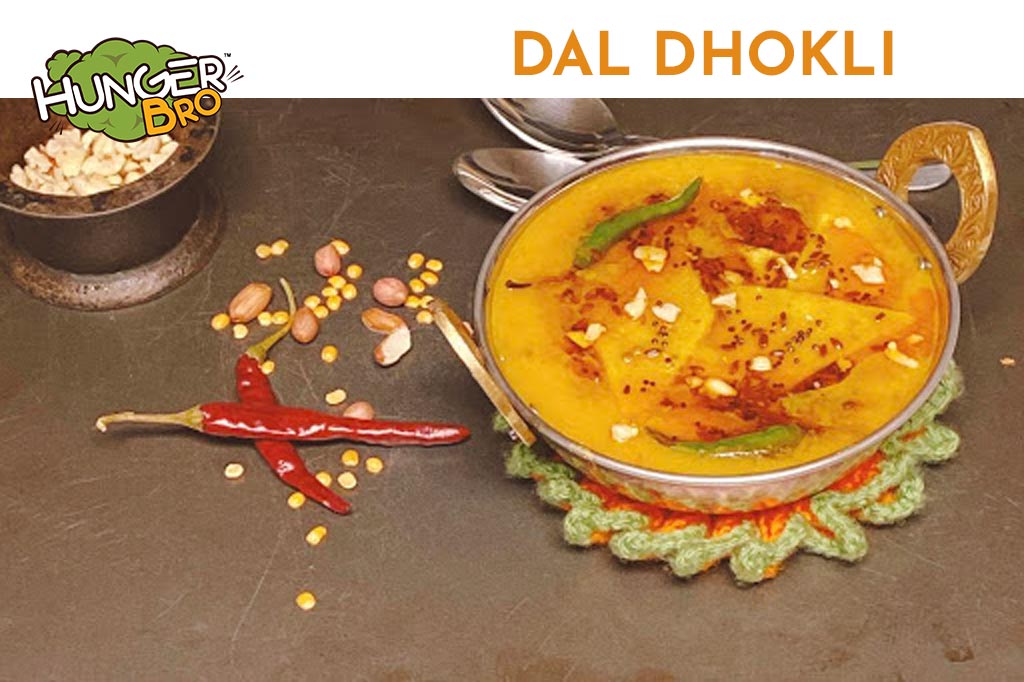 Is Dal Dhokli healthy?
It is a healthy meal as it is made of dal and dhokli (whole wheat flour and besan), tuvar dal and other spices.
Can we have Dal Dhokli alone?
Yes it is a meal in itself. It is rich in fibre and proteins and a healthy eating option.
Can people suffering from diabetes or heat attack or obese individuals have it?
Yes it is a healthy food option for all. For safety sake, diabetics can avoid the fat levels added to the recipe.
Can we store this to have later?
No, it is advised to have it fresh and hot. Otherwise lumps will form and the dhokli (wheat flour slices) will stick to each other.
Is it a wholesome meal?
Yes, it is quite filling. You will not require anything along. It can be relished with rice, but that is up to individual choice.