A popular Gujarati farsan recipe, Fulwadi is a crispy snack made from coarse besan (gram flour) with a combination of spices including carom seeds, fennel seeds, sesame seeds and chilli powder.
Adding few drops of yoghurt to the recipe adds softness.
Deep-frying the prepared mixture gets a crunchy texture and irresistible taste!
Special treat during feasts
It is a traditional snack, typically made during special occasions as part of a feast.
A typical sight is laddo, gujarati style bataka nu shaak (potato sabzi with gravy), vaal nu shaak, naat ni dal, rice and Fulwadi in Gujarati thali served during weddings in rural areas of Gujarat.
New food explorations, yet Fulwadi holds firm ground
With new recipes being explored everyday with modern twists and turns, the flavors of these traditional delicacies are somewhere lost, but not forgotten!
It's relished more often in rural regions
Rural areas follow rituals and customs, more religiously. The taste of these tempting delicacies surrounds these regions more prominently.
Fulwadi – Old is Gold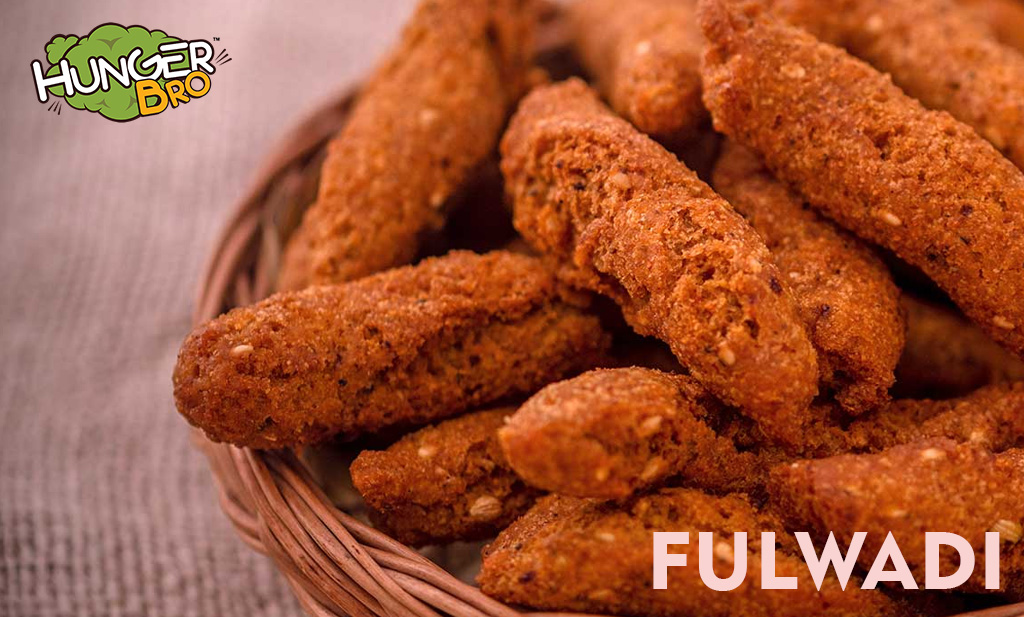 Growing number of new inventive recipes like Bhakhri Pizza, Chocolate Sandwich etc. are more heard and seen.
There is an unimaginable craze and demand of fancy food items, Fulwadi holds its ground where traditional Gujarati Snacks are seen on the menu. It's rare, yet favorite amongst many!
While it definitely is an integral part of the Gujarati thali, particularly made during special occasions and feasts, Fulwadi tastes great as an individual snack with chutney (green coriander chutney), yoghurt or chai.
The combination is an unbeatable one even today! As it is rightly said, the charm of these versatile recipes will retain its fervor forever!
Holds a special place in Gujju hearts!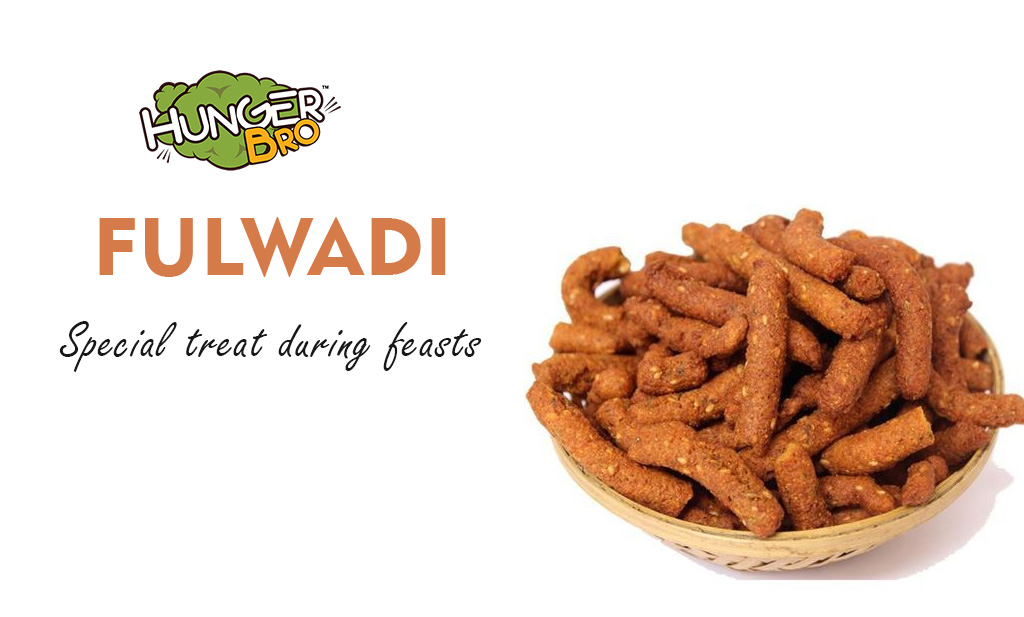 Modern winds of change cannot deter its standing. A few recipes hold a special place in people's hearts and Fulwadi is most certainly one of them!
Fulwadi is easily available at any corner of Gujarat. But the taste of homemade Fulwadi is out of this world!
Homemade tastes the best
It is easy to make at home. These are typically besan rolls deep-fried and have a peculiar flavor of Indian spices, which makes its taste delectable & awesome!

Perforated Spoon serves the right purpose
The only requirement, which you need is a special 'Zharo', a slotted spoon with big holes in it. With this, fulwadi is a quick to make recipe.
If stored in an airtight container at room temperature, it stays fresh for long.
Once you make this mind-blowing and mouth-watering recipe at home, you will rejoice it more, making it more often!
Try the magic of Fulwadi! We bet you would love it and get addicted to its irresistible taste!
Time Taken To Make Fulwadi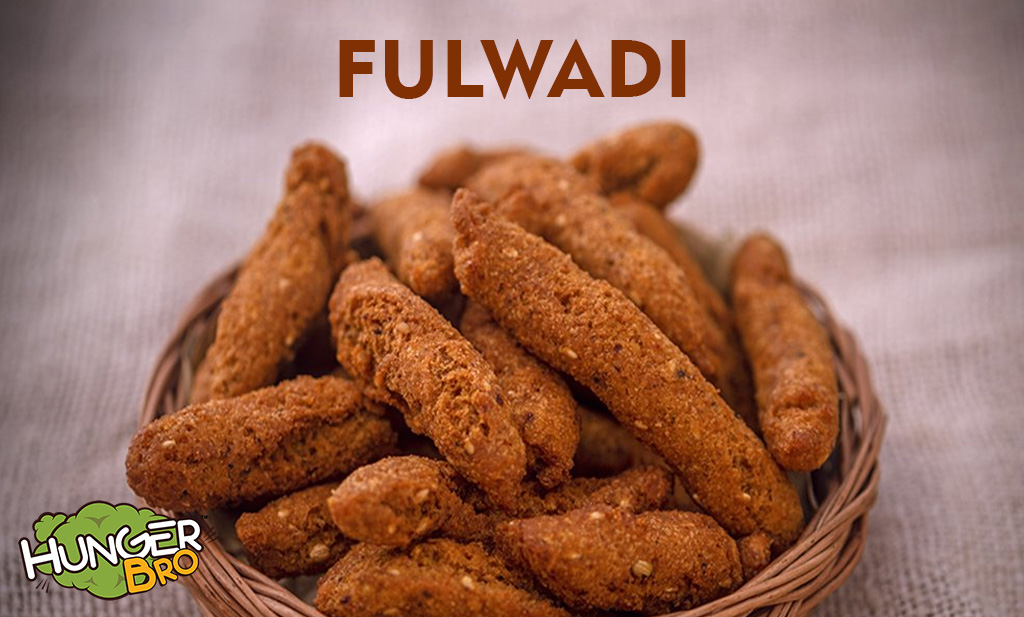 Ingredients:
1 cup gram flour coarse (magaz or laddoo flour)
Whole coriander seeds (aakha suka dhana) – 2 tbsp.
Sesame seeds (til) – 2 tbsp.
Fennel seeds (variyali) – 2 tbsp.
Whole black pepper (aakha mari) – 2 tbsp.
1 tsp. fenugreek leaves dried (kasuri methi)
Step-wise Instructions to make Fulwadi:
1. Add red chilli powder, sugar, and salt in curd and mix well.
2. In a wide plate mix all flours together along with the spices including fennel seeds, coriander seeds, black pepper, sesame seeds, dry fenugreek leaves and few drops of oil.
3. Mix curd mixture to the flour mix and make soft dough.
4. Add few drops of water if needed to make soft dough.
5. Mix well and keep it aside for 20 min.
6. Heat oil in a deep frying pan (kadai.)
7. Before deep-frying add baking soda in the fulwadi dough, mix it thoroughly and apply some oil on the fulwadi zharo (the big spoon with holes.)
8. Before deep-frying add baking soda in the fulwadi dough, mix it thoroughly and apply some oil on the fulwadi zharo (the big spoon with holes.)
9. Now place fulwadi zharo (long big spoon with holes) over the kadai. Make sure the zharo stays firm on the pan.
10. Take the fulwadi dough (in small amount) and place it on the fulwadi zharo. Now with one hand, hold the zharo (big spoon with holes) and with the other press the dough.
11. The dough will pass through the big holes of the zharo (big spoon with holes.)
12. As soon as you see fulwadi floating over the oil, put the flame to low slightly, and fry fulwadi until its crispy and brown.
13. Remove it with another perforated spoon. Repeat the process with the remaining dough.
14. Enjoy piping hot fulwadi with laddoo, or as an evening snack with chai or curd.
Tips:
The most important part of the recipe is the use of the big perforated spoon (fulwadi no zharo). Without this, cooking fulwadi is difficult.
The dough should have a soft and correct consistency to attain best results.
Adding yoghurt to the other ingredients while preparing the dough does magic as it makes it soft from inside.
All spices have an individualistic taste. So skipping either or any of the spices is not a great idea. Each spice adds a distinct flavor to the recipe.
Properly cooked, Fulwadi will have a crispy texture from outside, yet soft from inside!
Nutrition Facts
FAQs
Fulwadi is a popular dish of which region?
Fulwadi is peculiarly made in Gujarat. It is a hot favorite across the state.
Is fulwadi enjoyed in main course only?
No, it can be eaten as a snack along with chai or cut. It is typically a part of the Gujarati thali at festival or special occasions, including wedding ceremonies etc.
Can it be made only from besan?
Coarse gram flour gives it the right crunchy and crispy textured layer. It is important to add this coarse gram flour (the one we use to make magaz or ladoo).
Is it a healthy snack?
No, as it is a deep-friend delicacy, it is best consumed in restricted amounts only. It is surely not a healthy food option.
Can we store fulwadi once cooked?
Yes, Fulwadi tastes fresh and stays fine if stored in airtight container at room temperature.