Mathiya is a famous and crispy Gujarati snack. Making this snack is very easy and quick.
Crunchy munchy snack!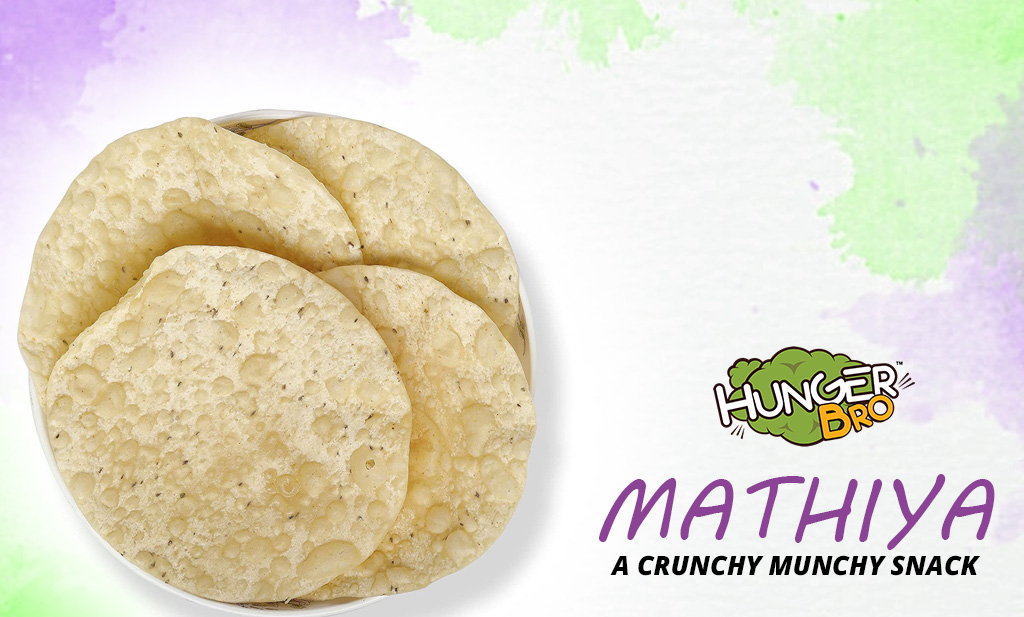 You can enjoy this crunchy and munchy snack along with pickle during your evening tea. The best thing about making this snack is that it has a long shelf life, but make sure you store it in a air tight container for future use.
It is a savoury snack, which you could have anytime. It will hardly take 40 minutes to prepare this irresistible thin papad. The ingredients used in preparation of this snack are easily available.
Make it in big quantity and relish with family, anytime!
Make sure you knead the dough properly before frying while you make this snack. You could make a large batch of this snack because it can be readily kept for later use. Prepare this snack soon and enjoy it with your family and friends.
Let's get cooking Mathiya!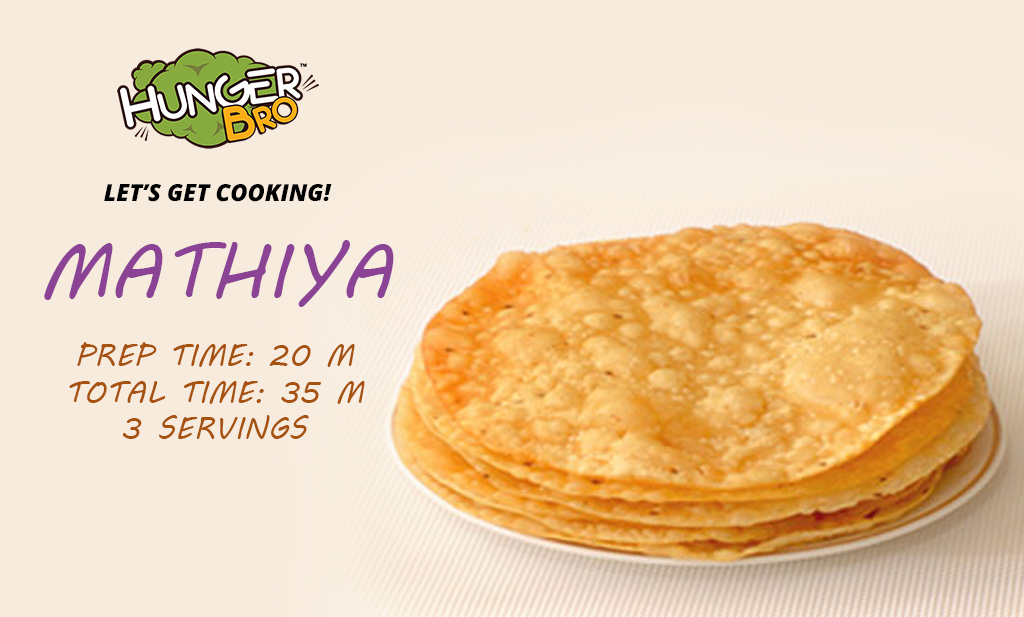 Ingredients:
1/2 teaspoon chilli powder
3 teaspoon gram flour (besan)
Step-wise instructions to make Mathiya:
To prepare this delicious snack, first, take a medium sized bowl. Sieve all purpose flour, gram flour, urad dal flour in it. Then, add 3 teaspoon of oil along with sugar, salt and carom seeds in the bowl. Pour required water and make soft dough. Once you have prepared the dough, make 4 equal divisions out of it. Now, roll each division in shape of small poori with the help of plain flour (if needed).
Frying Mathiya:
Take a medium sized deep-bottomed pan and pour some oil in it. Let the oil heat and then deep fry each mathiya (poori)in it. Fry them from both sides until golden brown.
After you've finished frying them, dust them with chilli powder and set them aside to cool. Store in a jar or serve immediately.
What is Mathiya made of?
Mathiya or Mathiya Papad is a Crispy Crunchy Diwali Delight from Gujarat, made from Lentils flour (Moth Bean plus Urad Dal). It has a unique flavor of moth beans, it is one of that irresistible and tempting Diwali snack which one can't stop munching!!
How do I store my Mathiya?
After frying take them out in a dish. Sprinkle the mix of red chilli powder and sanchar powder (black salt) while mathiyas are hot so that the masala coats properly. Mathiyas are ready to be served. Store it in airtight container after they cool down immediately if planning to store for long time after frying.
When and where is it relished the most?
It is a popular Diwali Snack and it is relished in Gujarat particularly.
Is it a healthy food option?
As it is deep-fried, it is not a healthy food option. Yet, it is okay to have it during the festive time to relish with family and friends but in moderate amount.