Chorafali is the most popular Gujarati snack made during Diwali. It is light, fluffy, and crispy with a generous amount of chatpata masala that makes it even more irresistible.
What's it made from?
Gram flour (besan) and urad dal flour are used to make it. The texture, flavour, and cooking procedure are quite similar to papad or chips. It's accompanied by an unique chutney.ith gram flour (besan) and urad dal flour. The texture, taste, and method preparation is very similar to that of papad or chips.
Easy to store, relish the good taste for long!
It is easy to make and store in an airtight container for up to a week after frying.
Special tips for crispy Chorafali!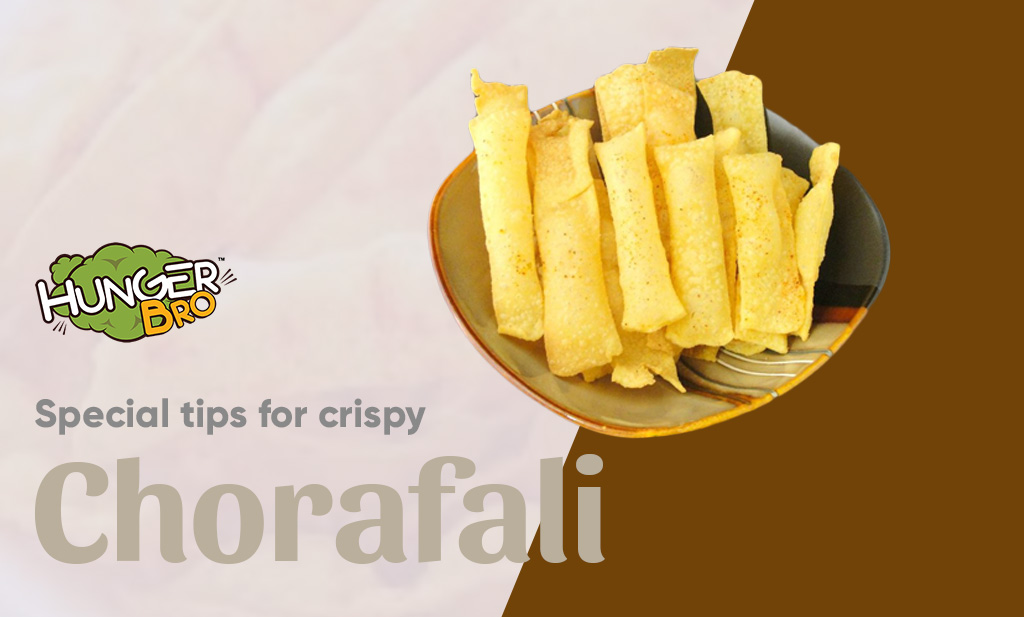 Here's a crispy chorafali recipe with a perfect ingredient ratio and few special tips that will help you to make perfect fluffy chorafali on the first attempt!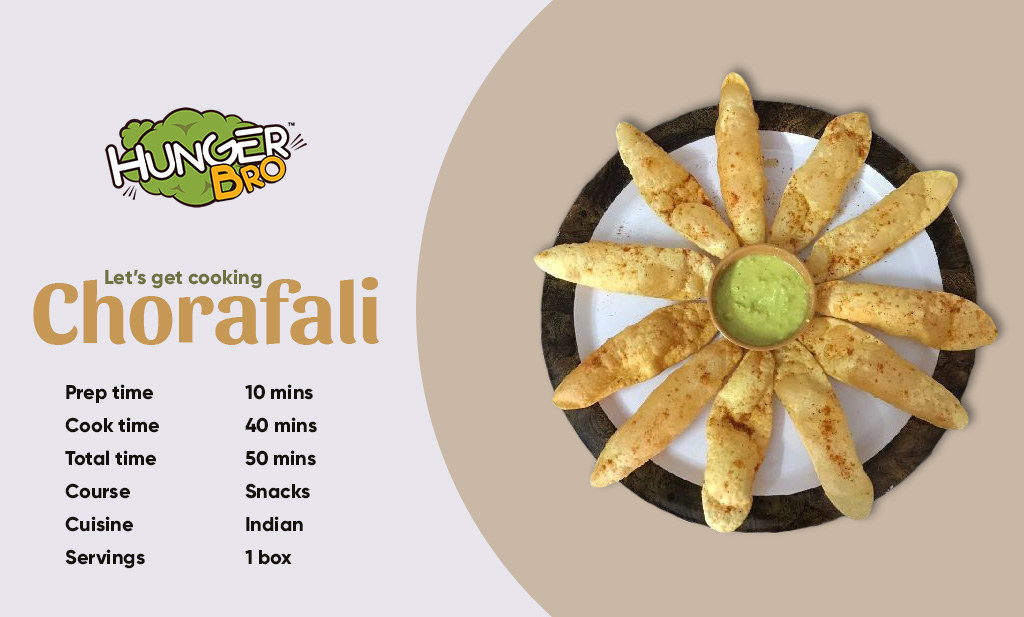 Ingredients:
200 grams or 2 cup besan/chickpea flour
60 grams or ½ cup urad dal flour
120 ml or ½ cup water approx..
For masala:
For chorafali chutney:
Instructions: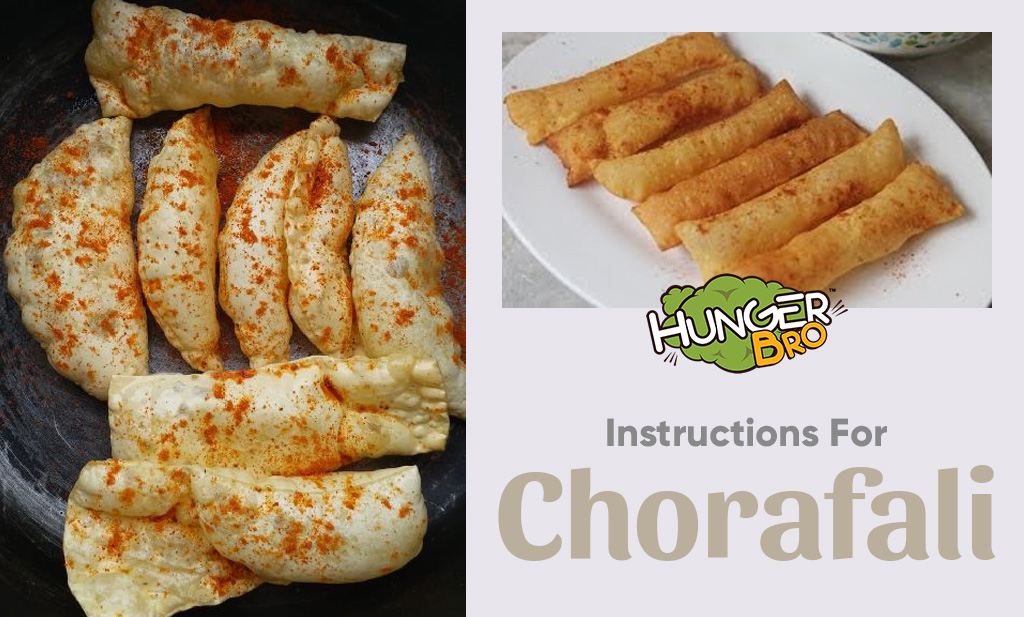 For Chorafali:
In a bowl sieve besan, urad dal flour, salt, baking soda. Mix well
Add oil in flour and mix well.
Using water knead a stiff dough.
Cover and rest dough for 20 minutes.
Take a plastic sheet and apply some oil to it. Place dough on it and make it smooth with a rolling pin or pestle for 8-10 min till it becomes pliable and the color turns a little lighter. You can alternatively knead it with your hands.
Starch the dough and make a log from it. Cut it into equal parts.
Take a lemon size ball and using rice flour roll it thinner than Chapatti.
Dry chapatti for 5-10 minutes.
Meanwhile, in a bowl, add red chili powder and black salt. Mix well. Masala is ready.
After 10 minutes cut Chapati into long strips.
Heat oil for frying and fry Chorafali for high-medium flame till it turns light pink in color. It takes about 1-2 min only.
Remove on a plate and sprinkle a generous amount of prepared masala immediately.
In mixing jar, add coriander leaves, mint leaves, green chili, ginger, lemon juice, salt, black salt, and water. Grind into a smooth paste.
In a bowl, add gram flour, water, turmeric powder, and salt. Mix well.
Add grinded paste and mix well.
Place on a gas stove, stir continuously till chutney becomes slightly thick.
Notes:
Use very little water for chorafali dough.
Knead the very tight and stiff dough for chorafali.
Beat chorafali dough until it becomes soft, pliable, and lighter in color.
Roll chorafali dough into very thin roti.
Dry rolled roti for 4-5 minutes, do not over dry it.
Fry chorafali on high flame.
Nutrition facts: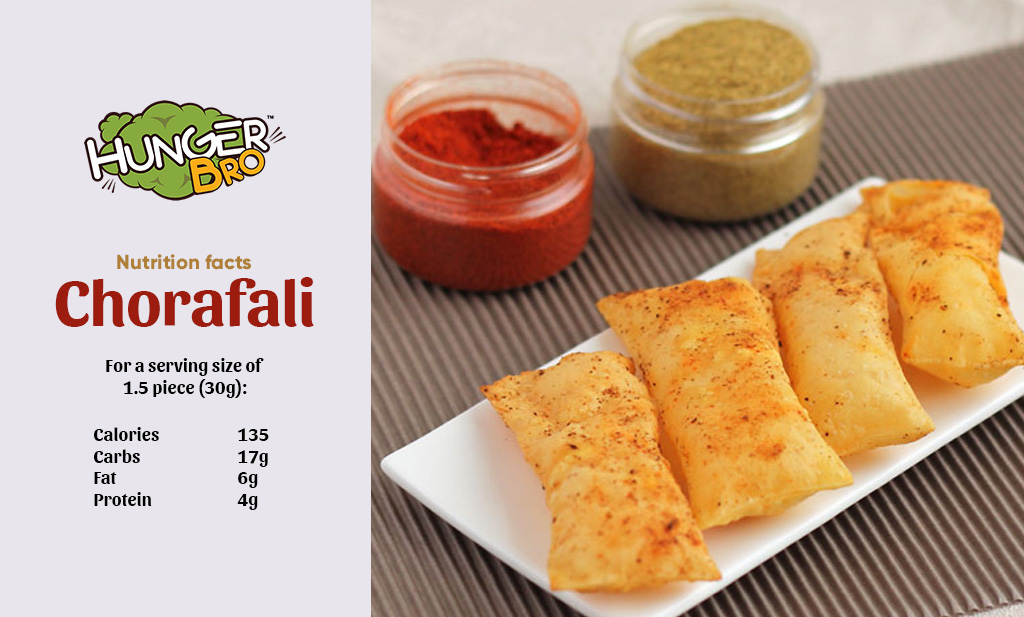 For a serving size of 1.5 piece (30g):
FAQs:
What is chorafali made from?
What is chorafali made from?
Its texture is similar to what other food variety?
It's texture, taste and preparation is similar to papad or chips.
Can you store it for a longer period?
Yes, it can be stored for about a week in an airtight container.
What is the masala added over chorafali?
Chatpata masala (red chilli powder and black salt is sprinkled). It is added over chorafali.