Poori bhaji is the Maharashtrian version of potato curry with pooris. It is a vegan food option.
The Indian food peculiarity
Potato sabzi relished with pooris! It is accompanied by onion slices, lemon wedges, and coconut chutney. As a complete thali, it is served with dal, rice, raita, and salad.
This Poori Bhaji is very different from the Punjabi Aloo poori. A classic example of the variety & diversity of Indian cuisine using the humble potato and Indian spices-herbs!
Add more to make a whole meal
You can add a Maharashtrian style moong dal, rice, and some pickle to enhance and add to your poori bhaji menu! Simple, easy, and comforting meal!
Batata Bhaji is what Maharashtrians call it!
You can have batata bhaji (as is popularly known in Marathi) with chapatti or dosa, as per your taste preference. It's an option other than poori.
Recipe for Bhaji, Poori you'll know puri tarah se!
What you will read below is the recipe to make bhaji. Poori most of us already know how to make it!
Let's get cooking Poori Bhaji: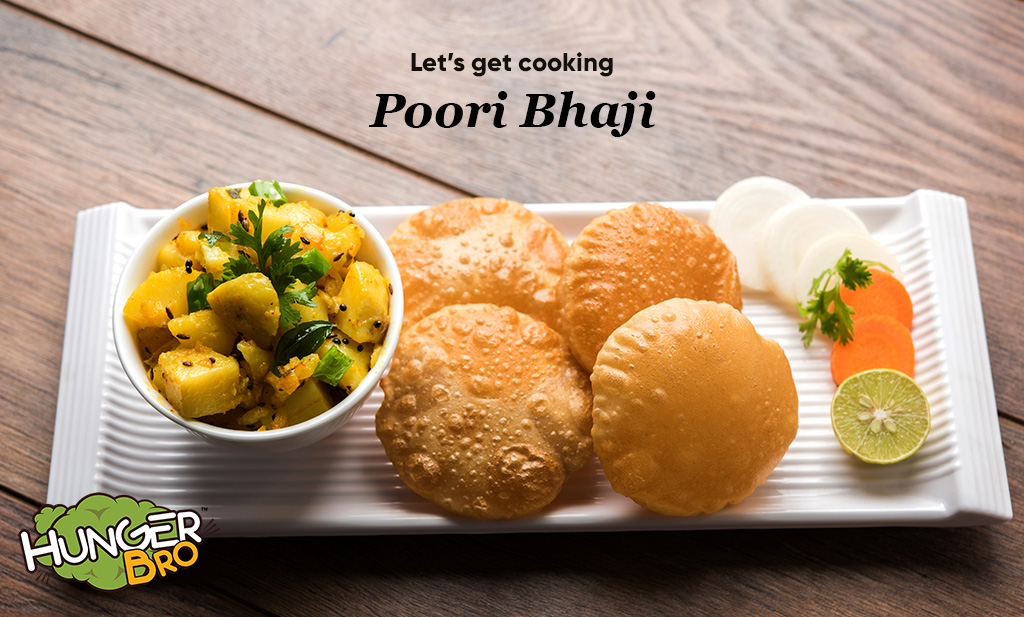 Cuisine Indian, Maharashtrian
Course: Breakfast, Brunch, Main Course
Ingredients:
4 medium sized potatoes (aloo or batata)
½ teaspoon turmeric powder
1 pinch asafoetida (hing)
½ to ¾ cup chopped coriander leaves or cilantro leaves
1 inch ginger, finely chopped
2 or 3 tbsp. peanut oil or sunflower oil
Step-wise instructions to make Poori Bhaji: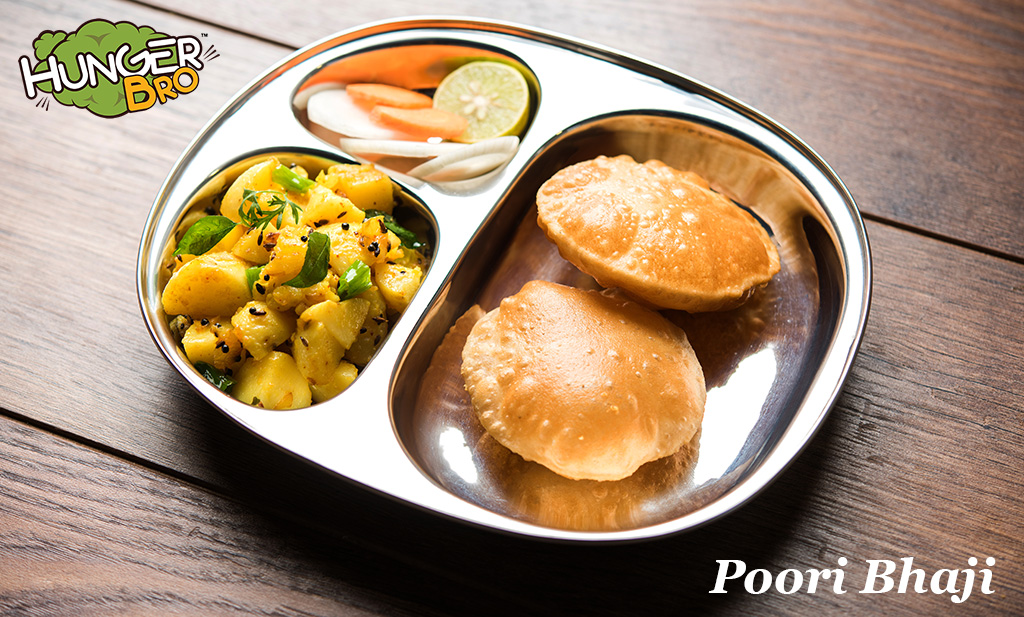 Boil potatoes until properly cooked. Let them cool. You can cook the potatoes in a steamer or pressure cooker.
Peel and chop them. Keep aside.
Heat oil in a pan on a low flame. Add the mustard, cumin and urad dal.
They all will begin to cook together. The mustard will crackle, the cumin will sizzle and the urad dal will brown. Fry on a low flame.
Stir in the onions as soon as they've been added. Allowing the spices to burn or overcook will result in bitter tones in the bhaji.
When the onions soften, add green chilies and ginger. Stir and fry for a minute on a low flame.
Add curry leaves. Stir and fry for a few seconds.
Add the turmeric, asafoetida, and stir.
Now add the potatoes and half of the coriander leaves. Stir.
Add ¾ cup water, salt & stir.
Cover the pan and let the potatoes simmer for 5-6 minutes on a low flame.
The bhaji is ready to be served with pooris.
Serve bhaji hot with Poori or Rotis, garnished with the remaining coriander leaves.
FAQs:
Is Poori Bhaji healthy to eat?
No with potatoes and deep-fried puris, this recipe is definitely not a healthy food option. Puris are fried and potatoes are not the best vegetable to eat in the morning. Instead, replace your puri bhaji with a plate of chapati-bhaji which is a lot more healthy.
Is Poori good for breakfast?
It is one of the well-known Breakfast dishes enjoyed in all regions of India. Poori is often served with a potato curry known as puri bhaji or poori masala. In some regions, it is also eaten with chana curry, suji halwa, or even with shrikhand. Most Indian households make these for the weekend & festive meals.
Can we make poori in mustard oil?
Puris taste best when fried in desi ghee or refined oil. You can also use Sarson oil (mustard oil) but it needs to be heated to its smoking point and then cooled down a bit, hot enough for frying. You can also add a pinch of salt to the oil this ensures the smell of mustard oil goes away.
Is Poori Bhaji more of a breakfast option or lunch/ dinner?
Poori Bhaji is mostly served as a heavy breakfast option. When you have it for main course meals, you add dal, rice, and salad/ pickle to it to make a wholesome meal.
Is potato bhaji very fattening?
When combined with poori, yes potato bhaji adds a lot of calories.