Traditional, aromatic, one pot vegan spicy rice
Masale Bhat is a traditional, aromatic, spicy rice preparation from the Maharashtrian cuisine. A one-pot vegan meal that's made with rice, veggies & spices.
Masale Bhat recipe in Marathi cuisine is a popular Maharashtrian recipe with the mixture of spices like goda masala and vegetables.
It is generally served for breakfast or lunch and is often termed as tiffin box recipe or lunch box recipe.
A traditional and spicy Maharashtrian rice recipe which is typically prepared with combination of tendli or eggplant / brinjal vegetables.
However, it is even prepared with mixed vegetables like, potatoes, carrot, peas and even cauliflower.
Further it can be served without any accompaniment, yet it tastes great with simple raita or curd/ yogurt.
Relish the delicious rice recipe variety!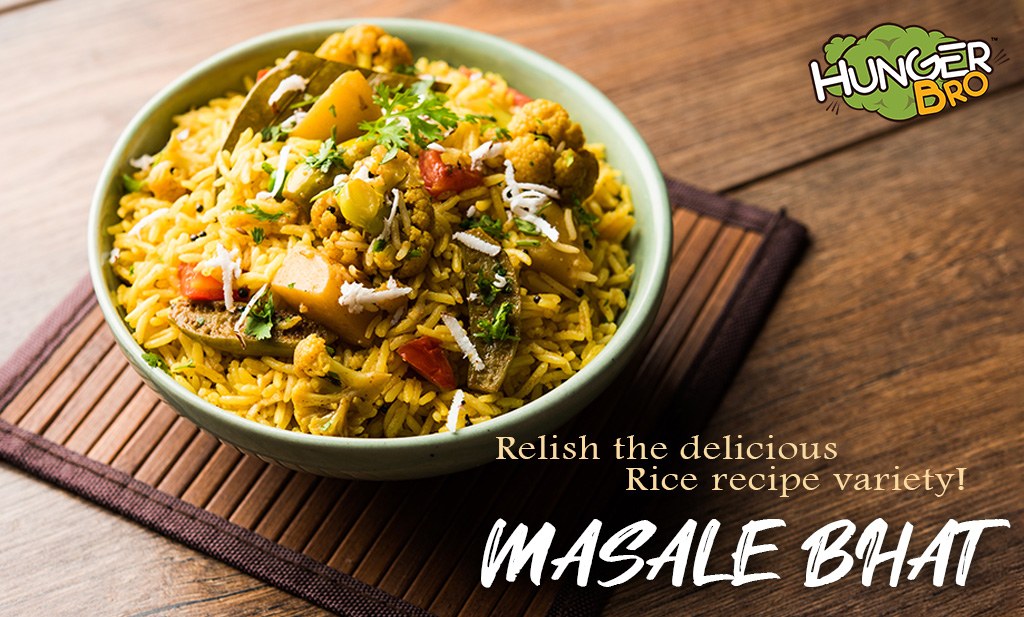 Traditionally masale bhat recipe is always considered as a one pot meal recipe or complete meal without any side dish to it.
However these days it is often served as a rice dish in a thali or in a proper full course meal with other curries and rotis.
Important and easy tips for a perfect and flavoured Masala Bhaat recipe:
Firstly, it tastes great with the combination of tendli and brinjal. Secondly, you can use pressure cooker to prepare the same recipe if you are running short of time.
Just add the spice mix or goda masala, vegetables and soaked sona masuri rice and pressure cook it for 3-4 whistles.
Lastly, to use ghee for frying the vegetables and spices instead of cooking oil for authentic taste and flavour.
Masale Bhat is like a regular dish in many Maharashtrian households and is usually prepared using yesterday's leftover rice. It's like a quick fix when there is nothing to cook and hunger pangs are on an all time high!
Let's get cooking Masale Bhat:
½ tsp. sesame seeds / til (white / brown)
¼ tsp. poppy seeds / khasakhas
1 tbsp. dry coconut / copra
For Masale Bhat:
1 tbsp. ghee/ clarified butter
pinch of hing / asafoetida
1 tsp. ginger-garlic paste
1 tomato (finely chopped)
1 cup mixed vegetables (peas, gobi, carrot)
2½ cups water (adjust accordingly)
1 tsp. salt (or to taste)
2 tbsp. fresh coconut (grated)
2 tbsp. coriander leaves (finely chopped)
Step-wise instructions to make Masale Bhat:
Firstly, dry roast all the spices with a tsp of oil. you can alternatively use goda masala instead of freshly preparing spice mix.
Also add dry coconut and continue to roast for a minute.
Now blend to coarse powder and keep the prepared masala aside.
In a large kadai heat 1 tbsp. ghee and saute 1 tsp. mustard, ½ tsp. cumin, 1 bay leaf and pinch of hing. Also add ½ onion and saute well.
Additionally add 2 green chilli and 1 tsp ginger-garlic paste. saute well.
Furthermore add 1 tomato and saute till they turn soft and mushy.
Now add 15 whole cashew and 1 cup mixed vegetables along with potato. Saute well.
Additionally, add ½ tsp. turmeric, ½ tsp. chilli powder and 2-3 tsp. of prepared masala. Or alternatively use goda masala.
Saute the spices on low flame for a minute.
Further add 1 cup short grain rice, soaked for 20 minutes.
Saute for a minute. This prevents rice grains from sticking to each other.
Add in 2½ cups water and 1 tsp salt.
Stir well, cover and simmer for 20 minutes.
Simmer till the rice gets cooked well completely and water is absorbed.
Add in 2 tbsp. fresh coconut and coriander leaves.
Finally, serve masale bhat with raita or tomato saaru.
Firstly, add vegetables of your choice like tindora or brinjal.
Also instead of freshly preparing masala, you can use store brought goda masala.
Additionally, pressure cook for 2 whistles if you do not want to simmer for 20 minutes.
Finally, masale bhat taste great when served with a dollop of ghee.
Nutrition Facts:
What is Masale Bhat?
Spicy and flavor-packed, Masale Bhath is a traditional rice dish from western India. This gluten-free vegetarian dish makes a great one-pot meal and is made with a variety of vegetables and a warm spice blend known as "Goda Masala".
It is a speciality of which region particularly?
It is famous across households in Maharashtra.
When is it prepared?
It is specially prepared during festive occasions like Ganesh Chaturthi and wedding feasts. Often served with some kind of cooling yogurt side dish, Masale Bhat (the spicy rice variety) is sure to awaken your taste buds.
Is the preparation different as according to regions?
It varies in different regions or even as per family traditions, but the main and common ingredients remain rice, vegetables, and a homemade blend of spices known as Goda Masala, a specialty of the Maharashtrian cuisine!
Which rice is perfect to make this recipe?
You can use rice variety like sona masuri, short grain rice like ambe mohar or kali jeera or long grained rice like basmati rice, as per your liking and individual preferences.