Misal pav, a popular Maharashtrian street food consists of usal (sprouts curry) garnished with onions, tomatoes, farsan (fried savory mixture), coriander leaves and lemon juice. It is served soft pav.
Moth bean sprouts are used to make the sprouts curry. A vegan dish, Misal Pav can be served as breakfast, lunch or brunch.
A mesmerizing mixture, tastes great, looks awesome!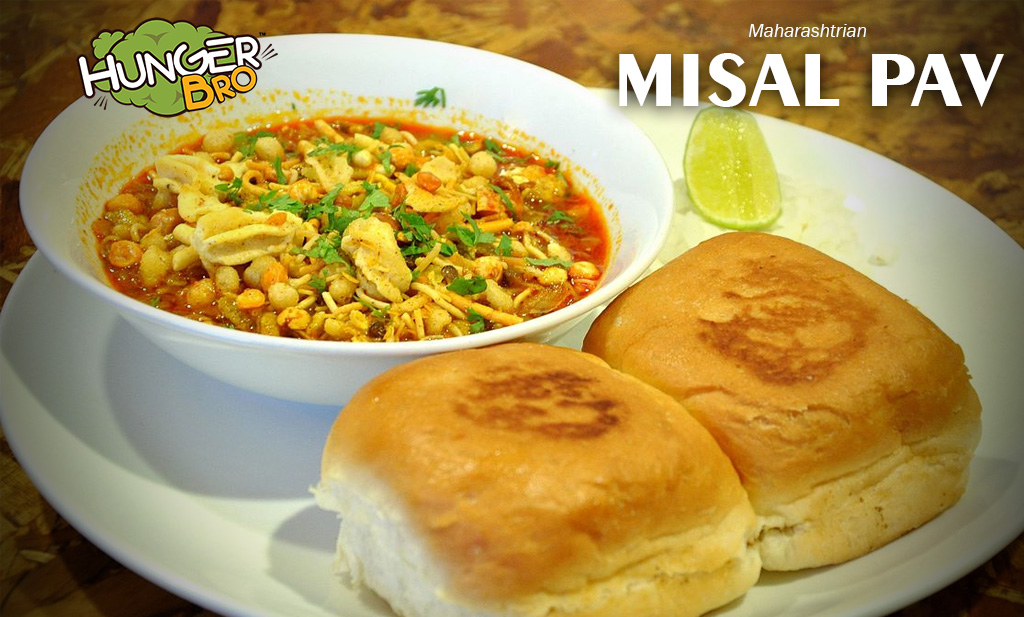 Misal in Marathi means mixture. The Sprouts curry is also called Usal. There are various preparations to make Misal Pav. Usually it is made with moth bean sprouts. In case it is not available, you can substitute it with sprouted moong beans.
You can add potatoes to the recipe. But it is optional and as per taste preferences.
Let's get cooking: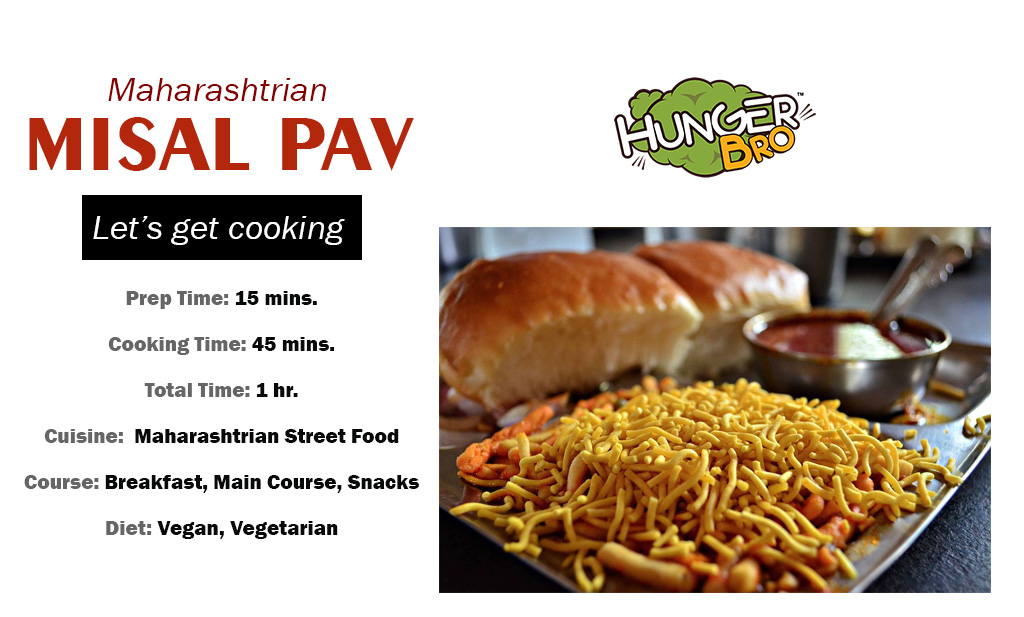 Cuisine: Maharashtrian Street Food
Course: Breakfast, Main Course, Snacks
Ingredients:
2 cups moth bean sprouts (matki sprouts) or mixed bean sprouts or moong bean sprouts
2 potatoes small to medium – cubed in 1.5 to 2 inches
3 cups water or as required
1 onion medium to large – finely chopped
2 green chilies – chopped
Ginger garlic paste – 1 to 1.5 tsp.
1 to 1.5 tbsp. goda masala or kala masala
1.5 tsp. tamarind – soaked in ½ cup water
¾ – 1 cup water or add as required
For The Misal Pav
8 to 10 pav (bread rolls) or bread slices as required
Finely chopped onions – ½ cup
Chopped tomatoes optional – ½ cup
½ to 1 cup thick sev or farsan (chiwda), fried savory snack mixture
1 lemon or lime quartered or diced
⅓ cup chopped coriander leaves
½ cup curd or yogurt, beaten, optional
How to make Misal Pav
Rinse 2 cups of moth bean sprouts thoroughly in running water a couple of times. You can use moth bean sprouts, moong bean sprouts or mixed bean sprouts. Sprouts should be clean, fresh and should not have a foul smell.
Drain water from sprouts and add it to a pressure cooker. You can cook them in pot, instant pot, whichever vessel, as per your convenience. Add sufficient water to it.
Add 2 potatoes roughly chopped and ¼ tsp. turmeric powder.
Note: Adding potatoes are optional and can be skipped.
After that Add 3 cups water or as required. Water should cover the sprouts and potatoes 2 inches above. Add more water if needed, depending on the depth of the pressure cooker.
Note: If you using mixed bean sprouts, then add more water. For moong bean sprouts, add 3 cups water.
Add ½ tsp. salt or as required.
Pressure cook for 2 to 3 whistles on medium heat.
Additional preparation:
In a small bowl, soak the tamarind in ½ cup warm water for half an hour.
Squeeze the tamarind and extract the pulp. Keep the tamarind pulp aside.
Making Misal (Usal)
Heat 3 tbsp. of oil in a pan. Crackle 1 tsp. of mustard seeds at low to medium-low heat.
Add 1 tsp. of cumin seeds. Saute until cumin turns golden.
Add one medium-sized chopped onion. Saute and stir often until onions become soft and turn translucent.
Now add the following ingredients:
Few curry leaves
1 to 1.5 tsp. ginger-garlic paste
1-2 chopped green chilies
Stir and saute until the raw aroma of ginger-garlic goes away.
Add the remaining ground spices listed below:
¼ tsp. turmeric powder
1 tsp. coriander powder
1 tsp. cumin powder
½ tsp. red chili powder
1 – 1.5 tbsp. Goda masala or 1 tsp. Garam Masala
Mix the spice powders well. Keep low heat so that the spices don't get burnt.
Now add the tamarind pulp.
Simmer on low or medium-low heat until the raw aroma disappears.
Drain the water from the pressure-cooked sprouts & potatoes using a colander.
Add the cooked sprouts & potatoes in to the pan.
Stir and add 1 cup water or more water if required. The curry should be medium to thin but not very thin as it will dilute the flavors.
Adding 1 tsp. sugar or jaggery is optional if you like the slight tinge of sweet taste.
Simmer the usal for approx. 10 minutes on low heat and occasionally stir it. Adjust the consistency by adding water if required. On simmering, the usal consistency will thicken. Keep this in mind while adding water.
Garnish with coriander leaves.
Assembling Misal Pav
As the misal is simmering, you can prepare the toppings required for misal pav. Finely chop the onion and tomato. Keep aside. Tomatoes are optional.
Take the steaming hot usal in 4 to 5 serving bowls or shallow plates.
In each bowl of usal, first add some of the chopped onions and tomatoes.
Then garnish usal with chopped coriander leaves.
Squeeze a few drops of lemon juice for that bit of tangy taste. Then top it with farsan mixture.
Serve some lemon wedges, chopped onions and mix farsan/sev/chiwda at one side separately. Serve the Misal in a bowl or a plate with pav buns.
Enjoy this delicacy hot as soon as it is served. Else the farsan mixture will get soggy.
1 serving of Misal Pav gives 289 cal.
FAQs
What is the main ingredient in Misal?
Misal consists of moth bean sprouts, moong bean sprouts or mixed beans sprouts.
Which spice gives that special flavor to Misal recipe?
Adding Goda masala, a special masala in the Maharashtrian cuisine, adds special flavor. For spicy tinge, you can add Kolhapuri masala.
What should be the right consistency of Misal?
It should be of medium to thin consistency but not very thin as it might result in loss of integral flavors.
What is the best combination along with Misal?
Soft buns tastes ultimate but if you are into healthy options, go for whole wheat or multigrain pav.
What is ideal serving option for Misal Pav?
As the farsan mixture is used as topping over the missal preparation, it is best to have it the moment everything is assembled and served, hot. Else the mixture tends to get soggy.