Makki Ka Dhokla is a soft & savory steamed cake, a popular delicacy of the state of Rajasthan.
Lo ji maize ka mazaa!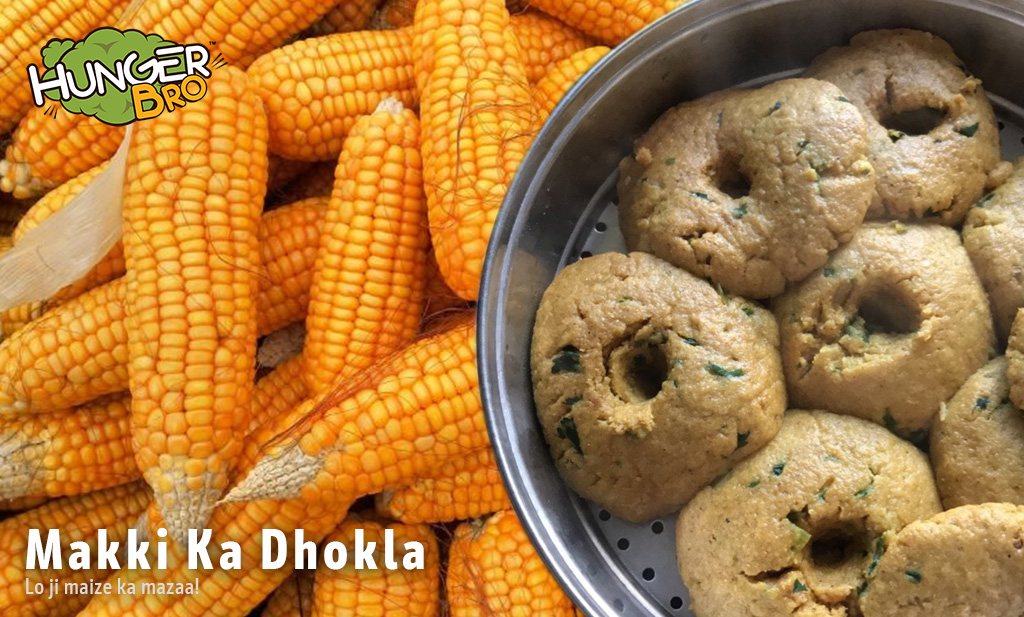 Made out of Maize flour (makki ka atta) and crushed green peas, it is wholesome and delicious!
Healthy and nutritious value!
Besides its great taste, it is healthy too as it is filled with nutritional ingredients.
Green chutney tastes awesome along with Makki ka dhokla. In Rajasthan, people relish it with urad dal. It can be eaten as a side dish or main course.
Nutrition all along!
As it is filled with high protein, mineral content of maize and rich in calcium, it is high on its nutritive value. The fat content is very low as this recipe includes steaming.
The state of Rajasthan with majestic forts and a rich cultural heritage is famous as the Rajwadi land of Rajputs! There is a visible influence of the royal Rajput cuisine in the food of this region.
Rich, vibrant and flavoursome, Rajasthani cuisine is as glorious as its culture.
Interesting variety of Rajasthani cuisine
From Dal Bati to Laal Maas to Kalakand, each delicacy has a distinct and delectable taste. One such recipe is the Rajasthani snack, Makki ka dhokla!
Makki ka dhokla – Cook as you like it!
As mentioned below in this recipe, Makki ka dhokla is cooked in boiling water and later shallow fried. You can opt for cooking them completely by steaming as well.
How to make Makki ka dhokla
Mix maize flour, red chilli powder, garam masala, salt, and oil in a large container. Mix it thoroughly. Add a pinch of baking soda and fenugreek leaves to the flour mixture. Make soft dough by adding water as required.
Take a small portion from the dough. Make a circular disc and pierce it in between to create a small indent. Use your finger to pierce it.
Make dhoklas in the steamer. Let it steam for approximately 10-15 min. Add a dollop of desi ghee on the top of the dhoklas, once they are ready. Serve it with urad dal or moong dal along with green chutney.
Recipe Information: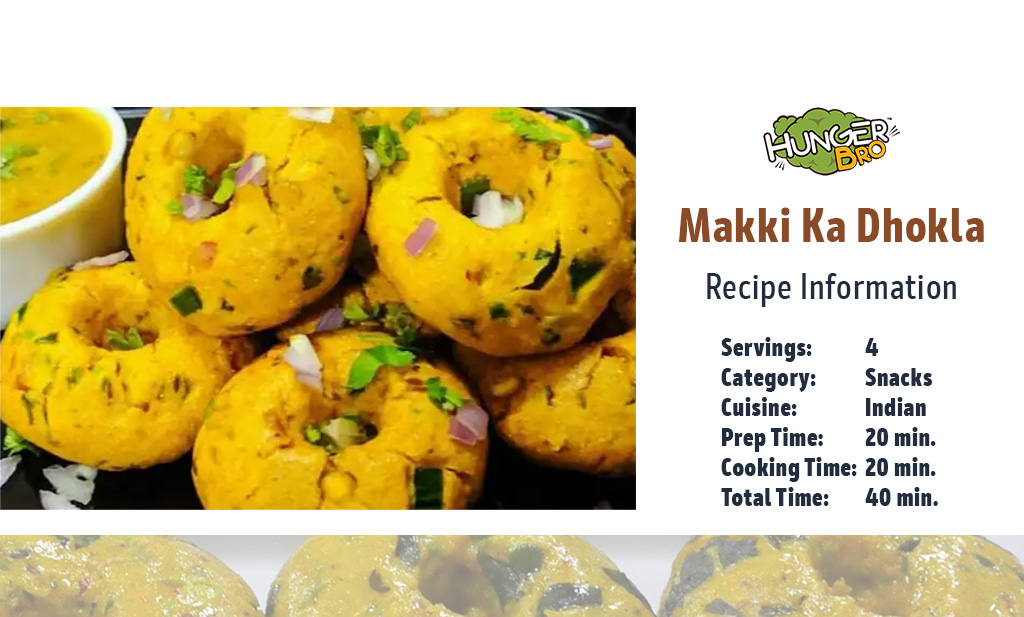 Ingredients:
For dhokla:
2 cups Maize Flour (Makki Ka Atta)
1 cup Peas (Matar), crushed
2 green chillies finely chopped
1/2 inch piece of ginger, grated
Cumin seeds (jeera) 1 tsp.
Black mustard seeds (rai) 1 tsp.
Fennel seeds (saunf) 1 tsp.
Turmeric powder (haldi) 1 tsp.
Coriander powder (dhania powder) 1 tsp.
1.5 tsp. salt as per taste
For tempering (tadka):
1 tsp. black mustard seeds
10-12 curry leaves (kadi patta)
Step-wise instructions for Makki Ka Dhokla:
Take Maize Flour (Makki Ka Atta) in a bowl and mix red chilli powder, fennel seeds, cumin seeds, turmeric powder, coriander powder and salt into it.
Add crushed peas, green chillies (finely chopped), baking soda and coriander leaves to the flour mixture.
Make soft dough by adding water gradually and kneading. Dough should be as roti dough.
Divide the dough into small portions. Press them lightly to make them round. Flatten the dough balls and make a small hole in the centre.
Boil water in a deep pan. Gently drop the Dhoklas (these dough balls) in the water and boil them for 4-5 minutes on high flame.
Dhoklas will float on top once cooked. Transfer them to a plate and let them cool.
Heat 2 tbsp. oil in a pan. Put black mustard seeds (rai) in it till they begin to crackle.
Add cumin seeds, green chillies and kadi patta (curry leaves). Put dhokla in the oil and saute it on a low flame. Turn it 3-4 times for proper & even cooking. You can also steam these dhoklas.
Heat water in a steamer and keep dhoklas in the tray. Let it steam for approximately 15 min.
The Makki Dhoklas are now ready to serve. Take them out and relish it with green chutney or urad dal.
Nutrition per serving:
FAQs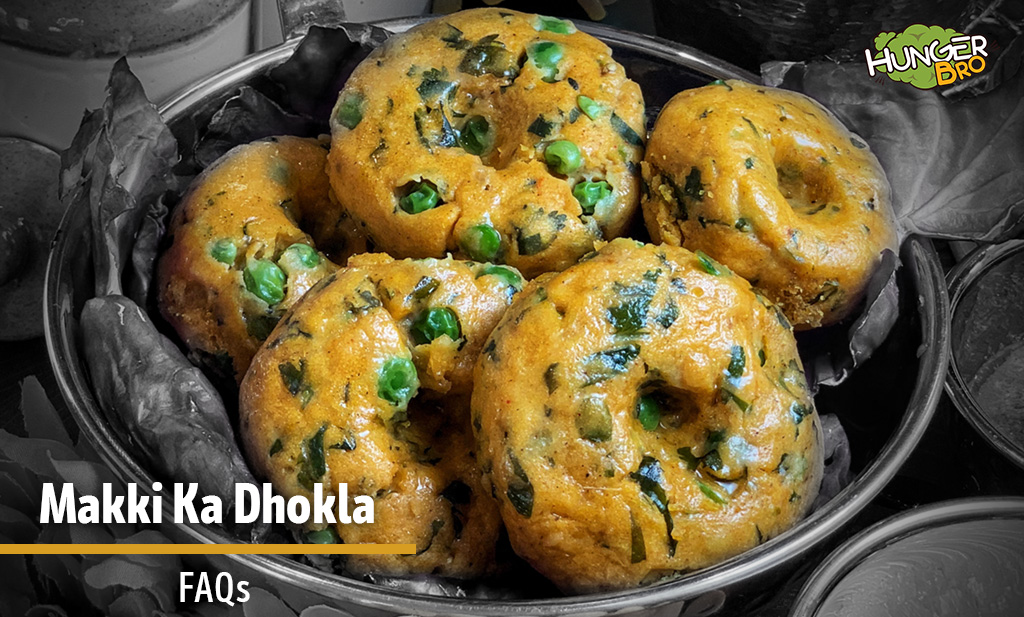 What is Makki Dhokla made from?
As the name suggests, it has maize flour, peas and other nutritious ingredients.
How long it takes to prepare this recipe?
It takes around 40-50 min. to cook this delectable recipe.
Is it a healthy recipe?
It is filled with nutritive value food ingredients. So yes, definitely, it is healthy to eat.
What to have along with it?
It can be relished with urad dal or green chutney.
Can it be cooked by using steamer?
Can it be cooked by using steamer?