Lord Ganesha's favourite
'Ganesh Chaturthi' and Modak is the first thing that comes to one's mind! The favorite sweet of Lord Ganesha, it is offered to the deity during this festival across Maharashtra!
Ukadiche modak (steamed modak) is the most common type of modak. It is a Maharashtrian specialty.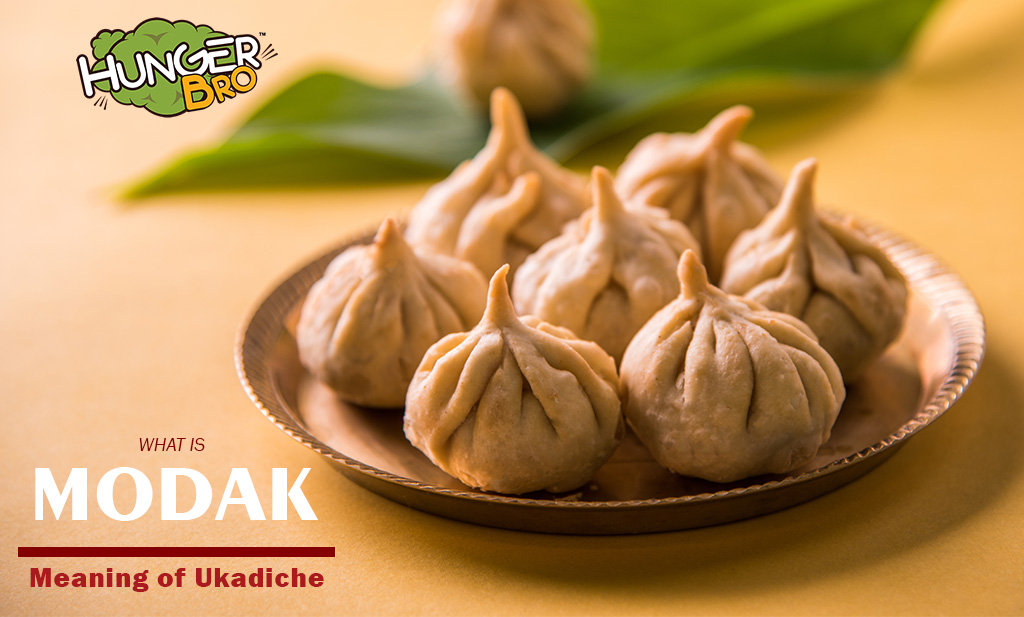 Modak are steamed dumplings. It has an outer cover of rich flour dough and stuffed inside with coconut jaggery stuffing. These sweet dumplings are also known as 'Ukadiche Modak' in Marathi language.
Meaning of Ukadiche
The word ukadiche means steamed. The word 'ukad' also means steamed rice flour dough. So essentially "Ukadiche Modak" means steamed modak.
How to make Ukadiche Modak?
To begin, prepare the coconut jaggery stuffing and the rice dough. Later, parts of the rice dough are moulded into balls, flattened, and stuffed.
The edges of the flattened rice dough are then pleated, folded and shaped to make a dumpling, which is famously known as Modak. After shaping it, Modak is later steamed.
Modak can be shaped in many ways. You can either use a mould if you want to make it quicker and adopt an easier way to make it.
The most important part of this recipe is getting the rice dough texture right. If it doesn't go right, it can be a messy affair. The recipe does take time but the final outcome and taste is worth the time spent!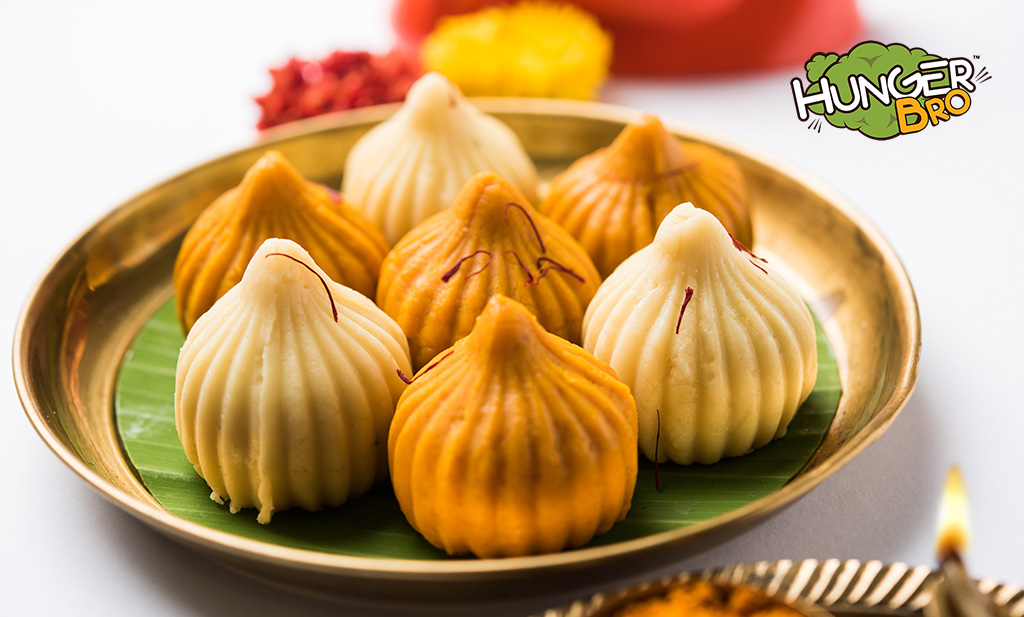 Ganesh Chaturthi is a 10 days festival, celebrated with full gusto and enthusiasm. There are scrumptious feasts to relish during this festival. Offered as prashad, bhog etc.
Recipe Information:
Cuisine Indian, Maharashtrian
Ingredients:
For outer Modak covering:
1 cup / 150 grams rice flour
Fresh grated coconut 1 cup / 100 grams
Powdered or grated jaggery 1 cup / 100 grams
1 tsp. cardamom powder or 6-7 green cardamoms powdered
¼ tsp. grated nutmeg or ground nutmeg powder (jaiphal powder) optional
½ tsp. poppy seeds (khus khus) optional
1 tablespoon rice flour – optional
How to make Modak:
Make the sweet stuffing:
Chop the jaggery and grate the coconut. Keep both ingredients aside. If fresh coconut is not available, you can use desiccated coconut.
Heat ghee in a pan. Add ½ tsp. poppy seeds. Keep flame low. Fry for some seconds till the poppy seeds start crackling.
Then add 1 cup grated fresh coconut (100 grams) and 1 cup chopped jaggery (200 grams).
Mix well and cook this coconut-jaggery mixture on a low flame.
You will notice that the jaggery will melt first. Cook on a low flame and stir at regular intervals.
Stir often and cook this mixture until the moisture from the jaggery begins to dry. This will take approximately 7-9 minutes. Switch off the flame.
Don't overcook as the jaggery then hardens. Keep this coconut-jaggery filling aside and let it cool completely. On cooling, the mixture will thicken more.
This step is optional. You can add 1 tbsp. rice flour to this mixture and mix well.
The rice flour helps to absorb moisture if any, from the stuffing. Set the stuffing aside.
In a pan add 1.5 cups water, ¼ teaspoon oil or ghee and ¼ teaspoon salt. Keep it on the stovetop.
Let this mixture come to a boil.
Add 1-cup rice flour (150 grams).
Quickly stir and mix the rice flour with the water.
Stir until the rice flour is mixed with properly with water. Switch off the flame. Cover the pan with a lid for 4 to 5 minutes.
Now take all the dough in a plate or bowl. Gather the dough together and begin to knead it. Dough will be hot. Apply some water on your palms while kneading the dough.
If you feel the dough looks hard or dry, add a few teaspoons of warm water and knead.
Knead to a smooth and soft dough. Lumps should not form
Make small balls from the dough. Roll the balls till smooth in your palms.Make small balls from the dough. Roll the balls till smooth in your palms.
Shape modak without mould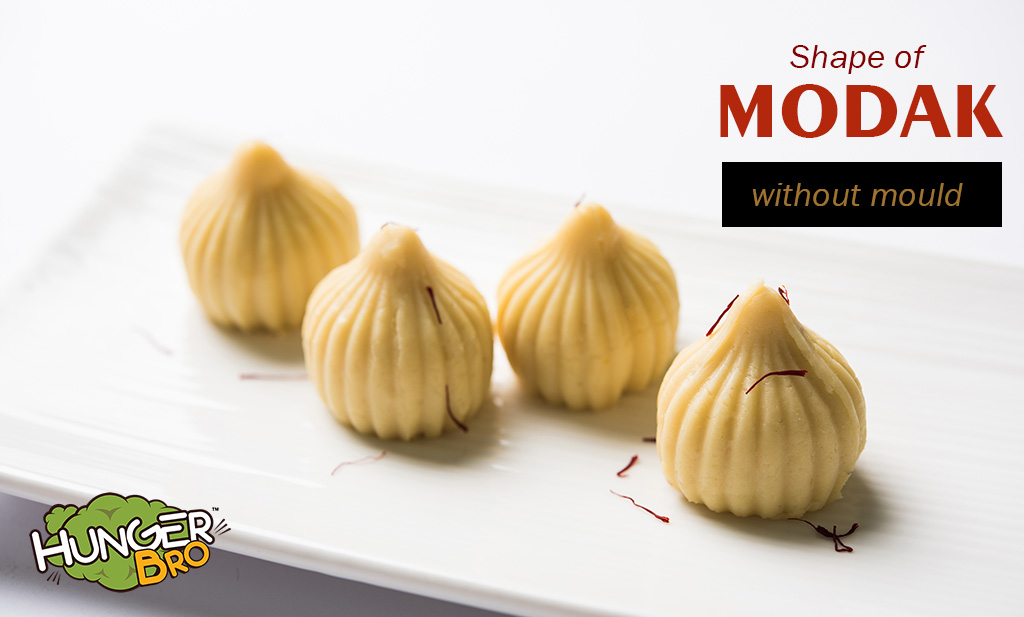 Take a ball and flatten it with your fingers or on your palms like a round disc shape and medium thickness.
You can apply ghee or oil in your palms, while you flatten it. You can keep the edges slightly thin and the center can be thick.
Place a few teaspoons of the prepared stuffing in the center.
Bring together all the edges and join them. Remove the extra portion of the dough from the top, if any. Shape the top of the modak with your fingers.
You can also use ready modak moulds. They are easily available in the markets especially during the Ganesh Chaturthi festival.
Grease the modak mould with a bit of ghee or oil. Then close the mould. Put the dough ball inside the mould and press it so that a space is made in the center.
Place the sweet stuffing.
Cover the bottom with a small piece of dough. Press and smoothen it sealing the modak.
Open or unlock the modak mould. Remove the modak gently from the mould. Shape all modaks this way with mould. Keep the shaped modak covered with a napkin so that the rice dough does not dry out.
Make all the modaks this way. Brush or grease a pan with some oil or ghee. The pan can also be lined with banana leaves or turmeric leaves. Place the shaped modak in the greased pan with some space around them.
Steaming Modak
Take 2 to 2.5 cups water in a pot or pressure cooker. Place a rack. Heat the water till it starts to boil on a high flame.
You can stack two pans for steaming modaks in good quantity. You can also steam the modak in separate batches. Just remember to cover the shaped modak with a moist muslin or cotton napkin before you begin to steam.
Cover the pan and steam modak for 10 to 15 minutes on medium-low flame.
Once the ukadiche modak are steamed, you can drizzle a few teaspoons of ghee on them.
Some modak may crack while shaping or steaming, but it is fine. You will only learn with practice.
The ukadiche modak are ready to be offered to Lord Ganesha. Modak stay good for a couple of days in the refrigerator. While serving from the refrigerator, steam them in a pan until warm or sprinkle some water on them and microwave till warm.
Rice dough: While making modak recipe, the most trickiest part for many is to get the correct texture in the rice dough. If the dough is dry, you will find it difficult to shape and the final texture after steaming will be chewy and dense.
Stuffing: Overcooking the stuffing will result in the jaggery become hard and chewy. If this happens, then just sprinkle a few tablespoons of hot water in the mixture and stir well.
Cracks in the dough: Less water will result in the dough being dry and develop cracks. If you add more oil or ghee then this will result in the dough breaking while you shape it.
Flattening and Shaping: It's important to see that the dough is not too thick or thin either. If thin, it will tear while shaping and if thick, it will take very long to cook and not taste all that great either.
Nutrition Facts:
FAQs
Modak is a specialty of which region?
It is sweet offered to Lord Ganesha during Ganesh Chaturthi. It is specialty of Maharashtra.
Modak is made up of what ingredients?
Rice flour, ghee, jaggery, coconut and cardamom powder are the main ingredients to prepare modak.
Can we store modak after cooking?
Yes, it stays fresh for a few days when stored in the refrigerator.
Can one use mould to make modak?
Yes as it requires skill to make the mould, a readymade mould is easier and faster to make the modaks.
Are there different ways of making variety of modaks?
Yes, it can be steamed, deep fried etc. using different ingredients.