The super duper hit Surat Recipe
A specialty of Surat in Gujarat, Sev Khamani is a favorite recipe amongst Gujaratis. Essentially made using Chana Dal, Sev Khamani has a distinct taste and it rates high on the popularity charts due to its taste and delectable mix.
Khamani is nothing but a crumbled version of Khaman. Garnish it with sev and pomegranate and your Sev Khamani is ready to relish!
Sev Khamani – The nomenclature & the story behind it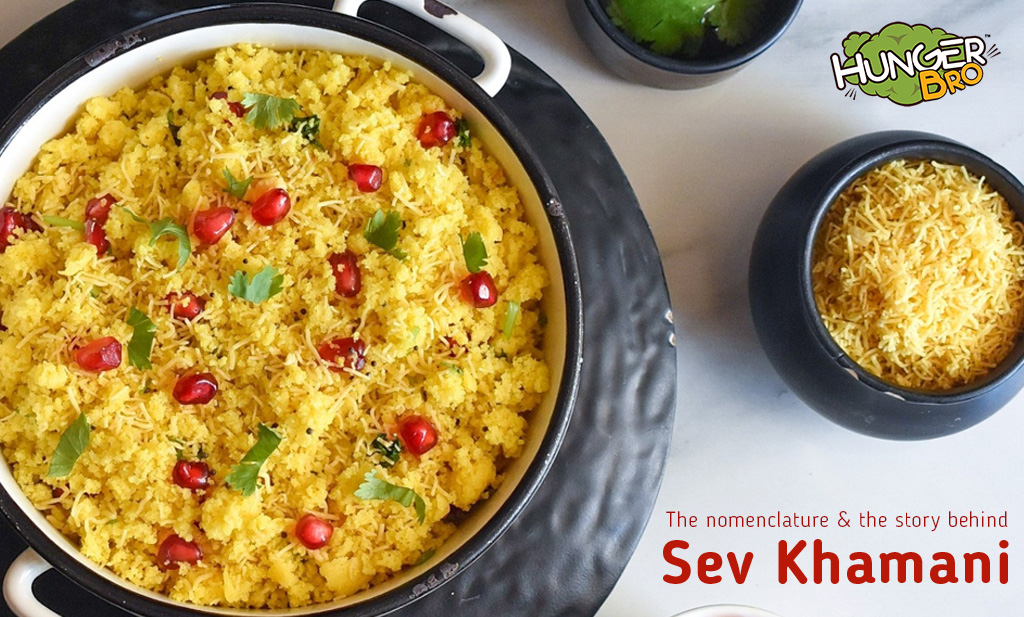 It is usually savored as a snack. It is sweet and comes peculiarly under the Farsan category. It's pretty heavy on your tummy. It makes you feel very drowsy.
Although famous all over Gujarat, it is a special dish of Surat. Along with Ghari, Undhiyu, Paunkh, Guvar Dhokli and Nankhatai, Surat is famous for its Sev Khamani!
Its origin is in Surat but now has spread its popularity across the globe due to its flavorsome taste!
What's in the Khamani by the way!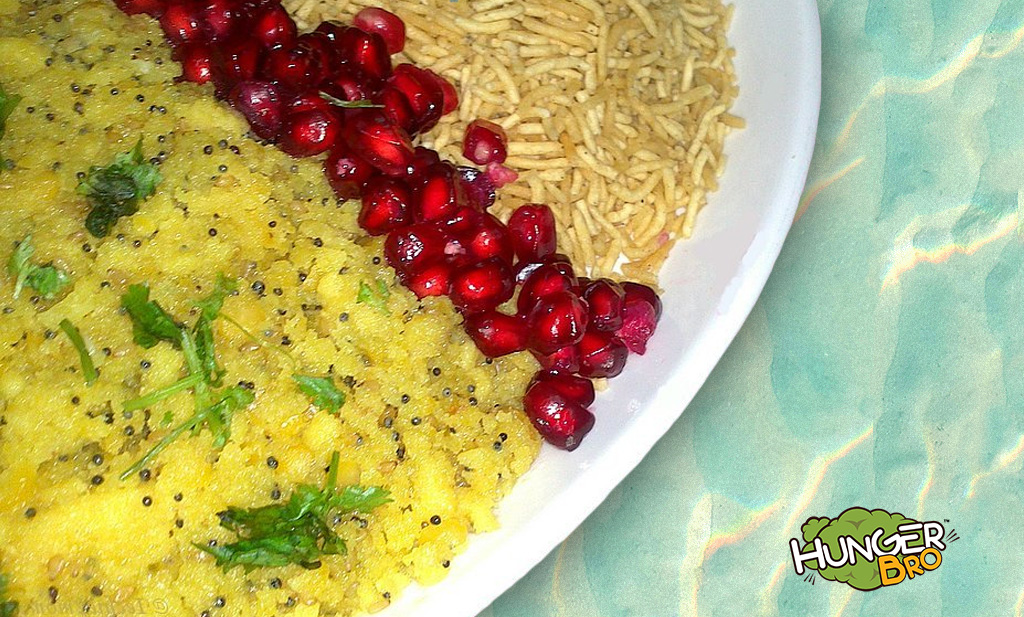 The main ingredients of Sev Khamani are as below:
The three distinct segregations of the recipe are its batter, tempering and garnishing.
For the batter:
Chana Dal (Split Chickpeas)
The main ingredient is Chana Dal. A minimum of an hour of soaking is ideal before cooking. The base requirement is Chana Dal and it needs enough soaking to cook properly.
Color it tasty
Turmeric is used for color, the deep yellow of the yummy khamani is thanks to turmeric addition. Curd gives it that tangy taste and helps in fermentation.
The Spice Matter
Ginger, garlic and green chilies give it that spicy taste. It enhances the taste further.
So much for Soda
Use either Eno or baking soda. Use Plain Eno, and not the flavored one.
Add Water a bit, Salt as you like it
Do not add more water than required else it will get watery and ruin the delicacy. Only 1 tbsp. of water is sufficient. Add salt as per your individual taste preference.
Tempering does the Trick
The regular tadka (tempering) that we do with the available ingredients like crackle mustard seeds, sesame seeds, chilies in oil. Add lemon juice and sugar to it for added flavor.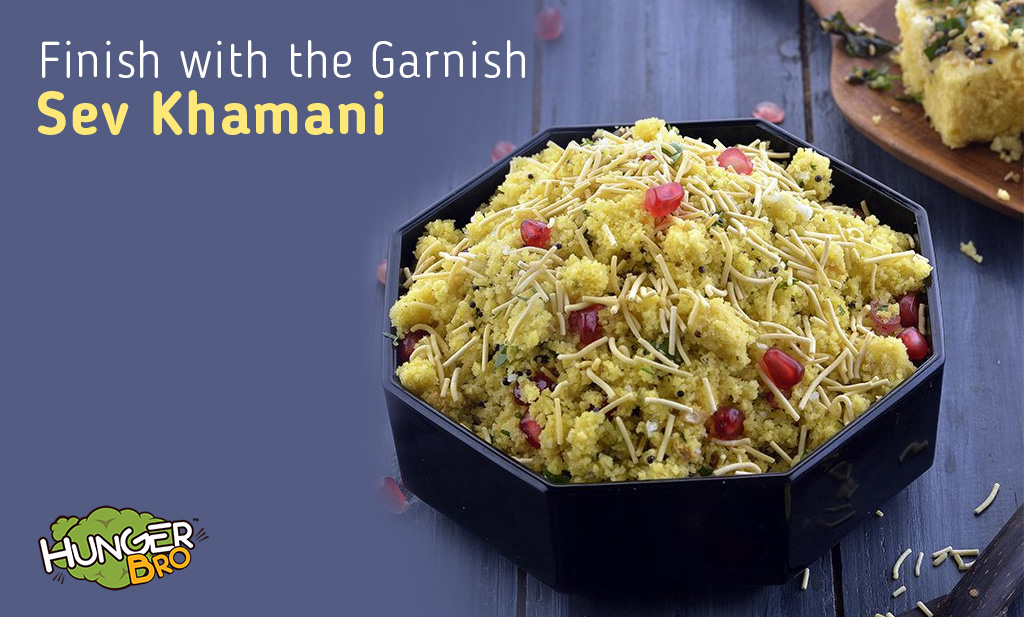 Garnishing plays a crucial role in this recipe. The topping of sev along with pomegranate seeds makes this delicacy look tempting and it tastes amazing!
Do not skip adding pomegranate seeds as it looks awesome and tastes even better! Also the combination of pomegranate seeds with the chickpea flour is mouth-watering! It tastes out of this world!
Thin Sev is ideal as topping. Add Coriander leaves in small quantity to not make the taste of coriander more prominent. Less is More in the case of coriander leaves.
Few important tips:
Measure the ingredients appropriately and add as required.
Once the batter is ready, do not allow it to rest, especially after adding Eno or baking soda to it.
It's important to steam the batter immediately after adding Eno.
It's important to steam the batter immediately after adding Eno.
Beware of adding a bit of Eno or Baking Soda and not overdoing it. Else it will ruin the taste.
Before grinding the Chana Dal, it is very important to soak it at least for an hour if not more.
The mixture should be allowed to cool properly after taking it out from the mold.
Do not try to crumble the Khamani mixture while the batter is hot.
If you follow the above tips, your Sev Khamani will turn out mind blowing!
Ingredients:
Khamani Batter
Baking soda or Eno 1 tsp.
Tadka
1 tsp. White Sesame Seeds
1 pc medium sized, chopped Green Chili
Garnishing
Few coriander leaves chopped
Pomegranate Seeds as per liking and taste
Step-wise instructions for Sev Khamani
Add soaked Chana Dal, curd, turmeric powder, green chilies, garlic, ginger and salt to a mixer jar. Blend all ingredients to make a thick batter.
Pour batter to a bowl. Add baking soda or Eno (plain) and slight water in to it. Mix well.
Grease the mold properly. Add the paste to it and keep proper leveling of the batter.
Next, heat water in a deep vessel. Put a stand in it and place the mold over the stand. Cover it and let it cook. Steam it for a while. Check the batter with toothpick. If it doesn't stick means it is done. You need not steam it further.
Now for tempering heat the oil and add mustard seeds, sesame seeds, green chilies and stir for a few seconds until it crackles. Add sugar, lemon juice and water to the tempering. Let it boil for approx. 2 min.
Now put the cooked batter to a bowl. Allow it to cool properly. Then crumble it. Add the tempering to it along with some coriander leaves. Mix it thoroughly.
Now you can serve it in a plate and pour Sev and pomegranate over it. Sev Khamani is ready to relish. Binge on! We bet you won't stop eating! It tastes so yummy!
FAQs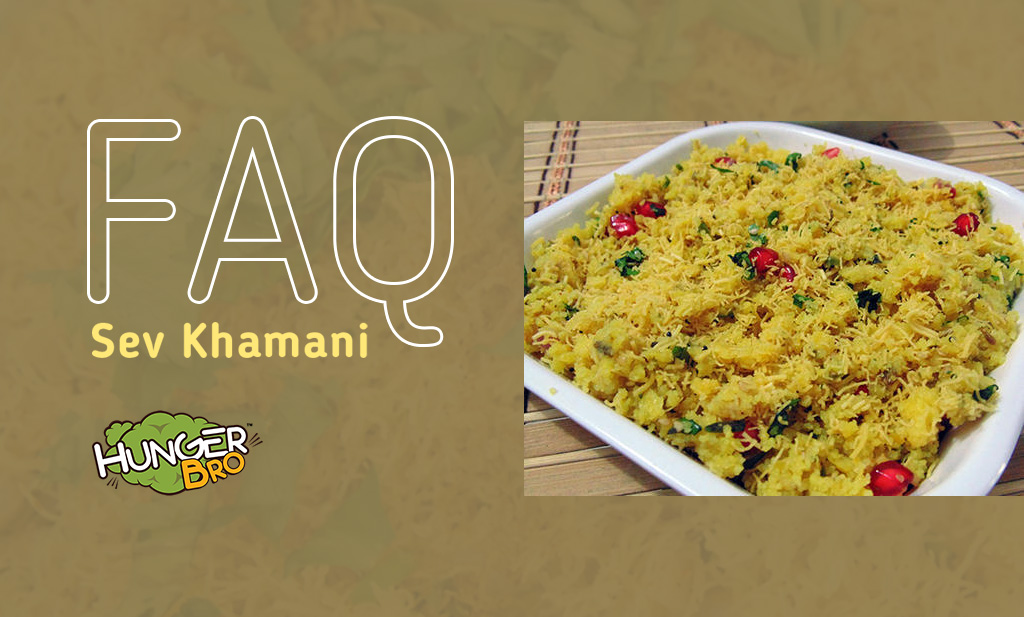 What is Sev Khamani made from?
Sev Khamani is made from chana dal.
It is a speciality of which region?
It is a delicacy popular in Gujarat, particularly famous from Surat.
What is used to garnish Sev Khamani?
Thin sev and pomegranate seeds are ideally used as garnishing. They enhance the taste entirely.
Can we skip adding sugar to this delicacy?
It is optional yes, but the authentic taste of Sev Khamani does taste sweet, so sugar ideally should be added.
What if pomegranate seeds are not added as garnish?
One, the red pomegranate seeds give that interesting look to this delicacy. Two, the combination of pomegranate with Chana Dal batter is simply amazing. So it should not be skipped. Pomegranate seeds indeed play an integral role in the recipe.