All that boosts your immunity is befitting to eat right now!
And if you are battling against Covid, well then, a diet plan is surely a must! Beetroot fits into this bracket just right!
This iron-rich root vegetable is beneficial for your overall health in several ways and it supports your immune system as well!
One of the healthiest root vegetables, Beetroot (its root, stems and leaves), comprise of multifold nutritional benefits! It is highly recommended for Covid Patients for fast recovery.
It consists of essential nutrients including fibre, potassium, vitamin C, iron, folate and several healthy plant components. This promotes a healthy immune system and helps keep viruses at bay.
Beetroot has multifold benefits. It helps in lowering blood pressure, reduce inflammation, prevent anemia, promote skin health, and helps boost immunity as well.
A strong immune system helps your body fight against the deadly Coronavirus, including several other diseases and protects your body against infections.
Crucial for good health and improving the immune system, this extraordinary veggie, the powerhouse of nutrition, is packed with vitamins, minerals and antioxidants.
Beetroot, a good source of Vitamin C and Iron, helps to create healthy red blood cells in the body and fight infections.
When your body has all the right nutrients, it helps to ward off infections. So Beet is undoubtedly good and nothing can beat this fact!
The Beet Bonanza
A versatile vegetable, the color of beetroot is vibrant, and its benefits are multiple!
Besides being nutritious, it has been used to treat blood disorders, constipation, healing, fever, cough, wounds, skin ailments etc.
Benefits of beet are unbeatable – Improved blood circulation, cardiovascular health, liver function, immunity boosting and acts as powerful antioxidant.
Make it a part of your everyday diet, and let your body glow, beet fully!
How to make your diet Beetroot rich?
There are several ways to root beet in your body by way of very many recipes!
Have fresh beetroot in your soup, juice, smoothies, salads and several other delectable recipes.
Covid Patients particularly need to include this marvelous veggie in their diet for fast recovery.
Let's beat it with Beet!
Knowing that beet offers amazing health benefits, including strengthening the immune system, is one thing, yet not many can savor its taste.
Some are ardent beetroot fans while others can't stand the sight of this vegetable.
It's important to rethink your opinion if you aren't too much of a beet loving person.
Besides the 'tried and tested' ingredients for boosting immunity, being citrus, ginger, garlic, turmeric, papaya amongst others, beets also help create a strong defense against the virus and various infections.
To quickly glance through the awesome benefits of Beet to boost your immunity, here it is!
Beets contain Vitamin C, rich in Iron, Zinc, Folate, they detoxify & contain antioxidants.
Get ready for a Beet Treat!
Here's a delicious Healthy Beet Recipe to Improve Your Immunity.
Beet Raspberry Waffles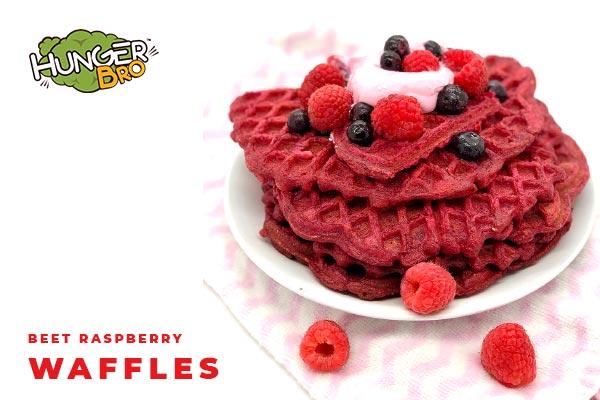 What's cooking for brunch, folks?
Relish tempting Red Beet and Raspberry Waffles at breakfast time, or better still, a brunch is surely a great deal!
Not just lip-smacking, by making this irresistibly attractive delicacy, you can add some extra source of fiber and make it ideal for those nutritious bites!
Kids and elders, it's a hit across all age groups!
Low-carb, healthy, and low processed sugar content; these waffles are a perfect treat!
Vegan and gluten-free, the nutrition value and awesome combination of fresh raspberries and beet is mind-blowing!
While you're relishing that great looking dish, you are also consuming the beneficial antioxidants and vitamin C!
Enjoy that perfect taste of sweet and tart flavor with this simple yet superb, raspberry treat!
A mix of raspberry freshness and roasted beets, with an add-on of almond milk makes for an amazing recipe!
The gorgeous color, the red hue with its delicious flavor, and incredible nutrients – doesn't it sound perfect to be had every day!
Top up your waffle with coconut cream, maple syrup, applesauce, or fresh berries and get set to enjoy!
INGREDIENTS
1-2 medium red beets, roasted
1 cup fresh raspberries
1 3/4 cups gluten-free all purpose flour
3 tbsp flax seeds (grounded)
1 1/2 tsp baking powder (gluten-free if preferred)
1/4 tsp salt
1/4 cup honey or maple syrup
1 1/2 cup almond milk
1 tsp white or apple cider vinegar
2 tbsp coconut oil
2 tsp vanilla
coconut cream few tbsp.
USP of the recipe is its natural sugar content and taste. You may add more sugar for a sweetened taste if you prefer so.
DIRECTIONS
1. For approx. half an hour, roast beets. Wrap beet in a foil and cook until it becomes tender. You can check when done by piercing a sharp knife into it.
2. When it cools, remove the skin; chop them (not too small). Blend the chopped beet with milk and raspberries (fresh).
3. When that vibrant pink is seen is the right consistency that you have reached! If you like a smooth texture, remove the raspberry seeds, draining it or using a sieve.
4. In a large mixing bowl, mix remaining ingredients (mix dry ingredients first.)
5. Add all ingredients (the blended ones) together in the bowl and mix well.
5. Now put the ingredients in the waffle maker. Make sure to preheat the waffle maker and rub with coconut oil.
6. Let waffles cook now (Follow instructions of the waffle maker) for a fine cooking experience.
7. Time to relish the mouthwatering waffle now! Serve it with the topping as suggested above!
It's great to consume these waffles fresh! You can store them in an airtight container for a while as well.
The red beauty is waiting for you to enjoy! Tasty and healthy, it's most apt to keep your body fit and fab! An ideal recipe to include for a Covid patient, get on the road to fast recovery!